Artist Robert Houle sold his first painting to a national museum in 1971, when he was still a student at Montreal's McGill University. A crimson abstract that picked up on Western art trends even as it reflected his Saulteaux Anishinaabe roots, the canvas would, more than half a century later, lend its name as the title of his first major career retrospective in the United States.
"Robert Houle: Red Is Beautiful" is now on exhibit at the Smithsonian's National Museum of the American Indian in Washington, D.C., after its debut at the Art Gallery of Ontario two years ago.
Reconnecting with more than 100 of his works spanning five decades is "refreshing, rewarding," Houle, now 76, says in a phone interview from Toronto. "It's a pleasure to be able to see them all together."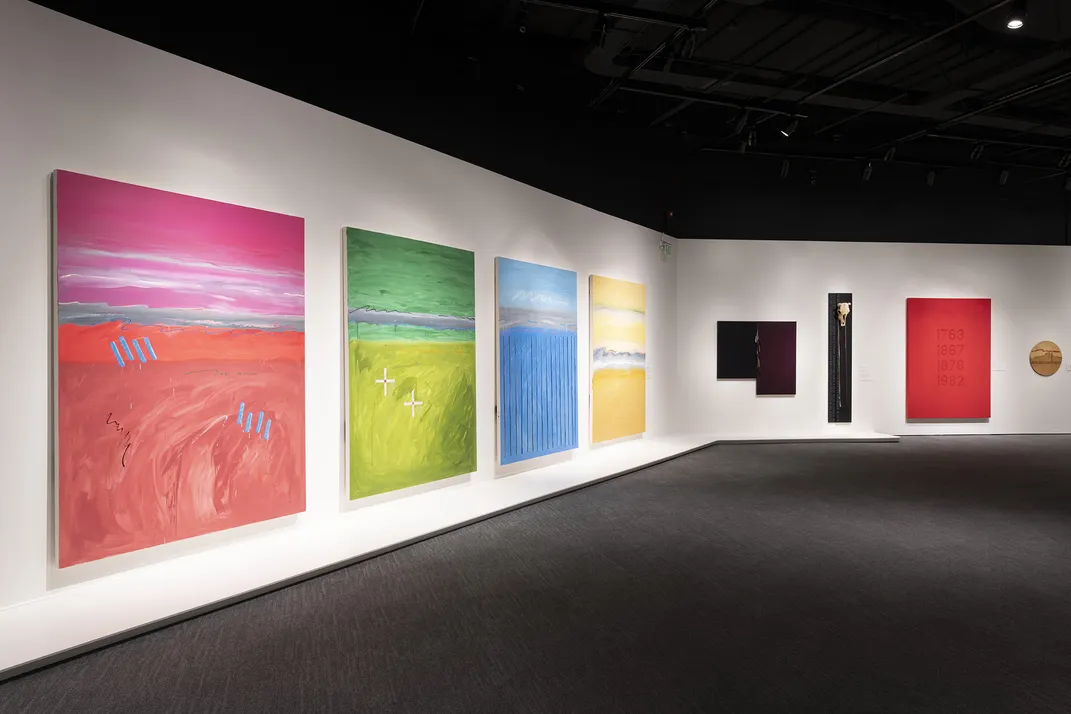 Pieces by the artist, who is a member of the Sandy Bay First Nation, range from oil abstractions that incorporate symbols of First Nations—porcupine quills, feathers, and rawhide bags called parfleche—to somber, figurative artworks on such subjects as the forced relocation of Indigenous children to abusive residential schools. The exhibition includes spiritual reflections of the earth's riches, pieces centered on Indigenous land battles still waged in the 20th century and a full-scale installation noting the clash of Native cultures in the parlors of 19th-century France—all sprung from his first success, that modestly sized painting he made in college.
When Red Is Beautiful, measuring just 18 by 24 inches, was sold to the National Museum of Man (now known as the Canadian Museum of History) in Quebec, "it kind of marked the beginning of his career as a professional artist," says Wanda Nanibush, the Art Gallery of Ontario curator who organized the retrospective. "He sold it for, like, $90."
Inspired in part by the geometric abstractions of the Dutch painter Piet Mondrian and the Abstract Expressionism of the American Barnett Newman, the Winnipeg-born artist found a way to connect the ancient designs of First Nations people with contemporary abstraction.
"I was just beginning to articulate what I wanted to do and who I wanted to exhibit with and how my work should be seen or how it can be discussed," Houle says.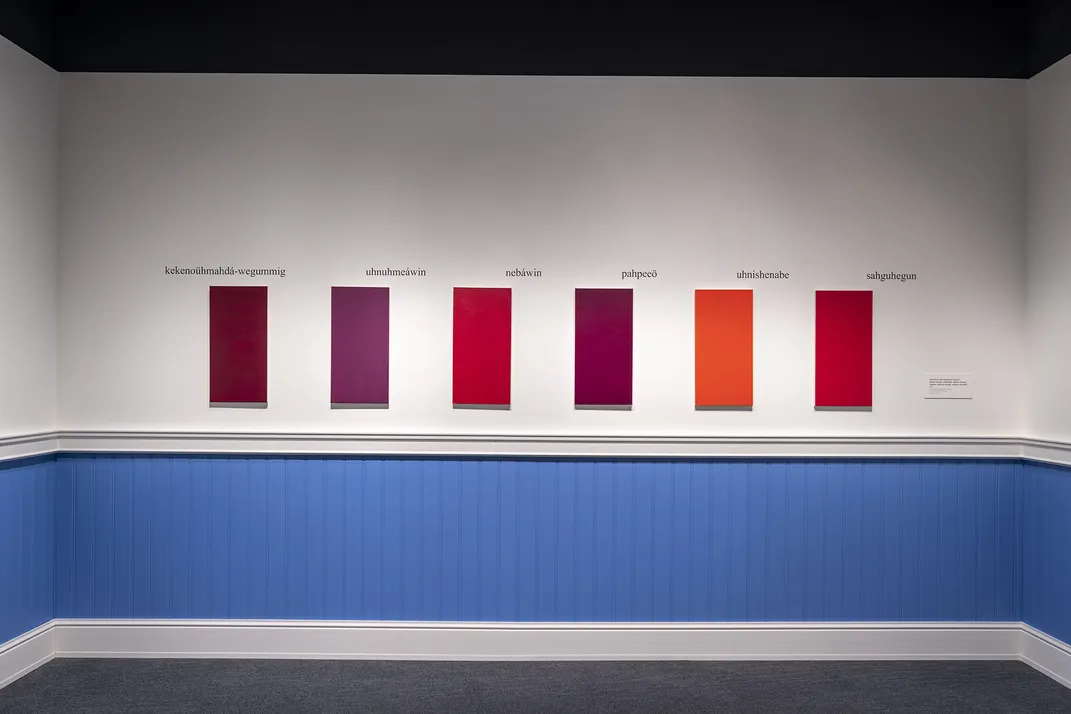 Houle earned a degree in art history from the University of Manitoba in 1972, studied art at the Salzburg International Summer Academy and received a degree in art education from McGill University in 1975. His work has been exhibited widely in Canada, as well as at the Museum of Contemporary Art in Sydney, Australia; the Canadian Cultural Center in Paris; and the Stedelijk Museum in Amsterdam. The artist has also been influential as a curator, teacher and critic, organizing the groundbreaking exhibition "Land, Spirit, Power: First Nations at the National Gallery of Canada" in 1992.
"People saw his skill and his interesting take on the history of abstraction immediately, because the work itself is based in Anishinaabe weaving and beadwork design from a book he was studying at the time," says Nanibush, who is Anishinaabe-kwe from Beausoleil First Nation.
The title of the 1970 painting referenced the Red Power movement of the 1960s and '70s as it reflected Indigenous pride. "But he's also an incredible colorist," Nanibush says, "so it also hints at the way in which he's concerned with spiritual and emotional meanings and symbolisms in color."

Color is certainly central to his large pieces
—
the deep green and blue canvases on each side of his triptych
The Pines
, the vivid hues and placements of each element of
Kanehsatake X
, and the flutter of feathers between the rich black and maroon halves of
In Memoriam
.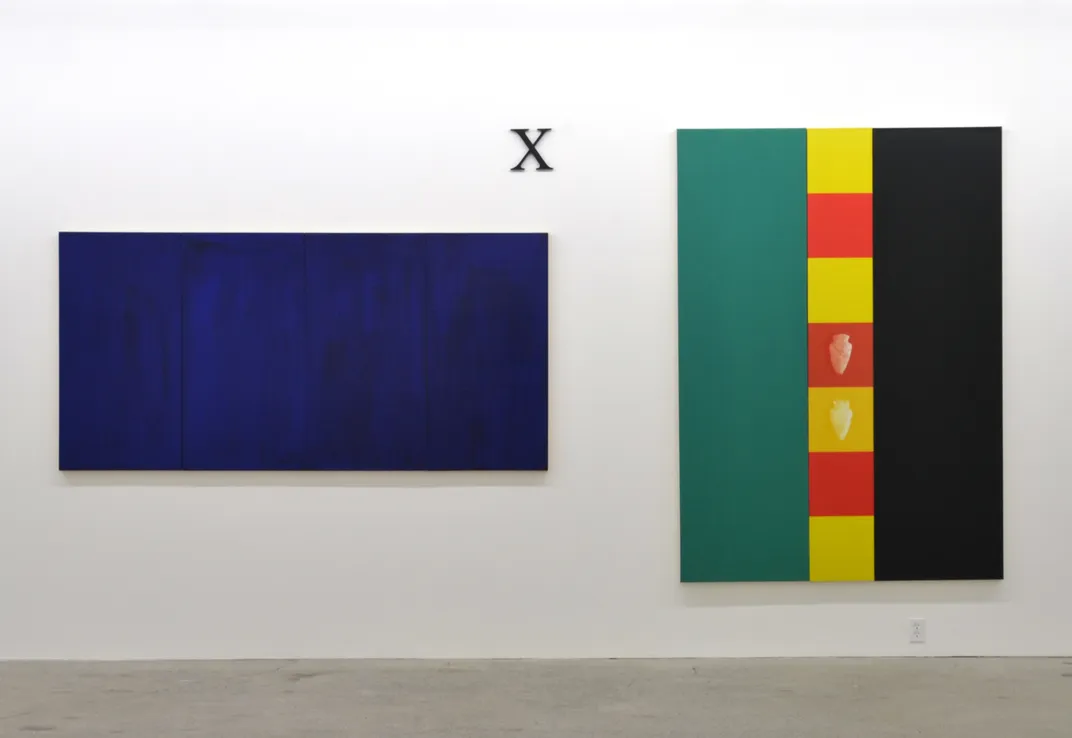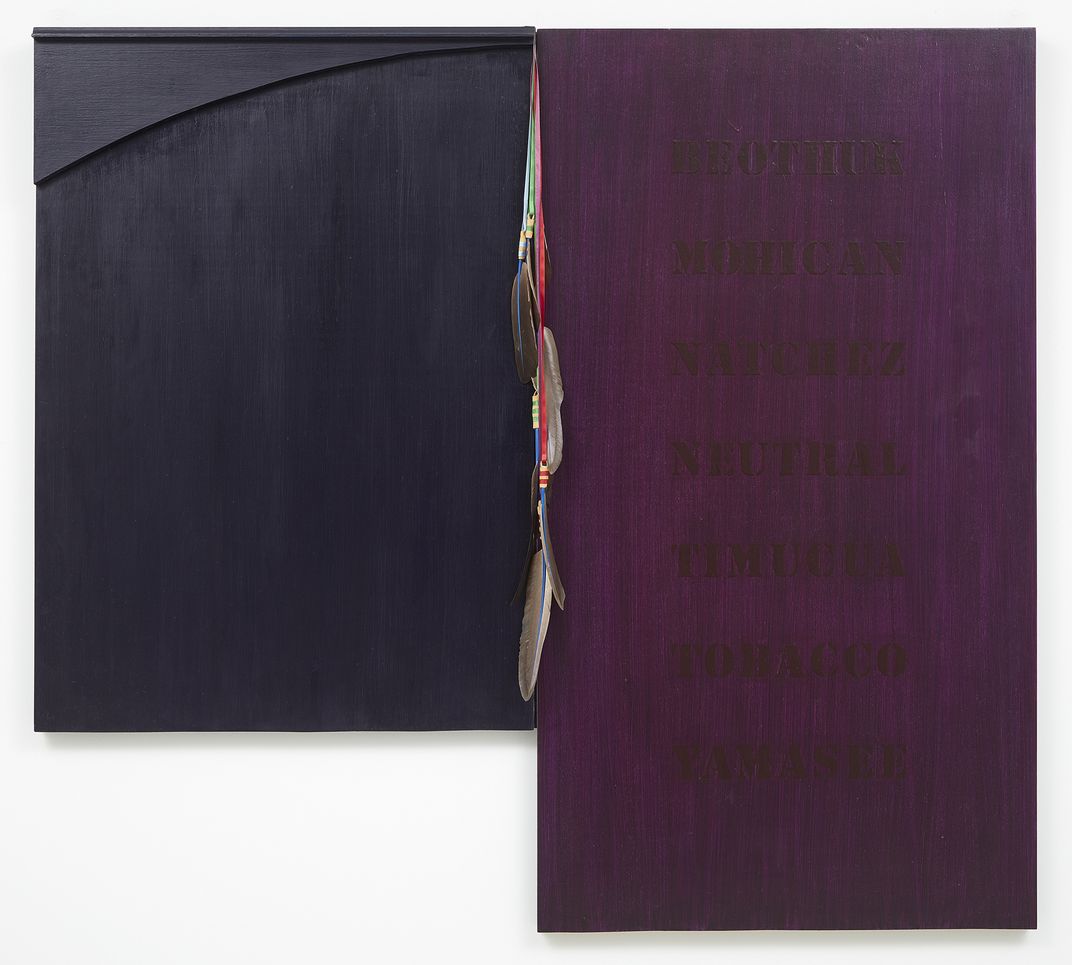 Houle meditates, too, on Western art history, particularly in his reimagining of Benjamin West's widely known The Death of General Wolfe from 1770, a painting that commemorated the 1759 Battle of Quebec at the moment of victory. Among its tableau of characters, real and imagined, is an Indigenous warrior, observing the events, deep in thought. In Houle's 2017 O-ween du muh waun (We Were Told), West's Native figure is alone in the same pose, the rich landscape behind him restored to trees, green fields and rolling rivers. In Kanata, a painting from 1992, Houle whitewashes everything in West's scene except the Native's clothing—and surrounds the scene with large monochromatic canvases of blue and red.
"The color has a symbolic meaning," Nanibush says. "Even in the early work, he's interested in the long history of abstraction that's actually Indigenous." Indigenous designs, she says, actually constitute what she calls "the longest history of abstraction in the Americas."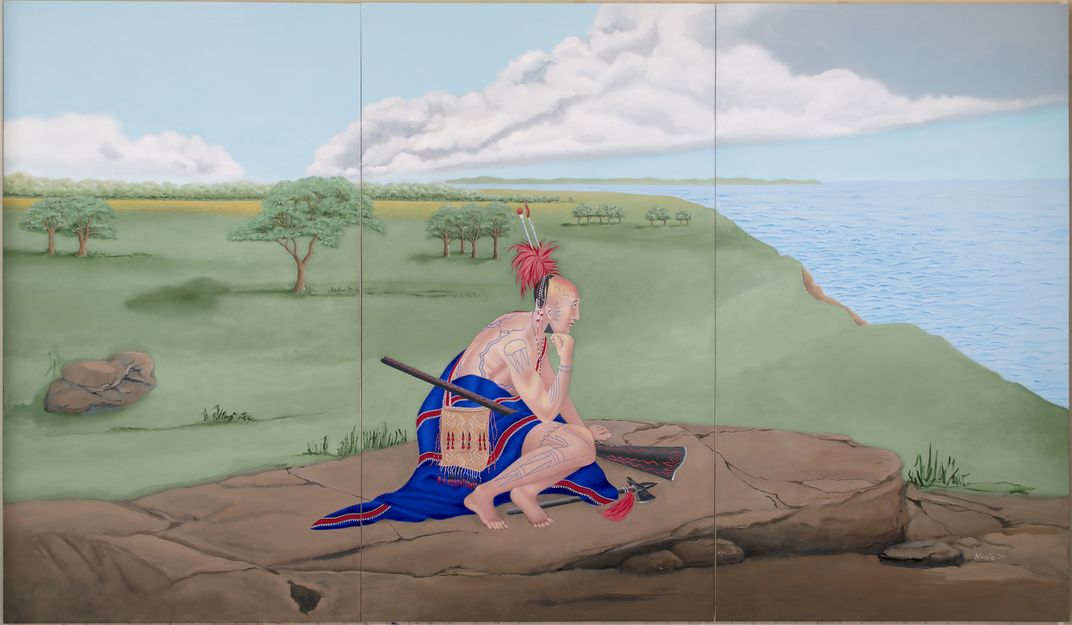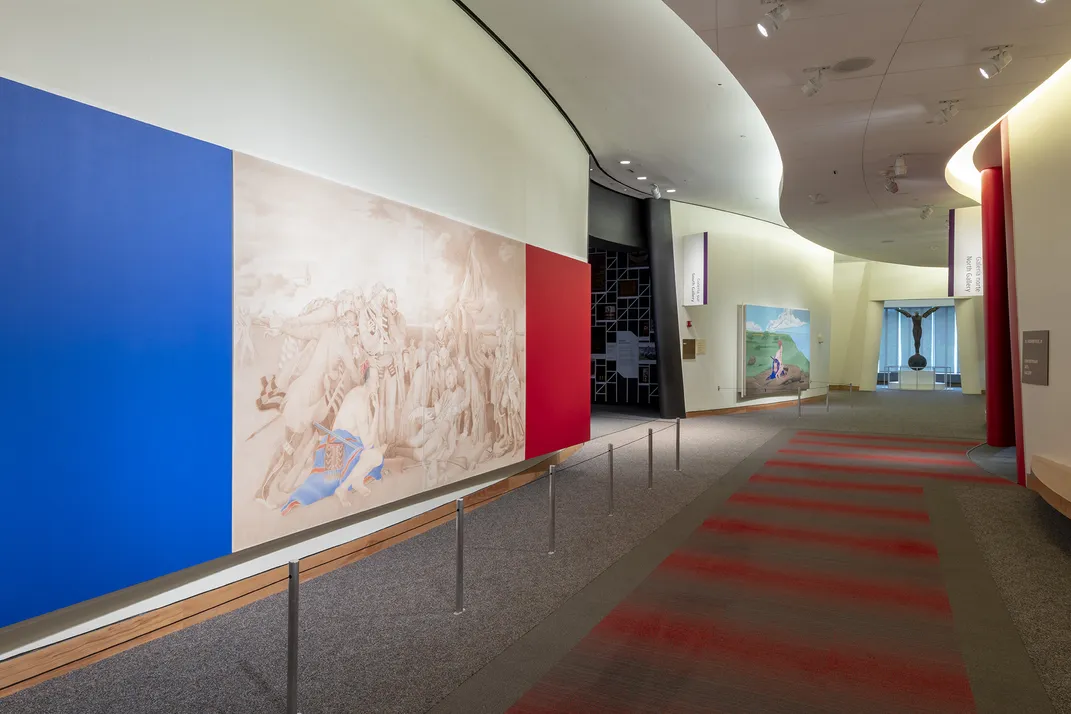 Even so, instead of stripping out meaning and context, Indigenous abstractions often include representational items. In Houle's elaborate acrylic series Parfleches for the Last Supper, he uses porcupine quills and paper to approximate 13 parfleche bags, each standing for Jesus or one of his 12 disciples.
Yet Houle is careful to use replications of eagle feathers rather than real ones in works like In Memoriam, "because, as he's always said, there's a difference between art and ceremony, and we should maintain that difference," Nanibush says. "The eagle feather has its own power and should be used for what it's intended to."
Houle's relatively new works reviewing the dark histories of residential schools, drawing on his own experience being forced to attend the school on the Sandy Bay reservation in southwest Manitoba, make for one of the most powerful parts of the exhibition. "He could see his house from one of the windows," Nanibush says, "but he couldn't go home."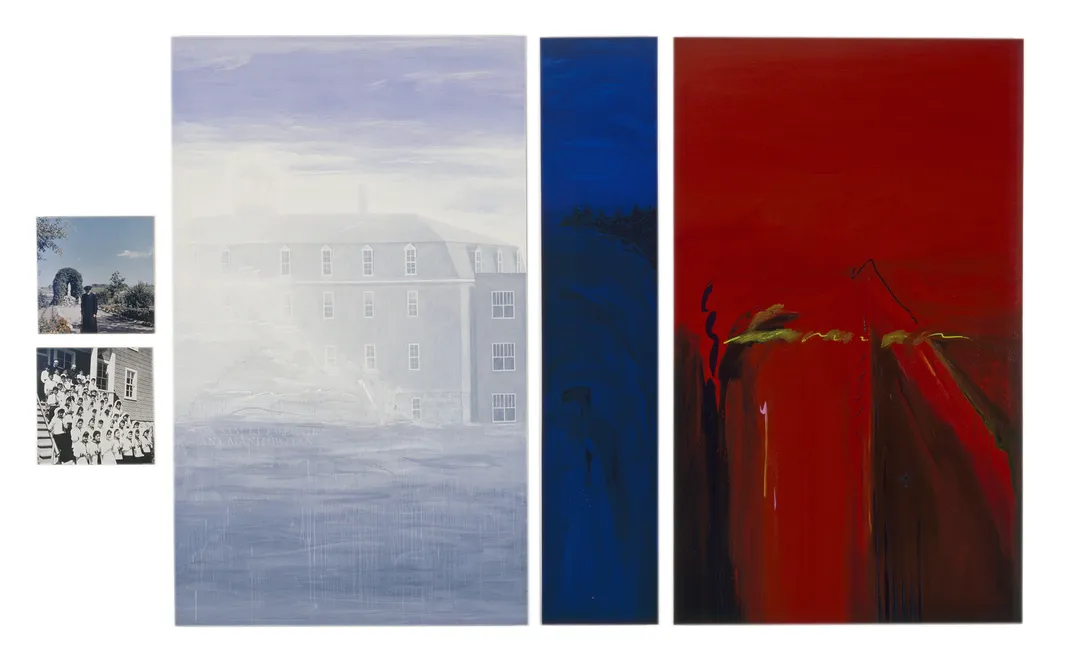 In a series from the late 1990s, Sandy Bay, he addressed some of the issues of forced removal from family, attempts to destroy Native language and the violence that pervaded from the 1870s to the 1990s when Indian residential schools operated in Canada. Then, in 2008, after Prime Minister Stephen Harper issued a public apology on behalf of the Canadian government as part of the Indian Residential Schools Settlement Agreement, calling it "a sad chapter in our history" and recognizing "this policy of assimilation was wrong, has caused great harm and has no place in our country." That political moment, Nanibush says, "brought up all these memories that [Houle] hadn't dealt with in the early work—the physical and sexual abuse within the schools."
"It's a painful experience in terms of memory, but you've got to do it, you've got to articulate it," Houle says. "It's the only way you're going to deal with that past, because it's always going to be there. The past is not something you just absolutely forget. It continues to live."
Nanibush singles out as "the one that gets me every time" a depiction of two beds floating in a blue space as part of the series Sandy Bay Indian Residential School II. "He'd talk about how sleep was not a time of rest, it was a time of fear," she says. "You would never know who would come and get you in the nighttime."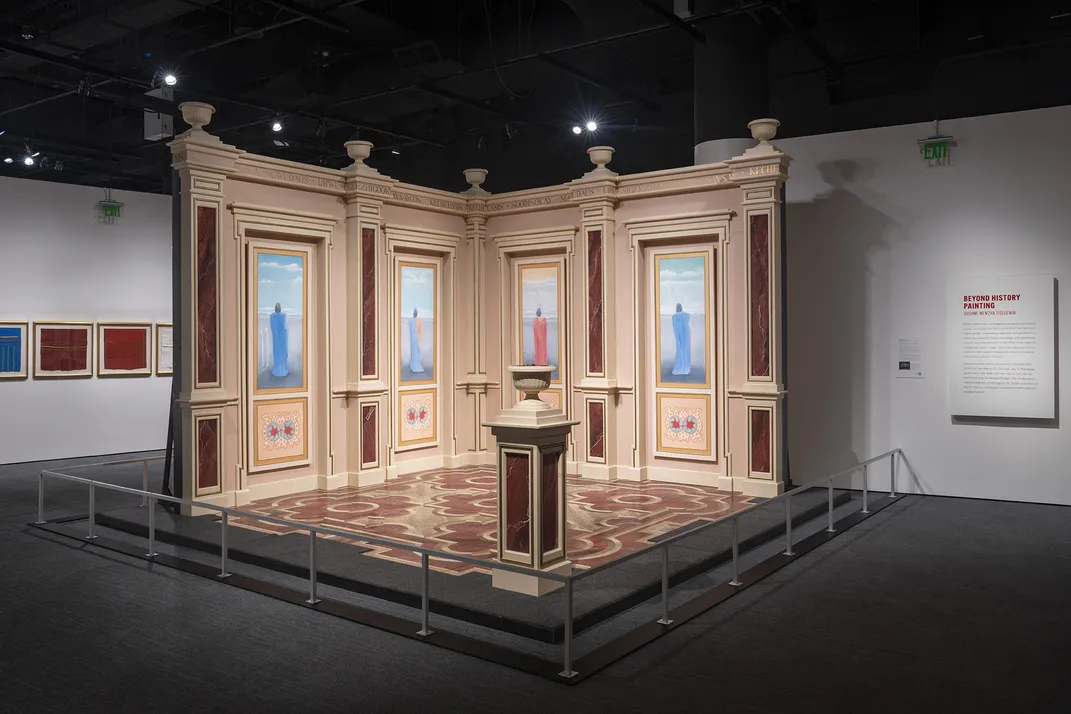 To offset those dark moments, the curator says, "I also include a lot of healing works nearby." This includes a set of four works that celebrate shamans: Shaman Takes Away the Pain, Shaman Heals by Touching, Shaman Never Die and Shaman Dream in Color.
Color, Houle says, is the most important takeaway for visitors.
"I just want them to look at the colors, at the arrangement of colors and shapes and the titles that may signify a helping hand of what it is all about," he says. "That's all—just to enjoy that."
"Robert Houle: Red Is Beautiful" continues through June 2, 2024, at the Smithsonian's National Museum of the American Indian in Washington, D.C.