Madeleine Albright Welcomes New Citizens at the American History Museum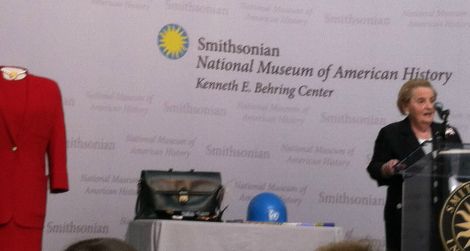 Addressing a dozen freshly minted citizens at the American History Museum on May 24, former Secretary of State Madeleine Albright couldn't help reflecting on her own journey to America. "I remember being very excited but also a little scared, because I didn't know how I would be received in this new land," she said. "I worried that the differences in the way I spoke and acted would leave me in America, but not really part of it."
The twelve citizens, hailing from Afghanistan, Mexico, Ethiopia, Pakistan, among others, had just taken the Oath of Allegiance a few minutes earlier. Albright, who left her native Czechoslovakia as a child, became a U.S. citizen in 1957 while attending Wellesley College. Her fears of being a misfit never came true; she went on to become the U.S. Ambassador to the United Nations and, in January 1997, she became the first female Secretary of State and the highest ranking woman to ever serve in the U.S. government. "I only hope my heels can fill his shoes," she famously said at the announcement that she would replace her predecessor, Warren Christopher. As Secretary of State, she influenced U.S. foreign policy throughout President Bill Clinton's second term, tackling some of the toughest issues of our times, including ethnic cleansing, the war in the Balkans and tensions with Saddam Hussein in Iraq. Last week, she received the highest civilian honor in the nation, the Presidential Medal of Freedom, from President Obama.
After sharing her own story, Albright urged the new citizens to treasure their citizenship document, because it represents "not just a change in legal status, but a license to a dream."
The ceremony doubled as a donation gathering, as Albright formally gifted several of her personal items to the museum, including the red wool dress she wore on the day of her appointment in 1996, her United Nations peacekeepers helmet and her briefcase. Albright, famed for using jewelry as diplomatic tools, also donated a few of her signature brooches. Succeeded by two women, Condoleeza Rice and Hillary Clinton, Albright marveled at how quickly things have changed by quoting her youngest granddaughter: "What's the big deal about Grandma Maddie being Secretary of State? Only girls are Secretary of State!"
The ceremony also unveiled the American History Museum's new website for immigrants, Preparing for the Oath, an interactive tutorial for the civics portion of the U.S. citizenship test. With sample tests, vocabulary lists, videos and 15 different topic categories, the site exploits the museum's vast collections to provide a context and narrative of American history.
Albright emphasized how much America owes to those who became Americans by choice. "We need the vitality and renewal that comes from fresh energy and ideas," she said. "Because of this ceremony, America will be better tomorrow than it was yesterday."