Louise Bourgeois Dies at 98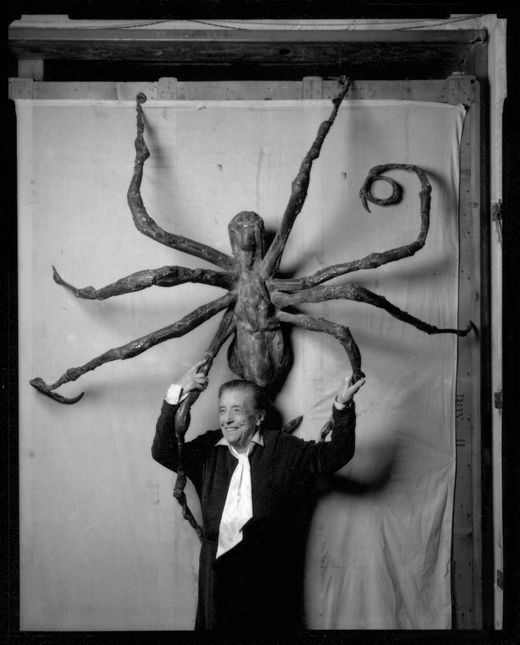 Louise Bourgeois, called one of the greatest influences in 20th century art, died yesterday in New York. She was 98 years old.
The French-born artist had a career that spanned for more than 70 years. Bourgeois worked in a number of mediums (most notably sculpture) with materials ranging from traditional plaster, marble and electric lights, to "found" objects such as old furniture, toy dolls and clothes. Her work most often dealt with sex, the human body, identity and family relationships.
Last spring, Smithsonian visitors were treated to a major retrospective of Bourgeois' work at the Hirshhorn Museum and Sculpture Garden.
Perhaps the most visible piece in the show was "Crouching Spider," a nine-foot-tall bronze and steel spider that the museum installed at the main entrance, calling it an "imposing greeter."
Bourgeois became well known for her series of large-scale sculptures focused on such spiders, who she said were inspired by her mother Joséphine, a weaver. One of her spiders has long been among the favorites on view in the National Gallery of Art's sculpture garden on the Mall.
Another of Bourgeois frequent motifs, the use of body parts or fragmented figures was "an expression of her attempts to come to terms with painful episodes in her life," according to an article in the Washington Post this morning. One of those "painful episodes," the Post reported, was her father's 10-year affair with Bourgeois' young English tutor.
But Bourgeois drew from a number of diverse European and American styles to represent her central themes, including primitivism, psychoanalysis, conceptualism, surrealism and feminism, according to Hirshhorn statements. All styles were represented in the retrospective, which included 120 pieces of sculpture, painting and drawings. The exhibition toured five cities around the world before closing at the Smithsonian.
Several of the works included in that retrospective were part of Bourgeois' "Cell" series, which the artist said represented "different types of pain: the physical, the emotional and psychological, and the mental and intellectual"—drawn from her own life but also, Bourgeois said, drawn from "shared perceptions of the human condition."
Another work, the life-size sculpture "Arch of Hysteria" (1993) depicted a body with no head arching backward, gracefully like a dancer, to form a circle. Though the term "hysteria" first arose in the 19th century, to characterize the emotionality of women, the museum wrote in the exhibit, Bourgeois used the figure of a man because as she noted, "men are hysterical too."
The Hirshhorn has two pieces of Bourgeois' art in their permanent collection: "Legs" (1996), a pair of dangling, Polyurethane resin legs, and "The Blind Leading The Blind," (1947-1949), a sculpture made of painted wood. Neither is currently on view.
The American Art Museum also has two pieces not on current display by Bourgeois, "Maquette for Facets to the Sun" and "Ste. Sebastienne."
View a photo gallery of Bourgeois' work from the Hirshhorn retrospective.