Living in the Block—Chris Chong Chan Fui's "BLOCK B"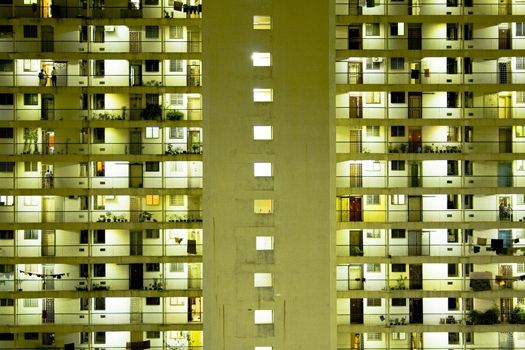 The sun rises on the side of a massive apartment complex in Kuala Lumpur, as birds twitter softly. Building residents go about their business, and the day rolls by, gently nudged by time-lapse photography. Eventually darkness falls, and lights illuminate random living quarters while activities in the outside hallways gradually decrease. Finally, all fades to black; then the same day begins again in a continuous loop. And we watch from afar.
Malaysian filmmaker Chris Chong Chan Fui's award-winning short film BLOCK B opened this past Monday at the Hirshhorn Museum.
BLOCK B is more art installation piece than short film. Filmed in a single shot, the building's architectural structure provides a powerful graphic network of horizontal and vertical lines as background for the movement of light and human figures, the film's characters. Residents of the building seem to pop up or fade away. The soundtrack is a fictionalized dialogue spoken between the residents of the building in the outside hallways.
It's entertaining trying to match up the dialogue with the characters residing in the maze of living spaces.
Hirshhorn Associate Curator Kelly Gordon first came upon BLOCK B at a the Rotterdam Film Festival. "I was initially struck by the monolithic nature of the building compared to the characters." said Gordon. "Each square is like its own little cinema with its own silhouetted characters."
Chris Chong Chan Fui, who is the first Malaysian artist to have work displayed at the Hirshhorn, actually lived in this apartment complex less than three years ago, but now the former resident has become the observer.
In fact, there's a distinctive voyeuristic flavor to BLOCK B, but the director embraces that. "Voyeurism sounds scandalous, so I don't mind being associated with it," he wrote to me via email. The complex has a large population of Indian ex-pats on temporary contracts for their technical expertise. Husbands bring their families, and then wives are left to associate with other wives, creating "a community within a community." The director allows the viewer a chance to look a little bit closer. But not too close.
BLOCK B will be playing in a 20-minute loop at the Hirshhorn through August 1, 2010