Listen to Doc Watson Picking Away at his Banjo
A new release from Smithsonian Folkways highlights the talent of a bluegrass master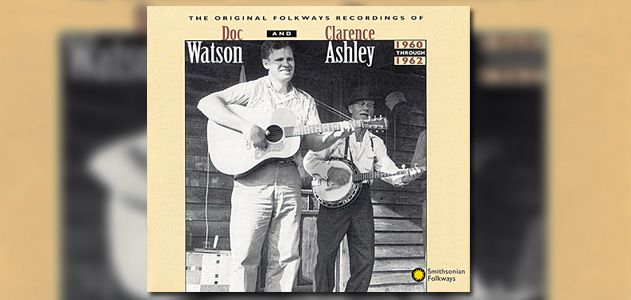 In 1960, the producer Ralph Rinzler paired the forgotten banjo legend Clarence Ashley with an obscure young guitarist named Arthel Watson. The recordings they made (Doc Watson and Clarence Ashley: The Original Folkways Recordings, 1960-1962) introduced "Doc" Watson's bluegrass flatpicking to a national audience. That's just one reason Rinzler, who died in 1994 at age 59, was recently inducted into the International Bluegrass Music Hall of Fame. He was also a mandolin and banjo player of note, a tireless folklorist and a promoter, co-founding the Smithsonian Folklife Festival and helping the Smithsonian Institution acquire Folkways Records.
What do you think the honor represents in his career?

I think Ralph would've been thrilled, especially at the fact that it was at the Ryman auditorium. He also did a bunch of histories of the Grand Ole Opry and stuff. Ralph started off as an opera fan, in college got into folk music.

Opera?

Yeah, he was totally into Gilbert and Sullivan. I used to live at Ralph's house, I was a boarder in the late '80s and early '90s and he still had all his opera librettos and all his stuff.

Ralph sort of became a music enthusiast in college and started buying all these old recordings and was playing mandolin, which was mainly a bluegrass instrument. Early on it was in these sort of jazz, ragtime bands, but Bill Monroe made it a central instrument to bluegrass.

Ralph approached him–Monroe was hesitant; he didn't quite know what to do with this New Jersey kid–to do an article for this major folk magazine about how Bill Monroe started bluegrass, not Flatt and Scruggs and other people who were getting the credit. And Bill Monroe eventually went along with it.

Ralph also discovered Doc Watson. Doc never considered himself a bluegrass musician but he traveled in those circles. He started promoting concerts all over the country in the folk world, you know, the great folk music era of bluegrass. He was really down in the trenches.

How did Ralph feel about the question of authenticity?

It was a huge issue for Ralph. It was still an issue in the late '80s when I started working here. It's not as much anymore. Folklorists talk about traditional musicians versus revival musicians. Most everybody that was referred to as folk musicians in 50s and 60s were revival musicians. They learned it outside of their community, they learned it from books.

Within the music community, what is his most lasting legacy?

A lot of what Ralph did are fairly iconic recordings: those Watson family and [Clarence] Ashley and other recordings. Nowadays, for a lot of younger bands, those are the chestnuts that they go back to. They don't know Ralph had anything to do with it but a lot of the major stuff was recorded by him. A lot of the things that happened that were major events in retrospect, and he had something to do with them. They recognize him for being this major player in the history of bluegrass.

What was it like working with him? He must have been like a walking encyclopedia.

He essentially was. You'd be listening to a song, and he'd be like, "Listen to this pentatonic scale," and he would describe why it was different form another song. But he was also just this tall, skinny guy who was full of just tons of energy.

He'd come in and I don't know what his metabolism was but I remember sitting in here and working on records with him, and he'd come in with one of those big buckets of KFC, eat the whole thing and not even slow down. He was throwing off all this energy constantly and the people around him, he was an idea guy, generating amazing ideas constantly, and the people around him end up having to do the work if you happen to be nearby. I was at his house so I got nailed a lot. I remember being up at two in the morning after I got home from some place and I hear this knock, knock, knock on my door. "Jeffrey!" "Hey Ralph, sorry, keeping you up?" and he said, "No, no, no, I have an idea!" and he comes in and I'm just like, "Oh, great."

It was great being around at the house. All these interesting musicians passed through and people who kind of knew Ralph from all over the world. People from India he'd met on travels would stop by and stay for a day, so you never knew. An American Indian tribe came over one night. So I came home and there was a whole Indian tribe, well not the whole tribe but probably 30 of them in the living room.