LISTEN: Grammy-Nominated Folkways Artist Elizabeth Mitchell Discusses Parenthood and Being in a Band with Your Kid
Nominated for her Woody Guthrie tribute album, Mitchell also has a new album of rock covers, from David Bowie to Jimi Hendrix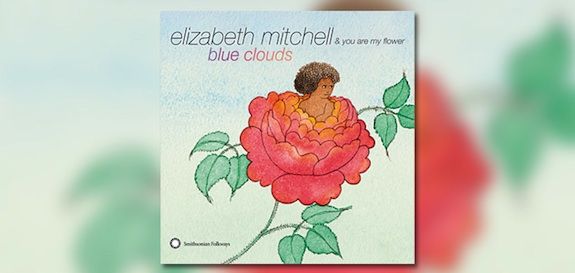 Elizabeth Mitchell's ode to Woody Guthrie, Little Seed, received a Grammy nomination for Best Children's Album. Covering some of her favorite Guthrie classics, Mitchell released her album in June 2012 and quickly followed up with another, Blue Clouds. Playing with her husband Daniel Littleton and 11-year-old daughter Storey, Mitchell returned to her roots as co-founder of, along with her husband, the indie-rock band Ida by covering songs by greats like David Bowie, Jimi Hendrix and Van Morrison. We talked with Mitchell back in August about how her band is evolving and why she likes making music all ages can appreciate.
Listen to tracks from Blue Clouds here.
What music do you listen to in your home?
My husband and I are voracious music listeners, we're listening all the time. Increasingly, in the last few years since Storey came along, we listen to everything differently. Now everything is sort of filtered through this different lens of parenthood and family and so all these unexpected threads can emerge. A song like "Kooks" is obviously directly a song about parenthood which is so thrilling to hear someone like David Bowie's take on things. A song like "May This Be Love" is just such a comforting song. It really has a beautiful, really reassuring narrative which is a beautiful thing to impart to a child. You might not be thinking that way when you first hear the song but then when you're thinking of it as a parent, everything takes on a whole new meaning and that's what draws us to a song.
And your daughter not only consumes this music, she helps make it, too?
She's been on all our Folkways records but now she's really stepping up, she's singing harmony with us which is really exciting…She's become more of an instrumentalist in the band, which is great because she's 11 now and she can play instruments and it's really wonderful to let her skill level increase and bring that role to bear. Although it's funny, so many kids come to the show expecting her to be three years old, she's frozen in time, which in a way she is for me too. Sometimes I look at her and I cant believe the little preteen I've got standing next to me. We share shoes now, it's dizzying.
How is Blue Cloud different for you?
I think it's our most exuberant record. There's a real wide range of different sounds on this record, more so than before. It's really diverse, eclectic and adventurous. It just feels good. . .with each record that we make as she grows we continue to grow and to step out into the world more.
Do you consider your albums to be only for children?
They are really for everyone, but they are for children first. When we make a record we want everyone to enjoy that. . .I think music like that can speak to children, I don't think you need to change it really at all. . .That's what's important about folk music, it's this thread through time, it's for everyone, it's not changed at all for children."