LISTEN: Five-Time Grammy Winner Flaco Jiménez Returns to his Tex-Mex Roots
Virtuoso 12-string bajo sexto player Max Baca talks about his long-time partner Flaco Jiménez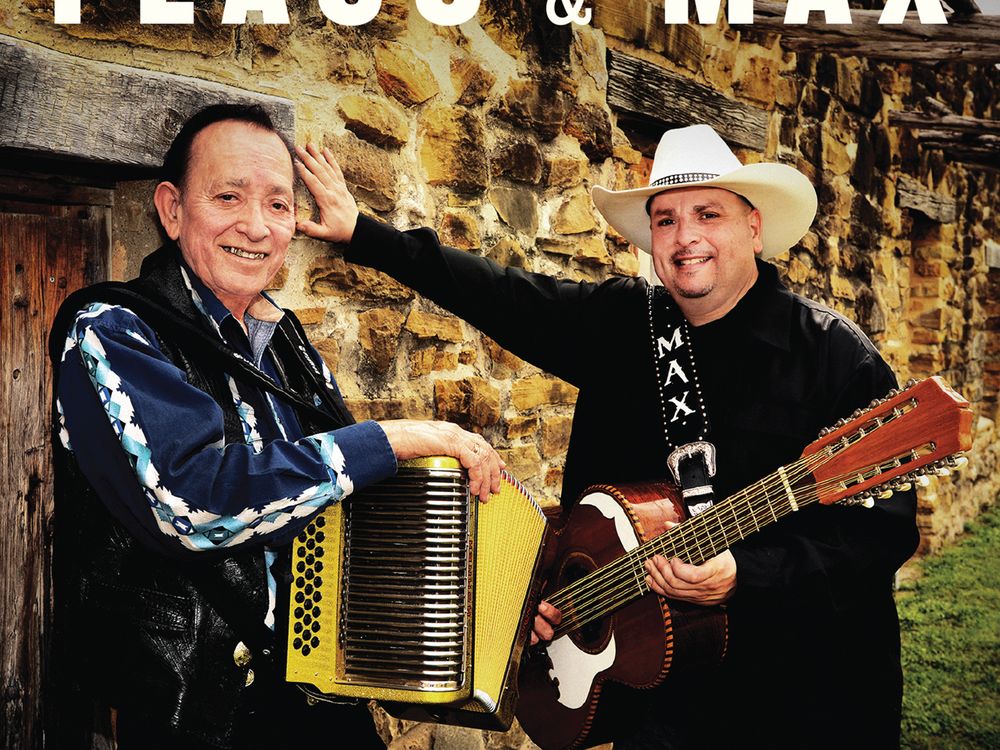 Max Baca, a virtuoso on the 12-string bajo sexto (Spanish for "sixth bass"), grew up in Albuquerque idolizing the legendary accordionist Flaco Jiménez, master of the Tex-Mex music known as conjunto. Now, nearly four decades later, the two are collaborators on Legends & Legacies, an album soon to be released on February 25 by Smithsonian Folkways. Baca, who is best known for incorporating blues and rock licks in his conjunto sound, describes it as a return to tradition: "It's pretty much the songs that [Flaco's] father used to play when he was a kid and the songs that my dad used to play when I was a kid." It adds up to a colorful, comical portrait of everyday life on the border.
We spoke with Baca about revisiting conjunto classics and performing with one of his idols.
Many of the songs on this album are humorous—stories about people getting drunk, slacking off, cheating on their wives and getting caught. Is that sense of humor a central part of conjunto?
A lot of these songs were songs that my father, Max Baca Sr., used to play when he was younger. When I was just a kid learning about music, I used to play with my dad—I was my dad's bass player, so I would hear these songs. As you grow up, you kind of get away from those old, classic funny songs and you get into more serious love songs and whatever's happening in that era. But [the classics are] pretty much the concept of this album. The humorous songs had to do with the way people were living in general, the things they did—get drunk, meet some woman and find out the next morning that your wallet's gone.
I'm really excited because for so many years I recorded with Flaco as just his bajo player and that's it. I participated on some of his Grammy-winning albums. This one is just mine and Flaco's. It's pretty much the songs that his father used to play when he was a kid and the songs that my dad used to play when I was a kid.
How did your partnership with Flaco begin?
When we started getting a little older, in our teens, my dad said, I think you and your brother can make your own band now and I'll just promote you guys. He would help me and my brother get gigs. One day my dad was watching Saturday Night Live and Flaco comes on and my dad calls us into the room and he goes, "See this guy here? One of these days I'm gonna take you to see him play. He's one of the best accordion players, one of the best Tex-Mex musicians out there." Back then the orchestra music [orquesta tejana] wasn't too popular—Little Joe and the horns guys. But for some reason, the accordion and the bajo, the real rootsy traditional sound, was attractive. It's like when you hear a Cajun accordion and a violin—it attracts you, you start tapping your foot, you know? Or you hear a mandolin and an upright bass and a banjo just picking away—it's bluegrass. It's happy music.
My dad would take us out on weekend trips to hear Flaco. There'd be a hall of a thousand people and Flaco had it packed every night. I was 7 when I met Flaco, and. . . we've been friends since then. Twenty years later, I became Flaco's bajo player in the Texas Tornados.
Was it daunting to perform with one of your idols?
That was my dream! It was a dream come true. Seeing Flaco on stage with his bajo player, it was a whole different world. I'd stand at the front of the stage just looking and soaking it all in. Then one day Flaco called me and my brother and asked us to come up and play a song with him. I was in la-la land! I just played with Flaco, man!
Flaco's like a dad to me. He considers me a son too. We're so close now. It's been an honor to be next to a legend like Flaco, who's a National Heritage Award honoree as well as a five-time Grammy winner. He's received so many prestigious awards.
Flaco called me yesterday and raved about Legends & Legacies. He said, "Mijo, this might be my last one"—he's getting up in age, you know—"I want it to be right." He's recorded on pretty much every major label, but he said, "Smithsonian Folkways, to me, this is it. This is where I started. This is our sound. This is who we are."
Audio Sneak Preview: "Flaco & Max: Legends & Legacies"
Sample these tracks, "Margarita, Margarita," "Cada vez que cae la tarde," and "Me Voy Lejos" from Grammy award winners Flaco Jiménez and Max Baca.