Lion King Artifacts Join Smithsonian's Circle of Life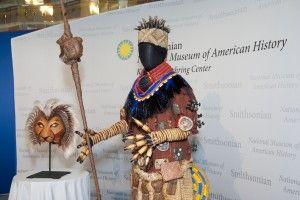 Yesterday morning The Lion King took center stage at the American History Museum. Well, parts of it anyway—but even so, a crowd of people turned out to watch the festivities. In a donation ceremony helmed by curator Dwight Blocker Bowers and president and producer of Disney Theatrical Productions Thomas Schumacher, costumes from the Tony award-winning stage adaptation of the 1994 animated film The Lion King—currently the sixth longest-running Broadway show—were formally entered into the Smithsonian's collections.
In 1998, this stage adaptation of the wildly successful Disney animated movie of the same name burst onto the stage and floored audiences and critics alike—largely thanks to the direction and stunning costume designs by Julie Taymor. In order to tackle the challenge of transferring talking anthropomorphic animals from an animated movie to a live stage show, her costumes evoke both animal and human qualities. The headdress she created for Simba—an angular, stylized rendering of a lion's head encircled by a spiky white mane—and the full costume for Rafiki the baboon—a costume that evokes a shaman more than an animal until you see the bright red ape-like toes sculpted into the shoes. (You can catch a glimpse of the creative process behind the show in this clip from the 1998 Tony awards.)
The Lion King has been a part of Thomas Schumacher's life for the better part of 19 years. "It is an honor to see The Lion King enter this place," he said. "The Lion King is more than a musical—it has become a global phenomenon, and this donation forever seals its place as an icon of American culture in one of our country's leading history museums."
The American History Museum's musical theater collections began to build after the exhibit "Red, Hot and Blue" ran at the National Portrait Gallery in 1996. "These artifacts help visitors ponder larger issues such as gender and American identity," said Bowers. The collection has come to encompass relics from shows that burned white hot on the Great White Way, including Rent, Mame, Hello, Dolly!, Fiddler on the Roof and Lorelei.