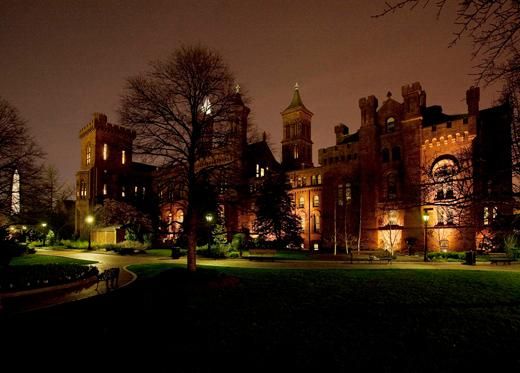 The National Mall was more dark than usual on Saturday night, when buildings around the city and the world—including the Smithsonian Institution's Castle and the Reynolds Center—turned off the lights for 60 minutes as part of Earth Hour, a global effort by the World Wildlife Fund to draw attention to climate change.
The hour "symbolizes that by working together, each of us can make a positive impact in this fight," the fund says. Most times, even at night, the world's most populous areas are still bright with light, but most of it is just wasted energy.
Last week, museum staffers at both the Castle and the Reynolds Center, home to the National Portrait Gallery and Smithsonian American Art Museum, made preparations for a Saturday night plan to go dark.​
At the Castle Saturday evening, Smithsonian photographer Eric Long set up camp outside the building shortly before Earth Hour began at 8:30 p.m., snapping a shot of the castle before the hour (at left above), with lights both inside and outside of the castle aglow, and after (at right), when only a handful of emergency lights, and the glow of the Washington Monument in the distance, remained.
"There are reflections from the Independence Ave. street lights that are in the windows of the Castle and surrounding the front of the gardens," Long said. "There are also some emergency lights which were not able to be turned off." But the symbolically dark 19th-century Gothic revival building looked marvelously eerie against the pink-hued light of the city's night sky.
All 50 states participated in the initiative, and early estimates say 4,000 communities in 126 countries turned off their lights during the hour.