Life-Size 1865 Portrait of Abraham Lincoln Stands Tall at the National Portrait Gallery
The W.F.K. Travers painting hid in plain sight at a New Jersey town hall for 80 years before it was restored and brought back to Washington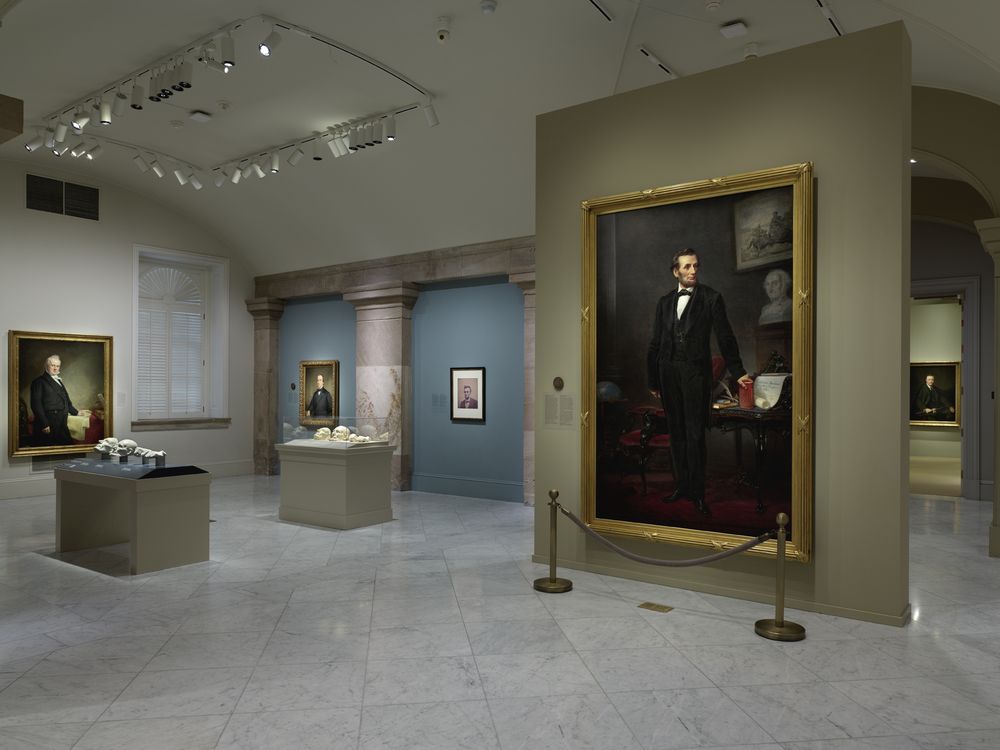 When a full-sized portrait of Abraham Lincoln by an obscure Dutch artist made its debut at the Centennial International Exhibition of 1876 in Philadelphia, it stunned viewers. And not just because it was 9 feet tall.
One longtime Lincoln associate said Willem Frederik Karel Travers' 1865 work was the most realistic portrait he had ever seen of the 16th president, who had been killed just 11 years earlier.
From the way he stood—amid an array of symbolic artifacts that included the recently signed 13th Amendment—to the sparkle in his eye and slight curl of the lip, it was an uncanny likeness. Widow Mary Todd Lincoln allegedly fainted at its sight and had to be helped away.
After the 10 million visitors to the nation's first official World's Fair had a chance to stand before it, triumphantly positioned alongside Gilbert Stuart's famed 8-foot-tall Lansdowne portrait of George Washington from 1796, the Lincoln painting got a little lost. It hung in a New Jersey borough's council chambers for 80 years before it was restored and brought back to national prominence at the Smithsonian's National Portrait Gallery this month in time for Presidents' Day.
"It will breathe new life into our republic, as we're now in our third century," historian and Lincoln scholar Ted Widmer said at the painting's ribbon-cutting last week. "It's a very, very happy day."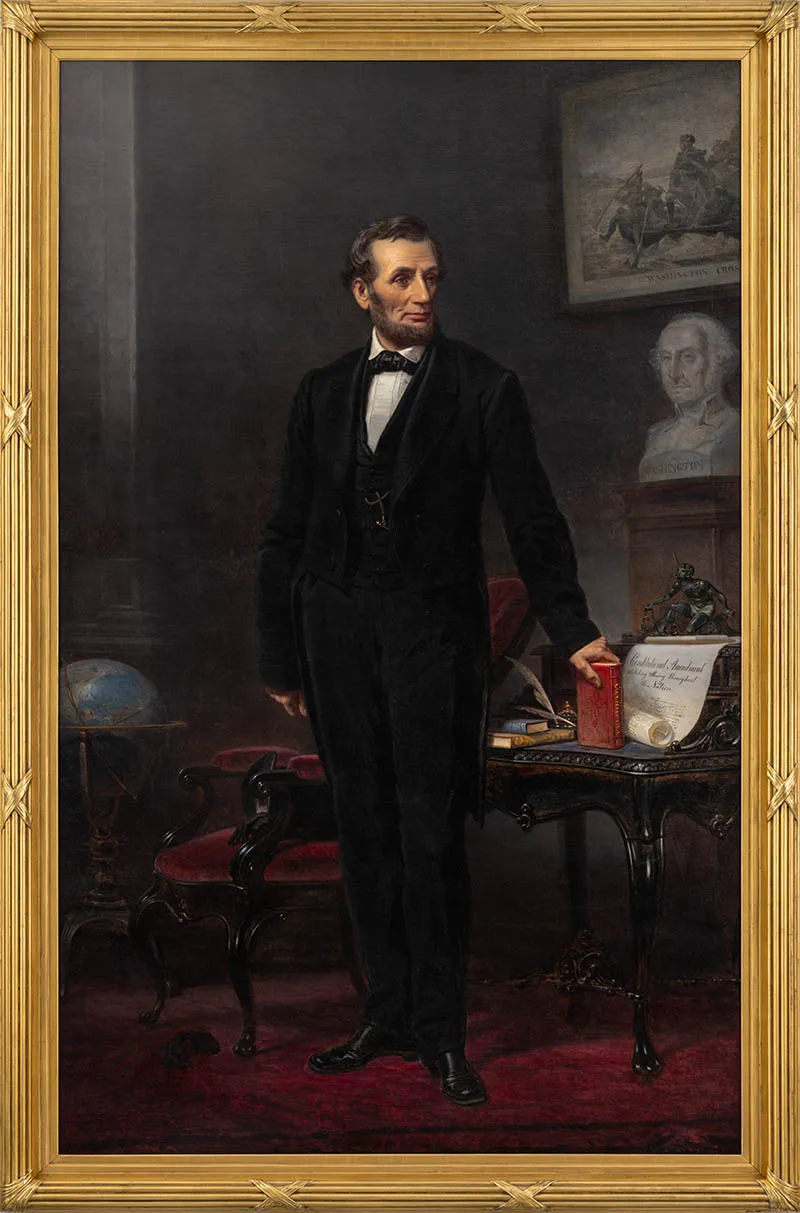 It was Widmer's advocacy in a Washington Post article last Presidents' Day that helped spark the portrait's return to Washington, where it once languished at the end of the 19th and into the early 20th century, looking for a buyer.
"This is a living time capsule," said Nicolas W. Platt, president of the Hartley Dodge Foundation, which is providing the long-term loan, courtesy of the citizens of the Borough of Madison, New Jersey.
"This painting was an orphan for a long time, which is another reason we're so happy that it's in this beautiful home," museum director Kim Sajet said at the ribbon-cutting. "It couldn't be better located with its pair, the great Gilbert Stuart Lansdowne portrait of George Washington, which is perhaps the most famous painting in the United States."
That the two paintings are reunited as they were at the 1876 Centennial Exposition is another highlight of the museum's ongoing "America's Presidents" exhibition. The National Portrait Gallery is the only site outside the White House that holds portraits of all the U.S. presidents. The museum received a boost in attendance following the unveiling of the crowd-pleasing portrait of Barack Obama by Kehinde Wiley in 2018.
After the big showing at the Philadelphia exhibition, the Travers painting was nearly burned, historian Stefan Schöberlein said. William P. Webster, the American ambassador to Germany who had first purchased the painting, died in 1877. The painting was then stored at the Pennsylvania Academy of the Fine Arts, where rumor has it, it was almost lost in a storage fire.
Then the painting became what Widmer called "kind of an orphan around Washington."
"It hung in a hotel window," he said. "It was in a naval subcommittee room inside the U.S. Capitol, where many senators really wanted to buy it, but they did what senators do—they argued. They couldn't quite agree on the price tag. And it just sat there, decade after decade."
In the 1920s, the Rockefellers became the painting's owners. Geraldine Rockefeller Dodge placed it in the Hartley Dodge Memorial, the municipal building in Madison, New Jersey, that she built in tribute to her only son, an heir to the Remington-Rockefeller fortune who had died in a car accident in France in 1930.
When the painting was restored in 2021, it was under layers of presumably hardware varnish poured on it about 40 years prior. "It was extremely thick, a little bit yellow, and it was quite opaque," said conservator Mark Bockrath of Barbara A. Buckley & Associates of West Chester, Pennsylvania. "I had never removed varnish quite that thick."
Then again, the varnish may have protected the painting from decades of smoking inside the council chambers, said Madison Borough Mayor Bob Conley.
Townspeople appreciated the painting, Conley said, but some took it for granted after a time, "like a piece of artwork in your own home." The Hartley Dodge Memorial is an unusual town hall, built at the same time as New York's Rockefeller Center using some of the same materials. For a time, its other artworks included a bust of Napoleon by Rodin.
"As mayor, I sat on the dais and this was on the far wall," he said at the event. "So to sit there meeting after meeting and see Abraham Lincoln looking back at me, I think it's kept us honest in our town meetings."
But, he added, "We would have packed meetings, and people would almost be leaning on it."
Restoration of the painting—and its expert lighting in the Portrait Gallery—bring out the many symbolic elements in the paintings that appear alongside Lincoln in the composition, including two glimpses of George Washington, in a bust and in Emanuel Leutze's famous image of the general crossing the Delaware.
The Constitution is shown prominently in the painting, just as it is in the nearby Washington Lansdowne portrait. And on the left-hand side of the frame is a globe, which, as Widmer pointed out, is turned toward the Caribbean and "might be showing Haiti, the country that Lincoln recognized for the first time more than 60 years after Haiti became an independent country." Widmer added it also might be a nod to Travers' childhood in Honduras in Central America. It's one of the mysteries of the painting, which also includes a black glove on the floor that some may have missed before the painting was restored. It may be a signal of mourning in a painting that otherwise doesn't show any, indicating it was painted during the last weeks of Lincoln's life, Widmer said. "We believe it was painted in a pretty short window."
It must have been completed between the passage of the 13th Amendment on January 31, 1865, and his assassination on April 15, 1865, minus the two weeks Lincoln went to Richmond immediately after the besieged city fell that spring. It's not clear if Lincoln actually posed for the painting, one of three known full-length portraits of the president. "We believe that he did, but we don't have proof," Widmer said, adding that White House visitation records from the period are spotty.
And unlike the many memorial paintings done after his death, "there's no obvious mourning in it," Schöberlein said. "Maybe that's one way you could read that dropped glove as a late addition to acknowledge that in some way."
"The mysteries deepen and deepen," Widmer said, "and it's been a wonderful experience for me as a historian."
Sajet noted that Lincoln's return to the Portrait Gallery building was significant and symbolic, since it was in these halls, back when it was the U.S. Patent Office, that Lincoln had applied for and received a patent for a boat floatation device intended to free boats from sandbars.
"The fact that it didn't work is beside the point," she said, "because he was the only president to submit a patent here in this building … and [it] was of course a testament to his practical mind and ingenuity."
The block-wide Greek Revival building, which Congress gave to the Smithsonian in 1962, was also notable for Lincoln as the site for his second inaugural ball, held a month before his death in 1865.
Travers' Lincoln is one of a handful of portraits in the "America's Presidents" gallery that are not owned by the museum. Thomas Sully's 1824 oil of Andrew Jackson is from a private collection; George Peter Alexander Healy's 1858 Martin Van Buren was lent by the White House; Theodore Clement Steele's 1900 Benjamin Harrison is lent by Purdue University; Thomas E. Stephens' 1955 Dwight D. Eisenhower is lent by his presidential library.
The Lincoln portrait joins the more haggard portrayal of the president in a February 1865 photograph by Alexander Gardner, as well as a new tactile display, designed for the visually impaired, that includes three-dimensional replicas of a Lincoln face mask and a set of hands originally cast by Leonard Volk in 1860, as well as a face mask cast by Clark Mills in 1865.
A full-size digital reproduction of Travers' work has also been installed in Madison, New Jersey, hanging where the painting once stood, said Hartley Dodge Foundation trustee Anne MacCowatt. "The borough was understandably concerned that they were going to be without something, so we said we're going to really make it good for you," she said. "And I feel we accomplished that mission."
The W.F.K. Travers portrait of Abraham Lincoln joins the other paintings in the ongoing "America's Presidents" exhibition at the National Portrait Gallery in Washington, D.C. and will be part of the museum's Presidential Family Fun Day on February 18 from 11:30 a.m. to 3 p.m. Admission is free.