Legendary Performer Diosa Costello Donates Wardrobe to Smithsonian
A pioneer of theater, nightclubs and Broadway gives her costumes to the American History Museum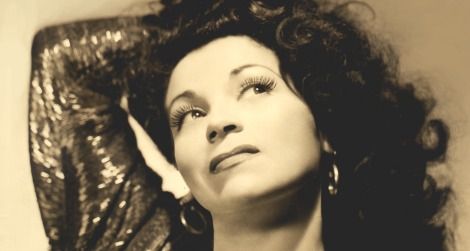 Diosa Costello was the first Latina on Broadway. She was a pioneering night club performer. As a producer and club owner, she set trends in entertainment; as a film star and popular musician, she personified them. "I was the original J. Lo.," Costello says. Last week, as part of an on-stage program and conversation with curators, she donated a set of 11 stage costumes from her storied career to the American History Museum.
The 94-year-0ld Costello grew up in Puerto Rico, performing for her father sick in bed and soldiers on the street . "I was born dancing," she says. "All my life I danced." After moving to New York with her family as a teenager, she worked her way up the ranks, catching a major break when she was cast in the Broadway musical Too Many Girls.
During her long and diverse career, she would record music, appear in Hollywood films, perform alongside Rodney Dangerfield in Catskills comedy clubs and launch Desi Arnaz to fame. In an era when racial diversity was nonexistent on stage, she performed as everything from Latina stereotypes to a Pacific islander, as "Bloody Mary" in South Pacific.
Her routines, in particular, were remarkably racy for the time. "I would stick my behind out, and I put a glass of water on top of it. When I was dancing all over the place, and I didn't spill one drop," Costello says. "I'm very uninhibited. If I think something, I do it."
"She is a pioneering performer and a significant figure in American entertainment," says Dwight Blocker Bowers, a curator of the American History Museum's entertainment collection. He hopes that, after renovations that will create a larger exhibition space for the popular culture artifacts, the museum will be able to put Costello's costumes on display.
Despite her longevity and popularity, Costello never expected for her work to be honored in the Smithsonian. "I'll tell you, I didn't even know. I had never been to a museum, I didn't even know what the heck it was all about," she says. But Bowers feels the honor is fitting for a career of Costello's magnitude. "You're a legend," he says, "to us and to the American people."
In the upcoming November issue of Smithsonian, don't miss Around the Mall's Q&A with Diosa Costello.