For decades, starting in the early 1970s, the eccentric amateur folklorist and musicologist Robert "Mack" McCormick labored and obsessed over what he believed would be the quintessential biography of Robert Johnson, the 1930s-era Delta blues artist whose life and death had been surrounded by rumor and intrigue.
But McCormick's multiple manuscripts never saw the light of day—until now, with Smithsonian Books' publication of Biography of a Phantom: A Robert Johnson Blues Odyssey, edited by John W. Troutman, the curator of American music at the Smithsonian's National Museum of American History.
To complement the exhibit, Smithsonian Folkways Recordings will release Playing for the Man at the Door: Field Recordings from the Collection of Mack McCormick, 1958-1971 on August 4. The three-CD/six-LP box set offers music gathered from front porches, living rooms, nightclubs and beyond, and will include 128 pages of liner notes featuring essays from producers Jeff Place and John Troutman, as well as contributions from Dom Flemons, Mark Puryear and McCormick's daughter, Susannah Nix. And this summer at the Smithsonian Folklife Festival musician Dom Flemons performs with Phil Wiggins and Yasmin Williams July 9 in celebration of the box set.
Music scholars and blues aficionados will likely pore over the biography, which includes a key introduction and afterword, as well as Troutman's detailed annotations. But it won't necessarily be for what they'll learn about Johnson.
"Biography of a Phantom has such mystique," says Preston Lauterbach, a music journalist and author of The Chitlin' Circuit and the Road to Rock 'n' Roll. "A lot of us in the blues community have been waiting for it for decades. So just to finally get a look at it, it's pretty exciting."
Much of Johnson's biography is known by now, including that he was allegedly poisoned at the age of 27 in 1938 after having dabbled with an already-taken paramour. The oft-repeated myth that Johnson's musical gifts were the result of a deal he made with the Devil is not only debunked by McCormick but also speaks to a racist perspective that Troutman notes "ascribed his musical brilliance literally to the doings of the Devil, rather than to recognizing the labor of his craft."
McCormick, who died in Houston in 2015, was a mystery on a par with his subject. Biography of a Phantom is crafted as a true-crime thriller, and McCormick occasionally adopts the voice of a hard-boiled investigator as he plots the twists and turns of his quest to unearth the story of Johnson's life and death.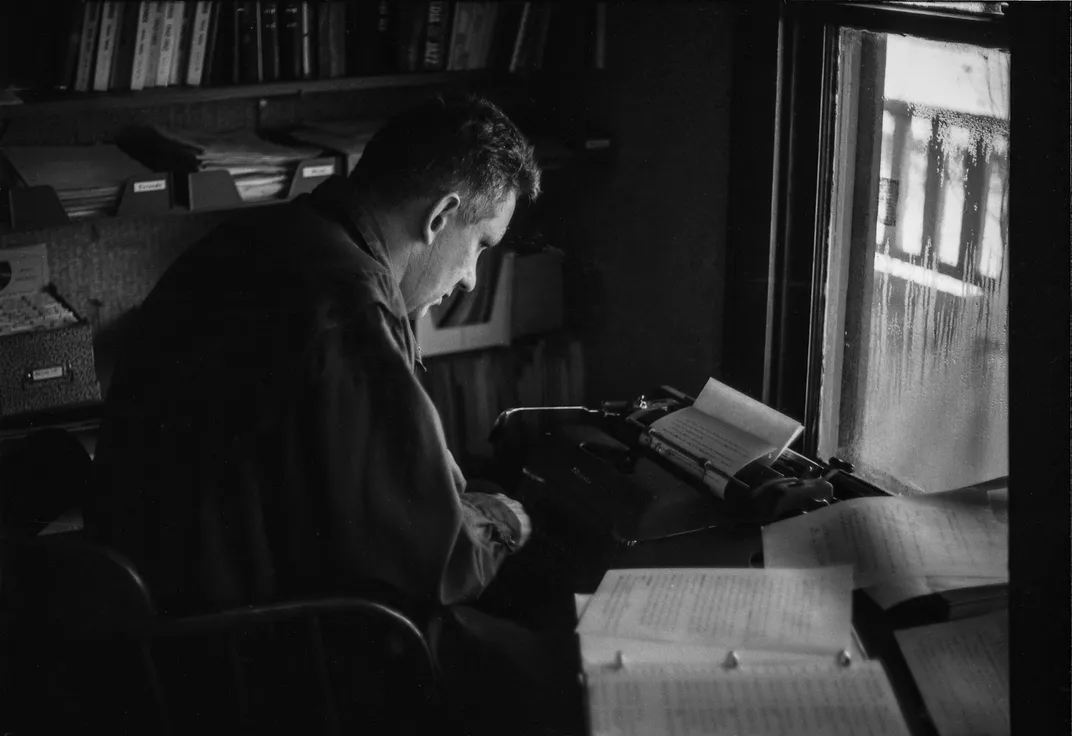 McCormick toiled in secrecy and with an almost ever-present sense of paranoia, spurred by ongoing mental health struggles. Over decades he wrote draft after draft, never satisfied, and frequently inserted half-truths or complete falsehoods—born in part out of doubting his own research, but also to stymie those who sought his knowledge and eclipsed his findings with their own fieldwork.
His downward spiral began in earnest in 1973, when a communications rift arose after he'd located and then interviewed two of Johnson's sisters. McCormick's ultimate hostility and indifference not just to those sisters, but toward other family members—after he'd spent years tracking them down and courting them to help with his book—was a bizarre twist in his own life story that may never be understood.
Johnson is considered a foundational American singer, guitarist and songwriter whose short-lived career—spanning just 29 records cut in 1936 and 1938—inspired generations of musicians. His works, including "Cross Road Blues," "Rambling on My Mind," "Dust My Broom," "Love in Vain" and "Walking Blues," have been covered by artists as varied as Howlin' Wolf, Muddy Waters, Led Zeppelin, Eric Clapton, the Rolling Stones, Lucinda Williams and Cassandra Wilson.
"Because he died so young," says Lauterbach, "and left such a mystifying body of work behind him, of course, everybody wanted to know what his story was, what his inspirations were, what his process was like—anything they could about the man; because the person who comes across in songs like 'Hellhound on My Trail' is a tortured soul and a poet unlike just about anybody else who's ever been able to express themselves."
But for Lauterbach, Biography of a Phantom is equally valuable, perhaps most valuable, for the insight it provides into McCormick's fieldwork methods and his state of mind during that period, as much as it could be known.
Lauterbach co-wrote a 2020 memoir by Johnson's stepsister, Annye Anderson, Brother Robert: Growing Up with Robert Johnson. "McCormick is someone I was longing to understand," he says. Though he never met the collector, the "angle I caught of him was very strange," he adds.
Troutman says the book won't answer all the questions about McCormick. But it is a window into his methods and just how dogged he was in connecting all the dots in a pre-internet, pre-cellphone era.
The book "is really about his obsession and finding people who knew Robert Johnson," says Troutman. It also, as the curator writes in the afterword, "ultimately is less about the life of Robert Johnson than it is about the human hellhounds and psychological phantoms that affected everyone involved."
In 2018, a few years after McCormick died, Troutman reached out to McCormick's daughter, Susannah Nix, to see if she would entertain donating her father's archive to the Smithsonian.
In many ways, the donation made sense. Starting in 1968, McCormick had been enlisted periodically by the Smithsonian to find artisans and musicians in Texas and elsewhere to perform at the annual Festival of American Folklife on the National Mall in Washington, D.C. McCormick was known to be deeply knowledgeable about blues and other folk musicians, especially in the Delta.
Nix ultimately agreed, and last November the museum announced the acquisition.
The collection, organized into 165 boxes, "spans about 90 linear feet of manuscript material," says Troutman. It includes research notes, transcripts of interviews from the 1960s and early 1970s, 590 reels of sound recordings, drafts of essays and books and plays that were never published, business records from McCormick's time as a manager for the Texas blues artists Sam "Lightnin'" Hopkins and Mance Lipscomb, and some 4,000 original photographs.
McCormick kept everything and anything, including all of his correspondence with his mother, and, as Troutman says, "documentation of his mental illness, what he was living with throughout his life."
The folklorist had bouts of severe depression, paranoia and, occasionally, manic episodes, which likely kept him from holding full-time employment, Troutman says. It also might explain why McCormick placed what he himself called "hoaxes" into his materials, false accounts or untrue facts meant to throw off potential competitors in the folklore and musicology world.
Those false plants gave Troutman pause when it came to choosing which of the many manuscripts of Biography of a Phantom to publish. The earliest drafts—soon after McCormick completed his field investigations in 1972—were the strongest and easiest to corroborate with notes, receipts, photographs and other documentation, says Troutman.
As McCormick reworked the drafts into the 1980s, '90s, and 2000s, "they were being further and further removed from reality," Troutman says. "I did the best I could to confirm everything in the book in terms of the interactions that he had with people and the information he was gleaning from the interactions," he says.
Troutman didn't do much editing, because McCormick was a gifted writer.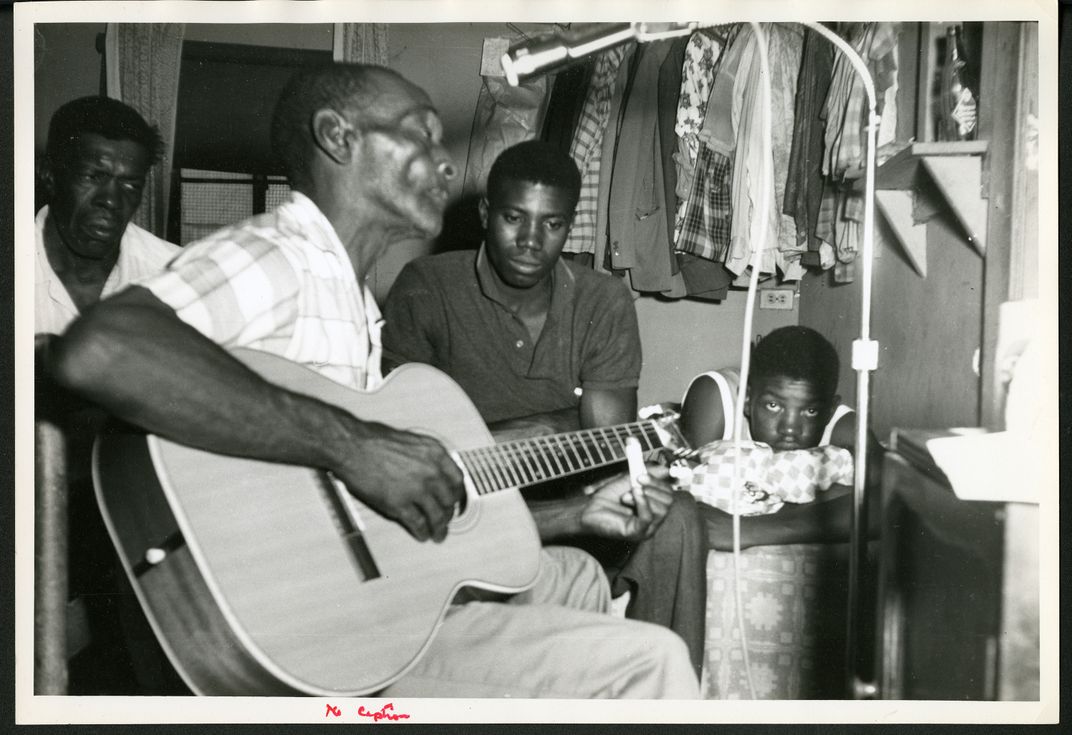 "I really kind of loved being there in the Mississippi Delta towns with McCormick as he's searching out this mystery," says Lauterbach, who adds that he was surprised at the collector's storytelling capability.
Many of the passages are evocative. Early in the book, he wrote about beginning his journey, haphazardly at first, as he drives from Memphis to eastern Arkansas to western Mississippi to Louisiana:
The country had turned hilly, and it had the smell of damp pine needles. I'd worked my way due south, sometimes on Highway 61 and sometimes on a parallel country road, moving down into the far corner of the state and then crossing into the toe of Louisiana. The roads got narrower and rougher, and one of them took me to the edge of the Mississippi River, where I loaded the car on an old clanking steel ferry that boiled its way across half a mile of water.
McCormick also reported on the realities of life for Black Americans during Robert Johnson's lifetime—when lynchings were common—and in the 1970s in the rural Deep South towns he frequented. Many of those he encountered in his search for Johnson continued to sharecrop land that had been broken off from plantation labor camps. White overseers continued to rule their lives, as McCormick discovered when he finally found where Johnson grew up—Leatherman Plantation, near Commerce, Mississippi.
When I talked with people who had lived along State Road 304, there was an inescapable sense of the brevity and irregularity of life in this part of the world. People talked about the different farms where they'd worked. Many had tried their luck in a city and then returned to what was more familiar. Almost no one had remained in place for more than a generation. Most of them described their families as coming to Robinsonville from some place in the hills to the west or the south. They had moved not like pioneers seeking a new frontier but rather like passengers on a sinking ship, moving to the part still above water.
McCormick was frequently sensitive to the fact that he was a strange white man in the rural South, knocking on doors and asking questions. Troutman says McCormick was successful in part because he engaged so knowledgeably, quickly and easily on the subject of music and local artists. McCormick had also at one point worked for the U.S. Census, which accustomed him to knocking on the doors of strangers' homes.
When he finally got to Leatherman Plantation, he hit a jackpot, finding a group of people who had known Johnson during his heyday—and Johnson's son, Claud, who had been born out of wedlock. It was jarring in some ways. McCormick wrote that his search had a "feeling of antiquity" because he was investigating someone who had been dead for decades. And yet, the friends and neighbors he meets are in their 50s and 60s.
McCormick decided to hold a listening party, playing tunes from King of the Delta Blues Singers, a watershed album released in 1961 by Columbia. "Countless memories were stirred by the old recordings," wrote McCormick.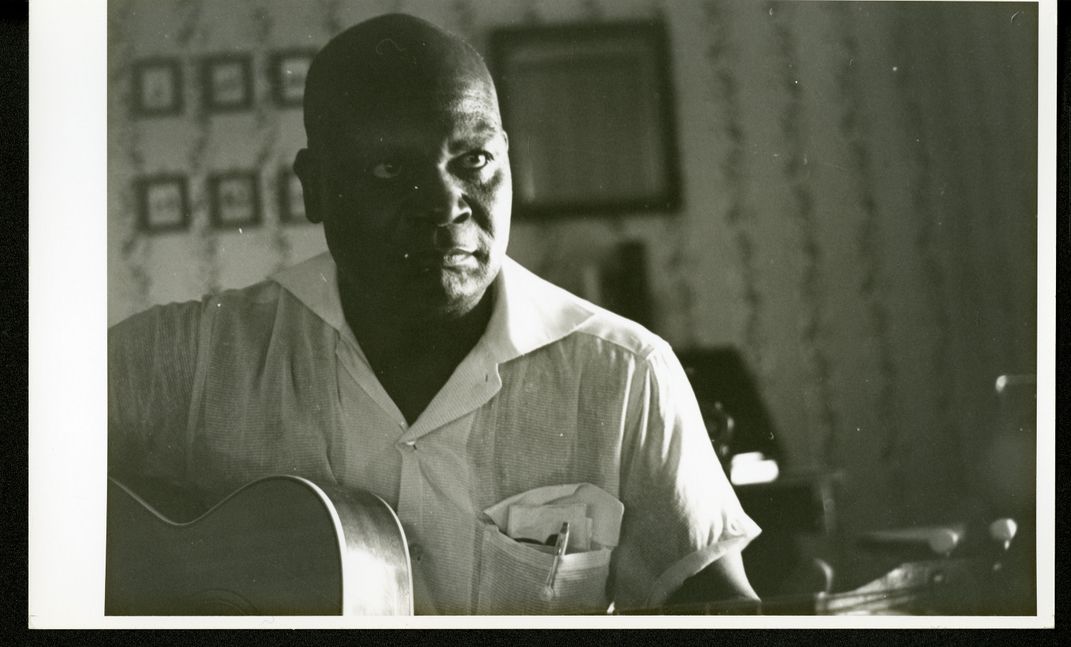 It also gave him a different perspective. "For them, the blues was never meant to be taken seriously or reflectively. It was simply a force, expressing the deepest roots of their lives," he wrote.
McCormick's search had more or less ended in Mississippi in early 1972, but through his connections there, he was able to learn the locations of two of Johnson's sisters, Carrie Thompson and Bessie Hines, who lived near each other in Maryland. The two agreed in writing that McCormick could record their recollections of their brother to be used for Biography of a Phantom—in the belief that the author would, in turn, assist them in securing their claims as rightful heirs to Robert Johnson's estate. 
McCormick then disappeared for 16 months. During that year, another collector and Johnson enthusiast, Steve LaVere, found Thompson.
Thompson spoke with LeVere and lent him a photograph of her brother wearing a pinstripe suit and holding a guitar. When McCormick learned about LaVere's visit, he begged Thompson to entrust him, not LaVere, with such records of Johnson's life. She, however, had moved on. LaVere eventually convinced her to sign over her rights to Johnson's recordings, photographs and other materials.
The development sent McCormick into a tailspin. "He plummeted into darkness," writes Troutman. He sent angry and threatening letters to other writers and musicologists, and, according to his notes, scripted out phone calls in which he would impersonate a reverend or a police officer to threaten Thompson. McCormick produced a forged agreement between him and the Johnson sisters that allegedly gave him exclusive access to anything and everything having to do with Johnson. At one point he argued that the sisters did not have a claim on the Johnson estate because others he had interviewed had preemptive claims. McCormick refused to return family photos to the sisters and then lied about their whereabouts.
Thompson died without ever seeing those photographs again.
"McCormick's shabby treatment of the sisters could be attributed to a variety of factors," says Troutman. Some of it was likely his feeling of ownership, compounded by McCormick's belief that the book represented a chance at success, he adds, given that Robert Johnson had become this figure that millions of people had now heard of by the early 1970s.
"McCormick had long struggled to gain financial security for himself and his family, and living with mental illness did not make things easier," he says. "So, this was what he felt was probably his best shot."
"This was a sense of possessiveness," adds Lauterbach. "He lost his story. It was his story, and somebody else came along and did it bigger and better and more thoroughly."
Troutman acknowledges the complications of housing McCormick's archive and publishing his book. Not only did McCormick betray Johnson's family, but he also apparently claimed to be a Smithsonian researcher during his fieldwork—although he was not contracted to do so or given permission to use the Institution's name.
McCormick's daughter requested that anything in the archive that was obtained under dubious circumstances be removed, which aligns with Smithsonian policies on ethical collecting. The Smithsonian is transferring the family photographs and the control of the sisters' interviews to Thompson and Hines' heirs.
Those interviews will not be included in the archive, which will be opened to the public for research. Nor will any ill-gotten materials be in the Archives Center display of the McCormick collection that will go on view June 23 at the National Museum of American History.
McCormick's initial quest was to separate fact from myth about Johnson, even as he was adding layers of myth about his own life—either in his own fantasies or through how he moved in the world. Biography of a Phantom, however, exposes much of the reality.
He reflects on the schism between the man and the myth in the penultimate chapter.
"People are mythmaking creatures, and what they don't know they'll usually provide by guesswork and imaginative, intuitive fantasy," wrote McCormick. "The making of myth and legend is our most fundamental art, one subject to the harshest critical judgment of all—the simple ability to survive and perpetuate itself."
Biography of a Phantom: A Robert Johnson Blues Odyssey by Robert "Mack" McCormick, edited by John W. Troutman and published by Smithsonian Books is now available for purchase. The Archives Center display "Treasures and Trouble: Looking Inside a Legendary Blues Archive" goes on view June 23 at the Smithsonian's National Museum of American History. At this summer's Smithsonian Folklife Festival on the National Mall, musicians Dom Flemons, Phil Wiggins and Yasmin Williams will perform Sunday, July 9, at 5 p.m. in celebration of the upcoming Smithsonian Folkways release, August 4, of the three-CD/six-LP box set, Playing for the Man at the Door: Field Recordings from the Collection of Mack McCormick, 1958-1971
A Note to our Readers
Smithsonian magazine participates in affiliate link advertising programs. If you purchase an item through these links, we receive a commission.