Lee Sandstead Gives Audiences an Art Attack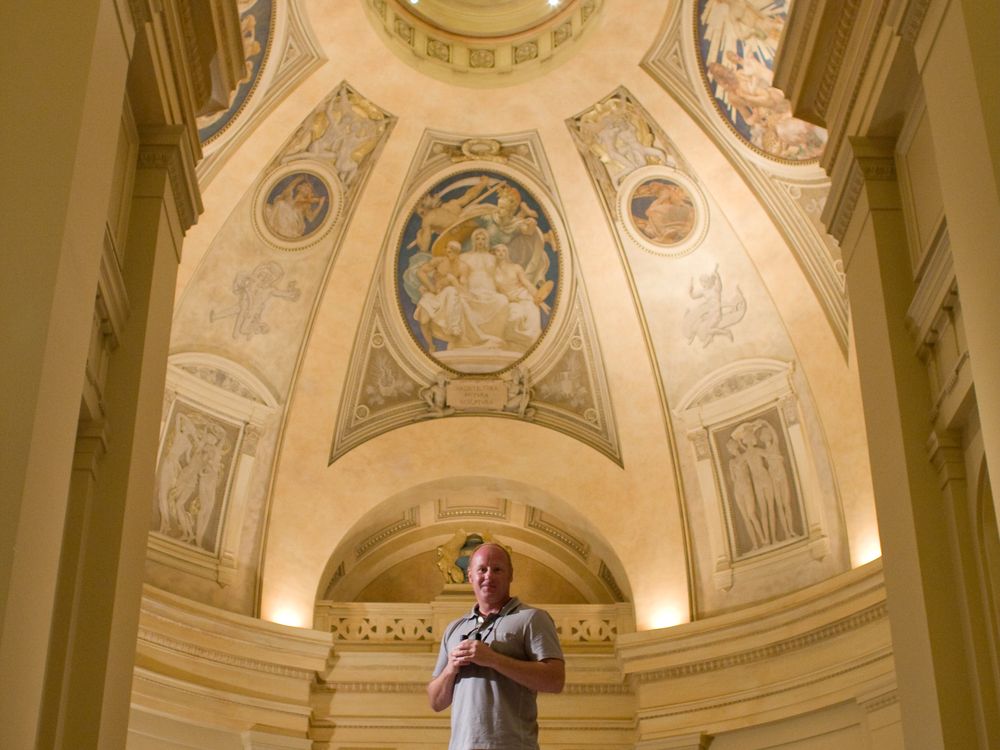 "The World's Most Fired-Up" art historian Lee Sanstead will discuss his passion, a no holds barred appreciation for works of art, on Wednesday, at 6:30 PM, at the Smithsonian American Art Museum
Sandstead has taught art history at colleges around the United States, but he is best known for his Travel Channel Program, Art Attack with Lee Sanstead. He has been nominated for a Daytime Emmy for this program (awards will be announced August 30).
You just wrapped up your first season of Art Attack on the Travel Channel, what was that like and what are you doing now?
I'm spending this year giving talks to museums and major cultural institutions, basically on my approach to art history. The title of the talk is called, "I'm Having an Art Attack!" and it covers my pilot episode of art attack for the Travel Channel, which was filmed at the Metropolitan Museum of Art. One of our first episodes was actually at the Smithsonian American Art Museum, which is one of my favorite museums in the entire United States. I was so lucky last year to actually film the episode for the Travel Channel overnight on my birthday. How many people get to say they got to spend, for their birthday, a night at their favorite museum? I want to say not too many. I'm using my TV show as a platform to get people to talk about my brand of art history—how I discuss art history, how I teach it, a little bit about my life, a little bit about the TV show and some really fun facts about art.
You said the Smithsonian American Art Museum is one of your favorite museums and now you're giving a talk here. What keeps bringing you back to this museum?
The Smithsonian American Art Museum, what's very funny about this museum is that Americans can tell you more about Renaissance sculpture and Renaissance paintings, which would not be much, than they can tell you about American art. Americans literally have no idea about the great works of art that Americans have created. One of my favorite periods in art history is that of American Art starting after the Civil War, right around 1874, and stopping right around the dedication of the Lincoln Memorial in 1921. That just grabs me. In the Smithsonian American Art Museum, there is that large floor and that large corner, where you have an Albert Bierstadt painting in its own private viewing room. You have paintings by Abbott Handerson Thayer, you have that beautiful Joan of Arc by Fosdick, you have just these fantastic artworks from this period that people really have no idea existed. Many museums have this type of art, but they don't exhibit it. And then they have that great conservation center and the study center where you can go through all those glass cases and you can go through row after row just looking at art and then the building itself is just fantastic. It's just a gorgeous building to walk around. And then you have the National Portrait Gallery there, which is just, you know it's just rip my heart out and stomp on it, I can't ask for anything more.
Your passion for art is so enthralling. Growing up, did you always have this love for art?
I discovered art history at Middle Tennessee State University. I did not grow up with art, I grew up in a house trailer; my house had wheels. We were not sitting around the house trailer talking about fine cultural affairs, or the latest French cuisine, or anything of the sort. We were talking about if opening the oven was a satisfactory workaround for a broken heater in the winter. Turns out it is, but it's not highly recommended. I discovered art in my early 20s. I'll never forget the first day that I walked into my first art history class. Middle Tennessee State University was so nice to give me and other young bucks interested in art history one classroom in the agriculture building. This is where I really discovered art history. The great thing at the time was I had a French girlfriend, I mean a girl really from France. She must have been the only French girl in Tennessee, let me tell you that. And she supported me in my new-found curiosity and love for art. So down came my NASCAR posters. Up went my Rembrandt prints. She really supported me, which is crucial because Middle Tennessee is not necessarily known for its broad range support of art. And ever since, it's been a nonstop, 24-hour, grand adventure around the world, looking for art, discovering art, experiencing art and then, since I'm a teacher, taking that and presenting it to my students and to audiences around the nation.
What do you want your audiences to take away from your discussions on art history?
It's my sincerest desire to tell Americans that there is this thing called painting, there is this thing called sculpture and they should look at it. The problem is, and this is very ironical, is that Americans love art. If you look at it, there's probably no time in human history that a culture has been so surrounded with art. We have movie theaters in every single town in the United States. Americans are building palaces in their own houses to watch movies, to listen to music. We have a phone in our hands, which will hold 35 thousand songs because 100 songs is just not enough to get you through the day. So Americans love art, but not necessarily paintings or sculpture. So I want to say 'Hey, you guys loves this stuff over here, well let's take some time to look a this stuff over here. This stuff can be great if you let it!'