Learning About the Moores of Mims With NMAAHC Curator John Franklin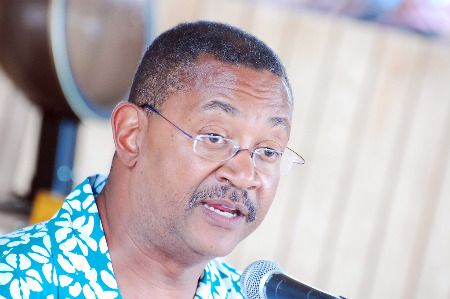 "I first heard about the Moores of Mims in the song," says John Franklin, director of partnerships and international programs at the National Museum of African American History and Culture.
It seems I hear Harry Moore

from the earth his voice still cries:

"No bomb can kill the dreams I hold, for freedom never dies.

Freedom never dies, I say. Freedom never dies.

No bomb can kill the dreams I hold for freedom never dies."
The "Ballad of Harry T. Moore," as it's called, was written by poet Langston Hughes and adapted into a song by Sweet Honey in the Rock, the African-American a capella group founded in 1973 by former Smithsonian Folklife Festival participant and Smithsonian Folkways artist Bernice Johnson Reagon. A stirring spiritual, it tells the story of Harry Moore, a civil rights leader and NAACP official who was killed with his wife Harriette when their home was bombed Christmas night 1951.
At the end of September, Franklin visited the "little cottage" of the song, the Moores' gravesites and the Harry T. and Harriette V. Moore Cultural Complex in Mims, Florida. "To go to the place of the bombing, with an excellent new exhibition situating the Moores in the larger context of Florida and U.S. history, was a moving experience," he says.
His visit to Mims was part of a larger four-day research trip to Central Florida. In Orlando, Eatonville, Sanford, New Smyrna, Mims, Bartow, St. Petersburg, Tampa, Clearwater and Bradenton, Franklin was given guided tours of museums and historic sites, such as author and anthropologist Zora Neale Hurston's home and the L.B. Brown House, a home on the National Register of Historic Places that was built and owned by a former slave. All the while, he kept in mind how the stories of African Americans like Harry Moore could be incorporated into the National Museum of African American History and Culture, opening on the National Mall in 2015.
"We really need to represent the different regions of the United States and the different experiences of each region," Franklin told FloridaToday.com. Each trip, he says, is an opportunity to learn.
In July 2009, he traveled around Northern Florida, particularly Jacksonville and Tallahassee, with Althemese Barnes, director of the Riley House in Tallahassee. This time around, the Florida African American Heritage Preservation Network selected the sites Franklin visited. "We are interested in networks and institutions in each state of the U.S," says the curator, who is currently working with groups in Virginia, Louisiana and across New England.