Laurent Grasso's Own Reality at Hirshhorn's Black Box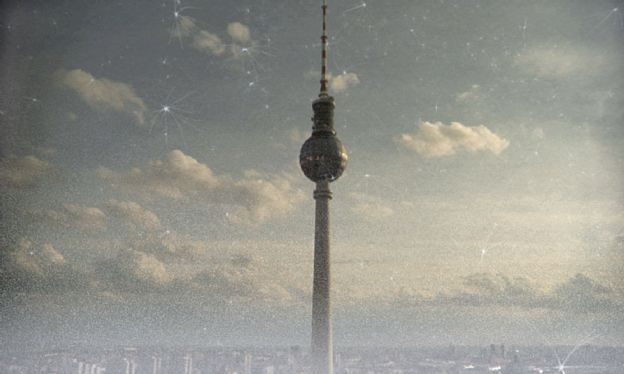 In case you didn't get the memo, there's a new "Black Box" exhibit over at the Hirshhorn until July 24 that features two looped video installations by French multimedia artist Laurent Grasso. The 2008 winner of the prestigious Prix Marcel Duchamp, Grasso has a mania for naturally occurring scientific phenomenon like electromagnetic energy. And he enjoys controlling reality on his own terms through his art.
"There is a kind of atmosphere that I try to generate," Grasso said in an April 2010 interview with ArtOnAir.org. "What I like is to install something that is not clear and play with the ambiguity of the situation that I try to create. . . . I like to play in this very small territory where things seem impossible but finally could be possible."
The first work, Les Oiseaux (2008), features the constantly changing shapes made up by flocks of starlings, as they drift over a fiery sunset above the Roman skyline. To me, they looked like caffeinated wisps of smoke inside a lava lamp. Or, perhaps, considering Grasso's interest in electromagnetic energy, tiny metal particles pulled to and fro by a magnet, kind of like an artsy Wooly Willie. The sounds of faint bird noises adds to the underlying Hitchcockian menace and energy of the piece. Surprisingly, it's only shown on a small television display (maybe 15 inches), but it would have been interesting to see it on a larger screen.
With Polair (2007), Grasso offers the viewer a glimpse of the invisible. He creates a city invasion of electro-pollen particles. Shot in the area that was formerly East Berlin, the video is comprised mainly of architectural shots that emphasize structural lines and shapes, including the city's iconic television tower, the Fernsehturm. The pollen particles resemble white escaped floaters from inside a plasma globe—the kind you touched in a science museum that made your hair stand on end—and they drift throughout the cityscape. A faint crackling hum of an electricity field provides ambient noise.
So if the birds don't get you, perhaps your allergies will.
"Black Box: Laurent Grasso" is on view at Smithsonian's Hirshhorn Museum until July 24.