Last Meal on Earth: What Astronauts Eat on Launch Day
One NASA instructor's Cubans and empanadas became a Kennedy Space Center tradition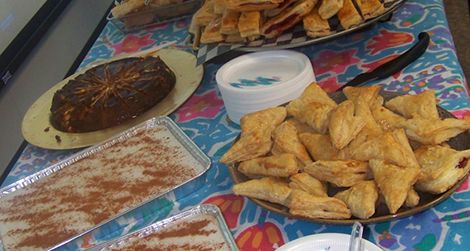 For astronauts and personnel at the Kennedy Space Center, long work days had at least one saving grace: a hearty dose of Ivette Jones' home cooking. The safety instructor's empanadas and Cuban sandwiches became a launch day tradition and endeared her to NASA staff from Cape Canaveral to Houston.
It all started with STS-116, the December 2006 launch of Discovery (now on view at the Air and Space Museum). Jones was a NASA critical processes instructor, training staff in Space Shuttle hardware, safety regulations and emergency egress. For STS-116, Jones was assigned to learn the duties of the "closeout crew," a seven-member team that helps strap astronauts in and attends to last-minute launch needs. The closeout crew went above and beyond to teach Jones the entire process, and on the day of her final presentation, Jones thanked them with homemade Cuban sandwiches and flan. "That exploded," she says with a laugh.
The closeout crew enjoyed the food so much that they asked her to cook for the launch. She cooked for astronauts. She cooked for her three- and four-day training sessions. She cooked lasagna with sofrito, a Latin American sauce of blended vegetables; arroz con pollo, rice with chicken; asopao, Puerto Rican gumbo—which she describes as "the most delicious thing you ever tasted on the planet"—and much more.
Tonight the Smithsonian community will have a chance to sample Jones' cooking at "Yuri's Night," a 21+ after-hours party sponsored by Smithsonian Associates. The event, which takes place at the Ripley Center, celebrates the 52nd anniversary of the first manned space flight by Soviet cosmonaut Yuri Gagarin, as well as the 44th anniversary of the moon landing. Jones' menu includes guava and cream cheese pastries, coconut cranberry cookies and, of course, her famous Cuban sandwiches and empanadas.
The Cubans and empanadas stuck, she says, because they were the perfect meal for hectic launch days. Jones explains: "You want to give them something that in case something happens and the crew has to go back to the pad, they can just grab it with their hands, unwrap it and eat it quick. I would bring a basket with all the food and they would just go at it!"
Word of Jones' culinary prowess quickly spread across NASA. "People in Houston know it, the Launch Control Center knows it, everybody at training knows it," she says. "Every time somebody wants something special, guess who they call?"
For Jones, it was a labor of love. "Working at the Kennedy Space Center did not mean a job," she says. "It became a personal thing. You're doing stuff that is important for somebody's life. You're doing stuff that if something goes wrong, you pray that remembers so he can go back to his children. . . . When an astronaut goes to space, he goes with a leap of faith. That's the kind of commitment you get when you love this thing."
Twelve years ago, Jones made her own leap of faith to pursue her lifelong dream of working in space flight. As a kid growing up in Puerto Rico, she was inspired by television broadcasts of the Apollo 11 lunar mission. She wrote a letter to NASA and one month later received a package full of pictures and information about the space program—a package that has stayed in her family.
"That little space thing never left me," Jones says, even after she grew up, got married and divorced, had a son and took a job at Disney World. At age 40, Jones decided to get her college degree, juggling school, work and single parenthood. "It was a burning thing that I just had to do," she says. "If I didn't go to school and pursue working for the space program, I knew I was going to have that regret for a long time."
Jones was accepted into the University of Central Florida's co-op program, which allowed her to intern part-time at the Kennedy Space Center. NASA recruited her as an instructor immediately after her graduation in 2004. "I'm 52 now and I feel like I'm 20!" she says.
Jones, who is now a human factors coordinator for the Navy, worked at the Kennedy Space Center for 11 years, until the retirement of the Space Shuttle program in 2011. She wants people to know that it's not all about the high-octane drama of launches. "There is so much love and care behind all that to put those six people in the ship," she says. Her cooking is a part of that close-knit community.
The recipes come from all over—her mother, her Puerto Rican heritage, her favorite cookbooks and television programs—but she likes to give each one her own "twist." Her empanadas, for instance, are distinguished by two secret ingredients. Will she reveal them? "No," she says flatly. "But I can tell you that it has meat and cheese."