Last Call: Outwin Boochever Portrait Competition
National Portrait Gallery curator Brandon Fortune provides some insight to what she and other contest jurors are looking for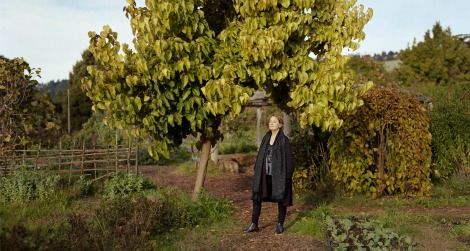 The National Portrait Gallery has hosted two installments of its Outwin Boochever Portrait Competition. Simply put, artists submit one portrait. The artist must create it from an in-person encounter with his or subject, as opposed to from a photograph, and a jury of curators, artists and professors reviews the entries. The finalists' portraits are exhibited at the National Portrait Gallery, and three top winners receive cash prizes. The grand prize winner is awarded $25,000 and may be commissioned to portray a famous, living American in a portrait for the museum's collection.
The winner of the first, David Lenz, painted a portrait of Eunice Kennedy Shriver for the museum's collection, and Dave Woody, grand prize winner of the second contest, captured restaurateur Alice Waters in a photographic portrait, to be installed at the National Portrait Gallery in late January. Now, the museum is in search of the next top portraitist. The museum is accepting submissions through November 30. (The original call for entries through October 31 was extended.)
"I look for interesting approaches to the idea of a portrait, for a work of art that has a strong impact on me, and for evidence that the artist has mastered his or her craft, whether that is painting, photography, time-based media, etc.," says Brandon Fortune, a curator of painting and sculpture at the National Portrait Gallery and a juror in the competition. The museum is interested in seeing how portraiture is being redefined in the contemporary art scene, and jurors have been impressed by the ways that past entrants have pushed boundaries. "We have seen videos with no images—only words—and paintings with no visible face. We've also seen artists who are finding subjects everywhere around them. Contemporary portraits no longer focus on elite subjects."
Fortune encourages artists to take a chance. "In 2009, the second place winner, Stanley Rayfield, was a newly minted art school graduate. The jury didn't know that—and they were very moved by the strength of his portrait of his father," she says.
Virginia Outwin Boochever, a former docent at the National Portrait Gallery, endowed the competition to support artists who were exploring the realm of portraiture. Boochever studied art at the graduate level and was an avid collector herself. She knew about an annual competition held at London's National Portrait Gallery and wanted the Smithsonian's National Portrait Gallery to host a similar contest.
The grand prize winner of the Outwin Boochever Portrait Competition has the opportunity to create a portrait of a famous American. "We work with the artist to see what areas of contemporary life and endeavor are important to them," says Fortune. "Then, consulting with our staff historians, we draw up a list of possible candidates, whose portraits would be significant additions to our permanent collection. Our advisory board votes on the subject." And, with that commissioned portrait, the museum expands its collection, further exploring American history through portraits and visual biography. From my perspective, it seems to be a win-win for both parties involved.
For more information, read the contest rules. Entries will be accepted electronically through November 30.