Lacey Days and Thursdays at the American History Museum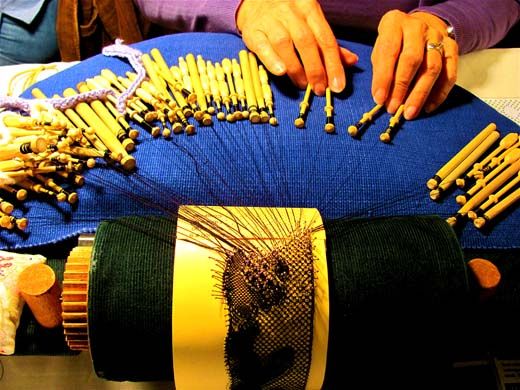 Karen Thompson, 63, a Smithsonian volunteer, might seem like your average senior citizen strolling through the National Museum of American History, but come by the museum's atrium every Thursday afternoon, and you can witness her transformation—to expert at one of the oldest practices in the world; lace making.
The craft got its start in Europe in the 17th century. "The peasant women weren't allowed to wear it, but they did make it," says Tamra Webb, 71, another lace instructor. Hundreds of years later, it is still practiced and still in style. Thompson, native of Denmark, reflects that it has been a fashion of her family's for decades. "We always worked with our hands growing up, and my mother worked bobbin lace. I had her show me how as an adult and it grabbed me."
She is not the only one who has been "grabbed" by a passion for this craft; she is a member of the Chesapeake Region Lace Guild, a club boasting one hundred international lacers. For Thompson, it is her main hobby, and she never ceases to find joy in the production of lace. "It is very calming and rhythmic for me. I love it."
Making lace is not the only responsibility for members of the Guild. According to the mission, they must "promote interest in the fine old laces, preserve lace, study the history and characteristics of lace, and teach and promote lace making and lace identification." Thompson proudly does all of these on a regular basis. She and her friend and fellow lace-lover, Tamra Webb, depicted here, show their talents for lace making in the two traditional forms bobbin (left) and tatting (right).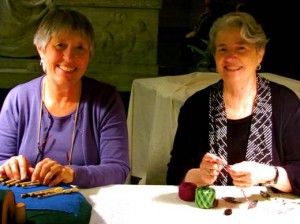 Bobbin lace making is done with many tiny bamboo bobbins about the size of golf tees attached to strands of thread that are alternately braided into a pattern. Tatting is a much more portable way of creating lace, using two crochet hooks.
Thompson says one of the most rewarding parts of being a member of the guild is the people she has met. She shares her love of lacing with a wide range of friends from all over the world. The guild travels together annually to places such as Bruges, the Netherlands and England to share their knowledge and skills. Some examples of products they make with the lace are earrings, (Thompson was wearing a lovely pair she had made), bonnets, (Webb won first prize for hers in a recent competition), bracelets and bookmarks. The pace at which the lace is produced is one square inch per hour, but champion lacers such as Webb and Thompson can produce a product far faster than that. Webb says that she is always lacing, bringing her small tatting needles with her wherever she goes. "I prefer the style of bobbin lace, I just didn't want to go through security with all the bobbin needles!"
(UPDATED: Find Karen Thompson and Tamra Webb at the American History Museum on the fourth Thursday of every month at 1 PM, except for November and December. Thompson offers a behind-the-scenes tour of the museum's lace collections in storage on the last Thursday of the month, excluding November and December, call 202 633-3826 for reservations.)