June: A Time for Weddings and Wedding Tales
A wedding dress made from a WWII parachute makes for a sweet story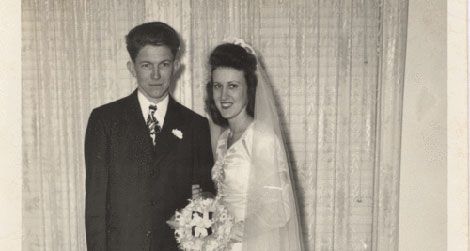 I recently celebrated my 24th-wedding anniversary by doing something rather silly. I put on my wedding dress. I do this every year. I shake it out of its box and slip it on, and parade around my bedroom, just for fun. This year the zipper was a little bit sticky, so I'll be eating salads for awhile.
June, the month of brides, prompted a post on the O Say Can You See blog over at the American History Museum by Debbie Schaefer-Jacobs, a curator of home and community life. Schaefer-Jacobs' own daughter is getting married later this summer and so she has been thinking about wedding gowns both personally and professionally (she oversees a collection of 144 wedding dresses at the American History Museum).
Schaefer-Jacobs took an interest in one particular dress that had been worn by Rosalie Bourland on her wedding day on November 15,  1945. The dress had been made from a parachute. The material used in Rosalie's gown "not only saw combat," wrote Schaefer-Jacobs in the post, but it "was responsible for saving her groom's life." Temple Leslie Bourland enlisted in the army in May of 1941, to become a radio operator on a C-47 Douglas Skytrain for the 77th TC Squadron of the 435th Troop Carrier Group.
According to Schaefer-Jacobs' post, Bourland's plane, "Sleepy Time Gal" was hit by enemy fire on March 25, 1945, during Operation Varsity, and he and the crew chief bailed out over the Rhine, near Wesel, Germany, at 590 feet while under fire.
"They landed by a haystack, and Les wrapped himself in the parachute to stay warm, even as it had been shot full of holes by a sniper," Rosalie Bourland told me from her home in Converse, Texas.
Bourland suffered a hip injury, and he and his comrade spent a couple days in a foxhole, before being rescued by Allied troops. The parachute stayed with Bourland and his wife recalls that the date for their wedding was set once the soldier had returned home from overseas. But it was the bride's aunt, Lora Hierholzer, who came up with the idea to honor both the soldier and his bride.
"She knew he treasured it, and I was thrilled to death," said Rosalie, as she recalled how her aunt worked the treadle of her old Singer sewing machine, stitching the difficult fabric to alter it into a beautiful gown. Rosalie's bridal gown, according to curator Schaefer-Jacobs, is designed with a fitted bodice and seed pearls outline a sweetheart neckline. The dress has 26 small covered buttons down the front, and long, full sleeves. The skirt is full with an empire waistline and has an oval train which retains some of the military issue seams.
"It was a job, the dress was so slinky and there were so many bias pieces," said Rosalie, But for the train part, her aunt chose to leave much of the parachute intact, except to take metal washers and cover them in satin, and then tack them on to the ends of the train to weight the fabric.
"So as I went down the aisle, that parachute stayed in place," said Rosalie. Temple Leslie Bourland  passed away in 2003, and Rosalie donated the dress to the National Museum of American History in 2004.
Was as it hard to part with something so special, I asked her. "It wasn't," she said. "I knew my husband loved history and he would have wanted me to."