Julia Child's Pots and Pans Are Back in Her Kitchen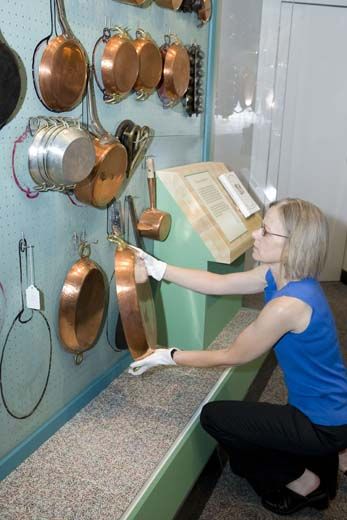 Every cook, be it an elite chef or an aspiring foodie, has a favorite pot. Julia Child, the genius of American cookery, had dozens. So many pots and pans, in fact, that her husband Paul designed a pegboard and mapping system so that each pot could be handily replaced after every use.
Today, the National Museum of American History unveiled Julia Child's original blue-painted pegboard hung with 30 gleaming French copper pots and pans that once resided in the famous chef's Cambridge, Massachusetts, home. The addition completes the museum's Julia Child kitchen collection.
The exhibition "Bon Appétit! Julia Child's Kitchen at the Smithsonian," has been popular with visitors since its 2002 installation after Julia and Paul Child donated the kitchen's entire contents (minus the copper pots, and more about that later), some 1,200 artifacts, including everything in the drawers and cabinets, as well as the drawers and cabinets and appliances too.
So how is that the pots and pans didn't make it into the original donation? As luck would have it, another museum got there first. Just days before negotiations began, COPIA, the American Center for Wine, Food & the Arts, in Napa, California, asked for and received the pots and pans. Smithsonian curators were of course disappointed but they, after all, got the mother lode—up to and including the kitchen sink.
In 2008, COPIA closed and the Child family estate sent word to the Smithsonian that the pots and pans were available and the rest, as they say, is history.
The pots were purchased in France between 1948 and 1952, during the time that the family lived in Provence. Several bear the address 18 rue Coquillière. Every self-respecting cook recognizes that as the home of Dehillerin, the Paris kitchen-supply shop that is to cooking gadgetry what the dictionary is to words.
When Child first discovered the shop, she wrote "I was thunderstruck. Dehillerin was the kitchen-equipment store of all time, a restaurant supply-house stuffed with an infinite number of wondrous gadgets, tools, implements and gewgaws—big shiny copper kettles, turbotières, fish and chicken poachers, eccentrically shaped frying pans, tiny wooden spoons and enormous mixing paddles, elephant-sized salad baskets, all shapes and sizes of knives, choppers, molds, platters, whisks, basins, butter spreaders, and mastodon mashers."
She later struck up a friendship with the owner, Monsieur Dehillerin, and became "one of his steadiest customers."
According to Nancy Verde Barr, author of My Years with Julia Child, the pegboard organization system was devised by the couple for their small French kitchen. Storage for the family, like anyone else, was an issue. So Paul cut and painted the boards and then for each pot, pan or tool, he took a thick marker and outlined its shape on the board. Julia, it turns out, was a stickler for organization. When she needed something, she didn't want to have go looking for it.
From their new perch in the museum, after being tenderly cleaned and arranged by white gloved curators, the pots and pans are gloriously polished. And there for the ages they'll remain. But truth be told, they are screaming for someone to pluck them off the wall and hoist them over a flame, toss in a stick of butter, some shallots, a bit of wine, some vinegar, salt and pepper and fill the museum galleries with the aroma of something delicious cooking in Julia Child's kitchen.
"It did my heart good to see rows of . . . copper pots at the ready," Julie wrote in her 2006 bestseller My Life in France, "I could hardly wait to get behind the stove."