John Lennon's First Album
The famed Beatle was also a stamp collector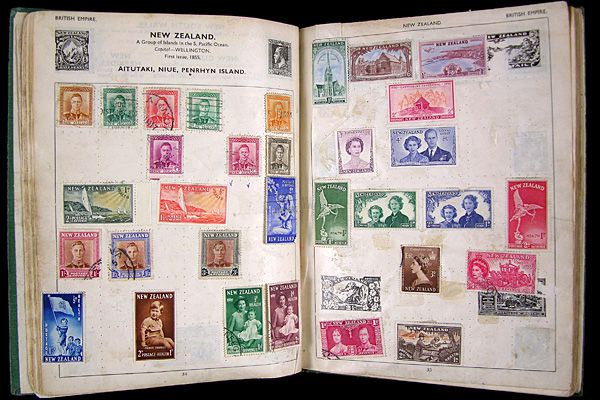 There is a scene in A Hard Day's Night, the 1964 mockumentary about the Beatles (starring the Beatles), when John Lennon leaves a band practice with a dancing girl on his arm. His manager asks where he is going, and the Brit quips, "She's gonna show me her stamp collection."
His comment was facetious, of course. But that's not to say that Lennon, who was murdered 30 years ago today, wouldn't have found a stamp collection appealing. (Seriously.) After all, the Smithsonian's National Postal Museum has a rare album of Lennon's—his boyhood stamp album.
Former curator of philately Wilson Hulme first read about the existence of the album in May 2005. The then-owner Stanley Gibbons Ltd., a London stamp and autograph dealer, was looking to sell it, and the National Postal Museum jumped on it. Stanley Parkes, an older cousin of Lennon's, was able to verify that it was the hardcover Mercury stamp album that he started and later gave to John to continue.
Kids tend to collect stamps between the ages of 7 and 12, says Cheryl Ganz, chief curator of philately at the museum. According to Parkes, Lennon took interest for a few years starting at age 9, when he was living with his Aunt Mimi and her husband George in Liverpool. In the inside, he half-erased Parkes' name and inscribed his own with his address. Though it is impossible to tell which stamps Lennon added to Parkes' collection, the album contains 565, organized by country.
"Although there is not a rare stamp in there, I have to say I just find an incredible charm to it," says Ganz, who especially likes the beards Lennon doodled over pictures of Queen Victoria and King George VI (right) on the title page. "We took it because the story there is much bigger. It's about an emerging childhood of someone who turns out to be more or less a creative genius."
The museum has made it a point to acquire artifacts related to famous stamp collectors. Among its collection are items once owned by Holocaust survivor Simon Wiesenthal, actor Yul Brynner, president Franklin Roosevelt, violinist Jascha Heifetz and photographer Ansel Adams. But, as Smithsonian writer Owen Edwards suggests, the discovery that Lennon collected brings a certain cool factor to the hobby.
The stamp album was put on display in the fall 2005 in the exhibition, "John Lennon: The Lost Album" to commemorate the 65th anniversary of the musician's birth, on October 9, 1940. The response was overwhelming. "We had the longest lines we've ever had to get into the museum to see something," says Ganz. "I think it was a combination of things. For some people, it was a nostalgia, bringing back their own youth. For other people, it was all their great music and when it played in important moments in their lives. When a family came into the museum, it was about the parents telling their kids, 'gosh, let me tell you about the first time I heard one of their songs, or the first time I saw them on TV, or which one I had a crush on.' It triggers thoughts and moments that you want to share."
The album is not currently on display at the museum but can be paged through on this web exhibition.