John Cage Centennial at the Smithsonian
Marking what would have been the avant-garde composer's 100th birthday, a full slate of events offers chances to listen to and discuss his work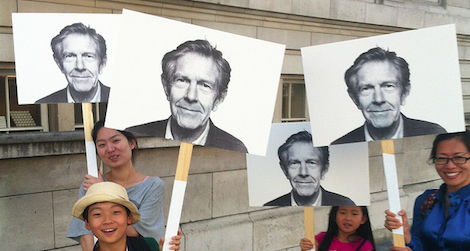 Many felt composer John Cage was ahead of his time, but in what would have been his 100th year, the question remains, is he still ahead of the times?
Centennial celebrations across the country began this week, marking what would have been Cage's 100th birthday. Perhaps the biggest, Washington, D.C.'s festival, will take place at a handful of art museums, including the Hirshhorn. Writing for the Washington Post, Anne Midgette notes that though Cage has been welcomed into the art world, the classical music world has yet to fully embrace him.
Hirshhorn curator Katherine Markoski says, "He's acknowledged as a crucial figure in the 20th century but opportunities to hear his music performed are not as common as the work of other composers," partly because of his reputation for being a challenging, conceptually dense composer.
Born September 5, 1912, Cage was the son of an inventor and a Los Angeles journalist. He studied first at Pomona College and then at the University of California, Los Angeles, entertaining thoughts of being a writer, before beginning his music career.
The avant-garde artist most known for his piece, 4'33," featuring an ensemble of musicians who stood silent on stage for a little more than four and a half minutes, was accustomed to confused criticism throughout his life. The Los Angeles Times writes of the work, "Like much of Cage's work, the 1952 piece rests somewhere between music and performance art, a deliberate muddying of cultural categories."
In the liner notes to his album of one-minute stories, Indeterminancy, rereleased on the Smithsonian Folkways label, Cage writes, "Critics frequently cry, 'Dada,' after attending one of my concerts or hearing a lecture. Others bemoan the interest in Zen."
Despite a reputation for befuddling performances, Cage managed to leave a deep impression on the development of popular music culture as well. The Los Angeles Times cites just a handful:
"Paul McCartney became interested in Cage in 1966, and the chaotic orchestration of the Beatles' "A Day in the Life" is thought to have derived from Cage's ideas, as had several of John Lennon's songs during the band's last years, including "Revolution 9," with its debt to Cage's notions of randomness.
Musicians further on the edge—Brian Eno, Steve Reich, La Monte Young, Anthony Braxton, Sonic Youth and Stereolab, which has a song called "John Cage Bubblegum"—bear his stamp as well."
But Cage inspired many artists outside the musical world, including collaborator and choreographer Merce Cunningham and video artist Nam June Paik. Markoski notes, "Cage has been hugely important for any number of visual artists, making the museum seem almost like a natural home."
Whether that distinction between the art world and the music world is deserved, audiences are invited to experience John Cage anew, as both a musician and a thinker.
"One of the great things about this festival," says Markoski, "is that it's giving everyone an opportunity to hear so much of his music, which is not often the case."
In addition to the many events around town for the eight-day festival, the Smithsonian will be hosting discussions, talks and performances.
Saturday September 8, Pre-Concert Talk with Ryan Reynolds. "Cage and Zen.' 6:45 p.m. at the Freer. The talk is followed by a performances of Four Walls, followed by Music for Piano #2, simultaneous with 10 Stones (video realization by Rob Dietz), by Margaret Leng Tan.
Sunday September 9, Discussion: "SHARED FIELDS OF CREATIVE IDEAS" in the Cunningham Dance Co. milieu" by Gordon Mumma, at the Hirshhorn, beginning at 3:30 p.m. The talk is followed by another panel with Gordon Mumma, Thomas DeLio, and Roger Reynolds, Katherine Markoski moderating to discuss Cage's legacy.