John Alexander: Looking Back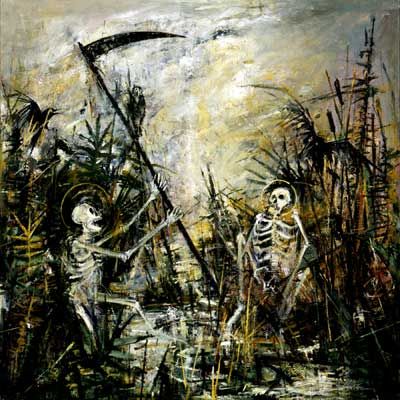 John Alexander is an artist who packs a painterly punch. The power of his vivid, expressive imagery solicits a breath-taking effect, especially in a gallery hung with 40 of his big, bold paintings and 27 of his elegant works on paper.
Tomorrow, December 20, the Smithsonian American Art Museum (SAAM) opens the first major, full-scale retrospective encompassing the artist's three-decade career.
John Alexander (b. 1945), says Eleanor Harvey SAAM's chief curator, "has a passion for paint." His paintings are a bright profusion of energy and vitality, many of them laced with humor and irony.
In his 1989 "Venus and Adonis," a naked couple is in bed; each figure is backlit by a strange, eerie blaze that threatens to engulf them. They are either engaged in a heated argument or consumed by a fiery passion. Is this a disintegrating marriage or a dangerous liaison?
The titles of his works on paper are subtly narrative. A gnarled vulture casts a dazed glance at the viewer. The work is entitled "Aging Rock Star." Is it a tongue-in-cheek portrayal of Keith Richards?
Many of his artworks are accompanied by Alexander's cogent, thoughtful commentary. His views on politics, religion and the human condition form a third body of work, an illustration in words.
In text posted with his 2002 watercolor "Marabou Stork," he notes: "Not one day since I was born, has the landscape gained an inch. Every single day habitat is lost, and species are vanishing at an alarming rate."
"John Alexander's life-long fascination with the natural world," observes SAAM's director Elizabeth Broun, "connects his work with subjects of deep meaning throughout America."
"John Alexander: A Retrospective" is on view at the Smithsonian American Art Museum through March 16, 2008.
(John Alexander, Dancing on the Water Lilies of Life, 1988, Oil on canvas, Dallas Museum of Art, gift of Mr. Claude Albritton and the Museum League Purchase Fund © John Alexander)