LeRoy Nieman Pulled Together a Dream Band for His Epic Portrait of Jazz Greats
The iconic artist's large-scale painting of this century's music greats debuts at the American History Museum, kicking off Jazz Appreciation Month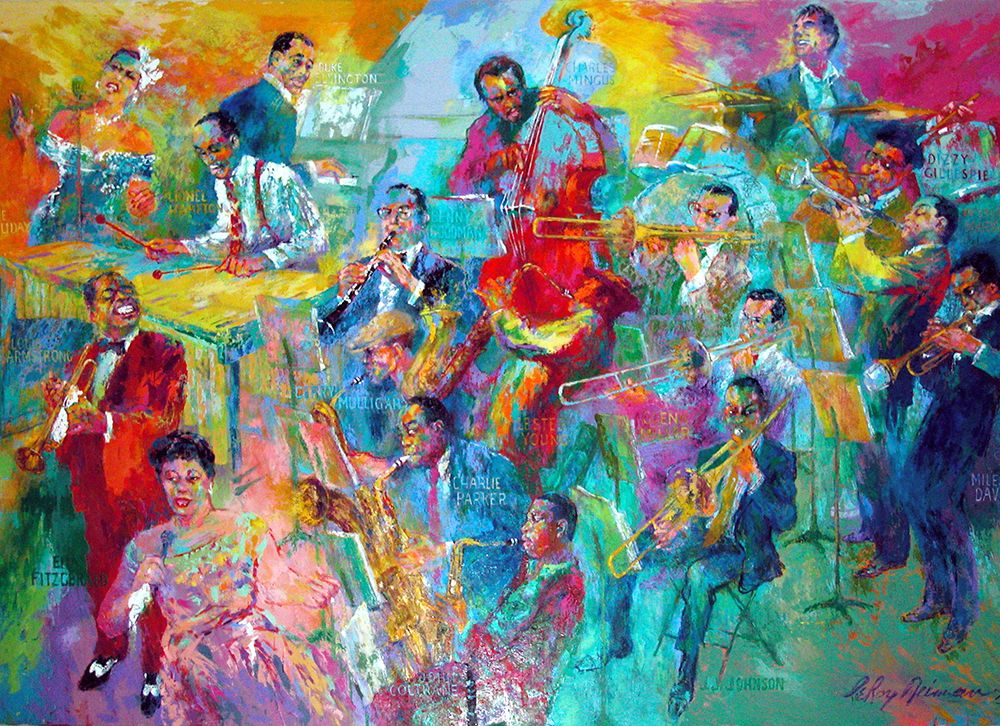 In the early 2000s, artist LeRoy Neiman—best known for vibrant illustrations that bring American pastimes to life—started to paint the Lincoln Center Jazz Orchestra.
Neiman's relationship with jazz stretched back some 50 years: Scenes of American music from the 1950s and '60s, particularly its jazz legends, had helped put him on the art map. So as he sat down a half century later to paint, his mind started to wander. What would his dream band look like?
He decided to gather together all of those musicians onto his canvas instead: Duke Ellington, Ella Fitzgerald, John Coltrane and 15 others that had fundamentally changed America's first truly original musical genre. In fact, when all was said and done, the only member of the Lincoln Center ensemble to make the cut was Wynton Marsalis.
Starting today, that painting, "Big Band," will welcome visitors to the National Museum of American History's first floor restaurant, now renamed the LeRoy Neiman Jazz Cafe. The colorful, 9- by 13-foot portrait comes as the museum kicks off this year's Jazz Appreciation Month with a $2.5 million endowment from the LeRoy Neiman Foundation, to expand and deepen the museum's jazz programs. Both are part of a series of renovations to the museum's first floor that are transforming the space into a permanent celebration of its jazz collections: a redesign featuring iconic jazz figures and other materials from the museum's jazz collections will be completed this fall.
Neiman's portrait will be on display for at least 20 years and will be seen by "tens of millions of visitors," says John Hasse, the museum's curator of American music.
This line-up in the painting "never played together in reality, and if they had, their disparate musical styles—and in a few cases, egos—would have collided with one another," Hasse adds. Still, the scene is arranged as a big band would were it set up on stage: The rhythm section—piano, bass and drums—together in the back; soloists like Billie Holiday, deep in song, and Louis Armstrong, whose closed eyes give way to a sweeping grin, are gathered toward the front. 
The musicians featured in the painting reflect the depth of other actual artifacts that visitors can discover on view from the museum's collections, Hasse says: Gene Krupa's bass drum, for instance, and John Coltrane's tenor sax.
The Smithsonian Jazz Masterworks Orchestra will also debut the museum's first jazz bass, donated by the family of Ray Brown, a bassist and cellist best known for his work with Dizzy Gillepsie and Ella Fitzgerald (to whom he was also married for four years). 
The orchestra has a series of performances this month for the museum's annual celebration of jazz and the people who have shaped it. This year pays tribute to Billy Strayhorn, a pianist best known for his work with Duke Ellington but also as solo composer, partnering with singer/actress Lena Horne, the Paris-based pianist Aaron Bridgers and in Harlem with a group of African American entertainers called The Copasetics, Hasse says. He was also one of the few openly gay man at a time when many artists hid their sexual idenities, making him a social leader as well, Hasse says.
The orchestra will honor Strayhorn's legacy in an evening-long tribute April 11. The museum also is recognizing Strayhorn's work alone in a new solo jazz piano series, which each week will highlight up-and-coming DC-area jazz pianists. 
Strayhorn would have celebrated his 100th birthday this year, as would Billie Holiday and Frank Sinatra, Hasse says; "Billie, Billy, and Blue Eyes" has become a running nickname for the year's lineup of events.
Just as the symphony orchestra is "the ultimate expressive ensemble of European classical music, the big band—or jazz orchestra—I would argue, is the supreme, most developed vehicle of the most innovative, accomplished and consequential musical genre of the United States, jazz," Hasse says — a reason to celebrate it both in April and throughout the year.
For the full schedule of events, click here.