It's Time to Garden at the Smithsonian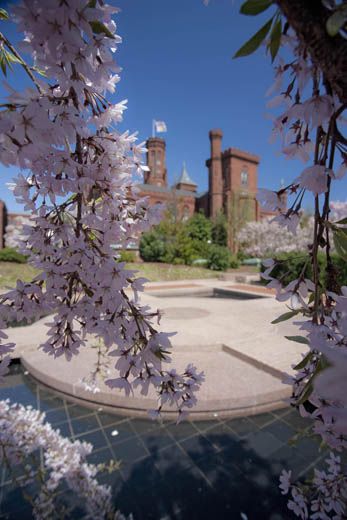 April showers bring May flowers. Or maybe, just mosquitoes. But the horticulture folks who bring you the Smithsonian gardens want you front and center tomorrow and Saturday (May 6 and 7). Bring your wellies and gloves to this year's Garden Fest for tips and techniques to make your flowers and veggies grow like they were planted by an expert.
Established in 1972, the Smithsonian Gardens' crew and staff like to think themselves as the "outdoor museum" of the Institution. The gorgeous landscaping and gardens are the equivalent of horticultural exhibitions, designed to compliment the museums that they border. For example, Natural History museum's nearby butterfly garden tells the story of host plants and habitats like wetlands and meadows and woodland edges where the insects thrive. Garden Fest, started in 2006, is a two-day, free event that allows visitors to talk with Smithsonian horticulturists about the work they do and the places and spaces that they create.
"The Smithsonian Gardens themselves are an asset, not only to the visitors of the Smithsonian, but also to the residents of DC as a place of respite from the urban environment," says Smithsonian horticulturist Shelley Gaskins. "Garden Fest seeks to educate the public about gardens, gardening and all things related."
Visitors will learn about the benefits of adding certain insects into their gardens at Beneficial Insects in the Garden and how to increase biodiversity by growing heirloom vegetable plants at What is Old is New Again: Heirloom Tomato Pot-a-Plant.
Smithsonian Gardens chose "Celebrating the American Garden Experience" as the theme of this year's Garden Fest.  Many of the activities at the festival have been developed from American gardening traditions and highlight uniquely American flowers and plants.
Some of the activities include creating sunflower seed packets, coloring garden gnome plant stakes, and learning about the roles that trees have played in American history.
This year's Garden Fest also starts on National Public Gardens Day. "Garden Fest celebrates National Public Garden Day by inviting local public gardens to join in our celebration," said Gaskins. The information and activities available at Garden Fest help support the goals of National Public Gardens Day such as conservation, education and environmental stewardship.
Garden Fest will take place on Friday, May 6 from 11 AM to 1 PM and Saturday, May 7 from 11 AM to 3 PM in the Enip A. Haupt Garden, which is located between the Smithsonian Castle and Independence Ave. In the event of rain, all activities will move to the S. Dillon Ripley Center.