It's March Already? Celebrate With Lions and Lambs at the Smithsonian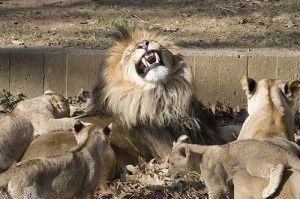 Last week, the ATM blog team started a new weekly feature called, "The List," where we provide you with, you guessed it, a short thematic list of really cool things to check out around the Smithsonian. If the missed the first one, check it out here.
So, in the spirit of change, let's talk about this weather. There's just something about the impending season change that brings out the amateur meteorologist in us all. It's not enough to know that spring is coming, we want to know when and how.  Last month, we watched a groundhog come out into the cold and, missing his shadow, predict an early spring. Today, we turn to the old adage: March comes in like a lion, and goes out like a lamb. Depending on where you live, you may be unsure of when that switch happens. So here are some lions and lambs, found around the Smithsonian, worth checking out. We're not sure how good animals are at predicting the changing seasons, but here are a few that might make your outlook— whatever the weather— a little brighter.
Lions
1. Last year, both lionesses at the National Zoo gave birth to a total of seven cubs. Since then, we've been watching them grow up and it's official, they're cute, cuddly and if you haven't seen them yet, it would definitely be worth your time.
2.  Leo the Lion, by  Frank Jensen, is an abstract sculpture dating back to 1986. Made from old wagon wheels and spokes from sulky rakes, this lion is ready to roar. Head over to the American Art Museum Want to see this fierce feline? Be careful, even this lion's materials have bite. The work can be found in Augusta, Kansas, and is part of the American Art Museum's Save Outdoor Sculpture program.
3. Lions are best known for their fierce nature and commanding presence, so this week, get to know their regal side.  The color and gold Folio from a Divan at the Freer Gallery is simply majestic. Revel in its beauty.
Lambs
1. Lambs are sweet, even when they're made of stone. John Flannagan's The Lamb sculpture over at the Hirshhorn Museum, dating back to 1939, is sure to make you smile, even on the coldest of days.
2. Historically, lambs have been used to promote many ideals, among them: innocence, gentleness, kindness, sweetness and, apparently, even cleanliness. See Lucy's little lamb promoting Hale, Teele & Bisbee soap at the American History Museum.
3. What could be cuter than a lamb? Well, a little girl holding a littler lamb certainly comes close.  Lilla Cabot Perry's adorable painting Hildegard & the Lamb at the American Art Museum is a must-see for anyone looking for the depicts the softer side of March. The work is archived at the American Art Museum as part of the Inventories of American Painting and Sculpture, which documents more than 400,000 artworks in public and private collections worldwide.
--with additional reporting by Madeline Andre
Update: March 3, 2011: Oops. Turns out that two of our artworks, one lion and one lamb, are not on view at the Smithsonian. We regret the error.