¡It's Dia de la Familia at American History!
Joann Stevens from the American History Museum looks to Saturday's grooving festivities, marking a month of programming for Hispanic Heritage Month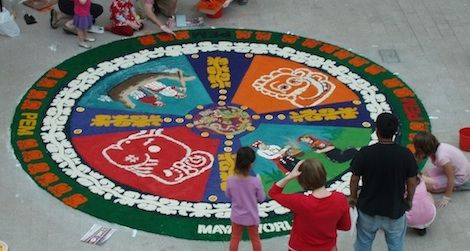 Announce that it's a heritage month and some people immediately think, where's the party?  Will there be ethnic food and music? What about dancing, workshops, and cool activities? But heritage festivals are more than cool cultural socials. This year's focus on Central America, says Magdalena Mieri, director of Latino History and Culture at the American History Museum, highlights a vast Latino community in the DC area that has been largely invisible except in headlines about immigration or day laborers.  "I want people to know that (Central Americans) have rich cultural traditions that they're continuing here as immigrants.  They're bringing their art and history to the communities they live in, and represent more than just hotel and restaurant workers."
Hispanic Heritage Month, which takes place from September 15 through October 15, provides a national gateway for Hispanic communities and organizations, and institutions to share learning about Hispanic achievements, histories and struggles that helped shape our national identity, says Mieri.  Equally important, is the month's invitation to non-Hispanics to join Latinos on the journey to explore cultural diversity and stories that can inform everybody's understanding of the American experience.
"Hispanic Heritage Month is an opportunity for the Latino community throughout the U.S. to celebrate and be acknowledged for its significant contributions to America's cultural tapestry," says Eduardo Diaz, director of The Smithsonian Latino Center. "This year's focus on Central American traditions and customs is important, given the growing number of Latinos of Central American origin in the U.S. Attendees to our Día de Familia are in for a real treat and will be amazed and entertained with the breadth and depth of our programs and activities."
Whatever you do to celebrate this month, consider these factoids about Hispanics in America:
National Hispanic Heritage Month began as a week-long celebration established September 17, 1968 and signed into law by President Lyndon Johnson. Twenty years later the week was extended to a month under President Ronald Reagan.
The date September 15 is historically significant.  That's when in 1821 Guatemala proclaimed independence from Spain for all Central American countries.
Most of Central America celebrates Independence Day on Sept. 15 including Guatemala, El Salvador, Nicaragua, and Costa Rica—though Costa Rica learned about its independence from Spain a month later.
What is considered modern Central America  was part of Mesoamerica civilization.
Spain was the venture capitalist that financed Christopher Columbus' exploration of North America. In 1526, Spanish explorers sailed into the Chesapeake Bay—known then as Bahia de Santa Maria.  And in 1565, Spain established the first continuous European settlement in the U.S., St. Augustine, Florida.  The city was settled years before the English settlement of Jamestown, VA, and played critical roles in American independence in the French and Indian Wars, the American Revolution and the Civil War.
Spanish has been spoken in the U.S. as long as, if not longer than, English.
Music is a universal language and introduction to other cultures.  Check out some of Smithsonian Folkways' interactive Latino Music lessons offering music, video, art, and narrative highlighting Latino music from Puerto Rican bomba , South Texas conjunto, and AfroCuban sacred music to  Latino hip-hop. A former traveling exhibit from Smithsonian Jazz highlights the traditions and sounds of Latin Jazz.
The American History Museum will celebrate with its all-day event, "Dia de la Familia," on Saturday, September 15, 11 a.m. to 5 p.m. with activities taking place in the museum and outside on its mall terrace.  Families can create sawdust carpets (pictured below), groove to the rhythms of the New York-based band Bodoma, learn about diverse Central American cultures like the Garifunas and experience music, dance, food demonstrations, weaving and ceramics from artisans whose cultural heritage dates back to the Maya and other peoples of Mesoamerica. The celebration is a pan institutional collaboration between the American History Museum,  Smithsonian Latino Center and the Smithsonian Education and Museum Studies program.