It's a Small World After All: "Six Degrees of Peggy Bacon"
"Six Degrees of Peggy Bacon" shows how one relatively unknown but well-connected artist was linked to many of art and society's most influential people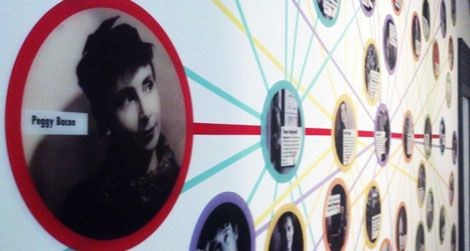 According to the theory of the six degrees of separation, she is connected to Albert Einstein, Cézanne, Eleanor Roosevelt, Babe Ruth, Frida Kahlo and President Ulysses S. Grant.
But who is Peggy Bacon?
Bacon (1895-1997) was a New York artist and talented caricaturist of celebrities and artists, however, her name is by no means well known. The Archives of American Art specialists, who created the "Six Degrees of Peggy Bacon" exhibit, do not expect people to know who Peggy Bacon is—in fact, that's the point.
While the original concept of the six degrees of separation dates back to Italian inventor Guglielmo Marconi, who developed a radio telegraph system, the term became commonplace in 1990 when playwright John Guare debuted his production, "Six Degrees of Separation." The play was based on the idea that no more than six acquaintances separate any two people.
Playing off the popular celebrity trivia game "Six Degrees of Kevin Bacon," in which players try to prove that any actor or actress can be linked to Kevin Bacon in fewer than six steps of film roles, the "Six Degrees of Peggy Bacon" exhibit creators hoped to show how a relatively unknown but well-connected artist was linked through archival documents to many of art and society's most influential people.
"We wanted it to be surprising," says Mary Savig, the exhibit's curator and an archives specialist at Archives of American Art. "We chose Peggy Bacon because we knew nobody would know who she is."
On display June 27, 2012, through November 4, 2012, in the Lawrence A. Fleischman Gallery at the Donald W. Reynolds Center for American Art and Portraiture, demonstrates how artists inform and inspire each other. "They don't just work alone in their studios," Savig said.
The exhibit is also intended to demonstrate the "shrinking world theory."
The advent of radio technology, telecommunications and most recently, social media, has vastly increased the connectedness among the world's inhabitants. In fact, Savig says, a study conducted last year by Facebook and the University of Milan demonstrated that social media has reduced the average degree of relatedness between each person on Earth to a mere 4.74 degrees.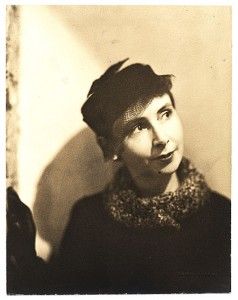 "These documents show exactly how people are personally connected," Savig says, pointing to a layout of correspondence and photographs connecting Bacon to artists like Andy Warhol, Marcel Duchamp, Janice Lowry, Frida Kahlo and Diego Rivera. Archival letters and materials provide paper trails to document each of the connections in Bacon's web of six degrees.
The incredible ability to present such detailed documentation stems from the concerns of former Director of the Detroit Institute of Art E.P. Richardson and art collector Lawrence A. Fleischman. Richardson and Fleischman founded the Archives in 1954 in Detroit as an effort to address the lack of archival material documenting American art and artists. The Archives of American Art became a part of the Smithsonian Institution in 1970, and today holds more than 16 million items in the world's largest collection of primary resources relating to the history of American art.
The Archives' fastidious documentation and research of their collection is what allowed for the success of "Six Degrees of Peggy Bacon."
In fact, on the exhibit's opening day, a member of the public was shocked to find her former babysitter incorporated into Bacon's web of relatedness.
"The woman pointed to the picture of Mary Chapin Carpenter and said, 'She used to babysit me,'" Savig explains. Carpenter, a folk and country music singer, is bubbled into Bacon's web as a sixth-degree connection.
Carpenter is included on the web for her connection to Joseph Cornell, who was the inspiration for her 1996 song "Ideas Are Like Stars." Cornell is connected to Ad Reinhardt for their shared Christmas Eve birthdays and the fact that both artists' works were displayed in art dealer Peggy Guggenheim's 1943 Collages exhibit. Reinhardt described in a memoir how in 1938 he listened to loud jazz music carrying through the walls of the neighboring studio to his, occupied by Stuart Davis. Davis was represented by art dealer Edith Halpert who represented his work at The Downtown Gallery for close to four decades. Halpert opened her gallery in 1926 at which time she displayed the works of Japanese-born Yasuo Kuniyoshi. And Kuniyoshi developed a friendship with Peggy Bacon while the two attended classes together at the Art Students League.
The visitor's relationship with Carpenter drives home the entire point of the exhibit, Savig says. "We all really can connect to Bacon."
Search through the letters, photos and more from the exhibit here. Or, join the circle and become her friend on Facebook.