It All Comes Down To This
It's been a long hunt through some of the darkest corners of the Smithsonian vaults, but the light at the end of the tunnel is at hand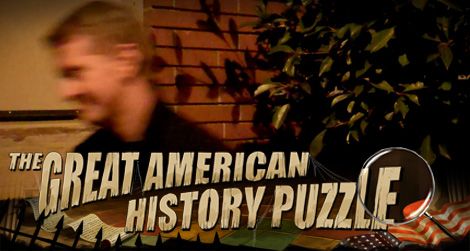 The penultimate grid puzzle was unlocked on Friday–hopefully a nice break for your overheated eyes and brain after Puzzle #8.
A commenter wondered how other puzzlers were coping with the recent puzzles. Here are some approximate numbers as of last night:
The most-answered web puzzle is still Puzzle #2, the riddle. More than half of all people who saw it answered it.
Puzzle #5, the crossword, is a distant runner-up. More than a third of solvers who unlocked the web puzzles entered the correct crossword answer.
The hardest puzzle overall seems to be Puzzle #4, the airplane story, which surprised me a bit. Less than one-quarter of all puzzlers have the answer to that one. The three most recent puzzles (the logic puzzle, the "Hail to the chief!" mosaic, and the rebus) are still less-solved than the airplane story, but that's probably because they're newer.
It's already clear that the rebus, Puzzle #9, is easier than the mosaic, Puzzle #8, but how much easier remains to be seen. A few hours after its publication, the rebus had already been solved 25 times. The previous puzzle only had 17 solutions, even though people had two or three days to work on it. (Twenty-five is still pretty low, though. Is the rebus harder than I thought, or have we lost puzzlers to attrition?)
The last grid puzzle will be unlocked today, and I'll tell you right now: it's a doozy. At that point, you'll see the final puzzle in all its glory, and the email address to send your solutions to. The first set of correct answers we receive is our grand prize winner!
I know it's been a long hunt through some of the darkest corners of the Smithsonian vaults, but the light at the end of the tunnel is at hand. I hope to see you some of you there at the finish!