Is White Christmas the Best Popular Song Ever Written?
The idyllic scenes of the dreamy holiday tune were painted by a Russian Jewish immigrant named Israel Baline, better known as Irving Berlin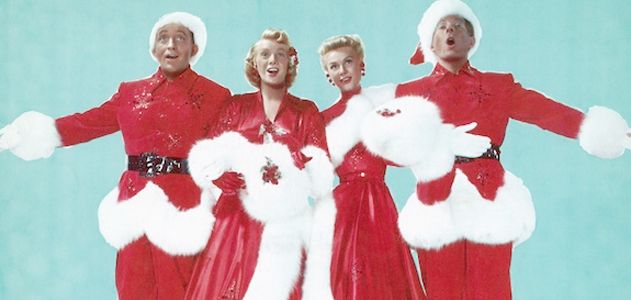 I'm dreaming of a white Christmas,
Just like the ones I used to know.
Where the treetops glisten and children listen
To hear sleigh bells in the snow
"White Christmas" launched a revolution. Before this Irving Berlin song topped the charts in October 1942, the airwaves between Halloween and December 25 did not blare relentlessly with Christmas carols. Thanksgiving served as a quiet bystander rather than as the clamorous launch for THE HOLIDAYS! It was a more innocent time.
Nor was songwriter Berlin the obvious composer for this Christmas classic. His boyhood had been less than idyllic: in 1893, five-year-old Israel Baline immigrated with his Russian Jewish family and settled on the Lower East Side. As a youngster, he was sent out to earn money for the family. He hawked newspapers on the street and worked as a singing waiter—there was no time to deck the halls with boughs of holly.
But decades later, while sitting beside a pool in sunny California and writing songs for his upcoming 1942 movie Holiday Inn, Irving Berlin conjured up the classic Christmas atmosphere of his dreams. The song's original opening bars set the scene:
The sun is shining, the grass is green,
The orange and palm trees sway.
There's never been such a day
In Beverly Hills, L.A.
But it's December the twenty-fourth,—
And I am longing to be up North….

He had already composed "Easter Parade" and other "holiday" songs for the film, and was looking for a boffo finale that would serve as the movie's high point. According to Berlin biographer Laurence Bergreen, the song had to have the same kind of impact that his iconic hit "God Bless America" had earned: it had to be great.
Nostalgic for the imagined Christmas of his youth, Berlin created lyrics describing the perfect holiday that everyone yearned for—a white Christmas that was merry and bright. Dwight Blocker Bowers, the Smithsonian's curator of entertainment at the National Museum of American History and a Berlin expert, told me that the songwriter—who couldn't read music and played piano mostly on the black keys—had his secretary write down the lyrics as he sang them.
According to Bowers, Berlin wrote about his own longing for a mythic past that was certainly never a part of his tenement upbringing. The song, released in the early days of wartime America, also fed into strong nationalistic sentiments about ideals of "home and hearth."
Berlin knew as soon as he wrote it that he had created something special, something that was possibly "the best popular song ever."
He was right. Before "White Christmas," Bowers explained, most Christmas songs were liturgical; with this song, Berlin created a popular idiom—and industry!— for secular holiday hymns. Bolstered by wartime sentimentality, "White Christmas" found a mass market that brought the idea of holiday entertainment into the mainstream.
Bing Crosby gave the song its first public performance December 25, 1941, on his highly-rated NBC radio show. The movie Holiday Inn, which starred Crosby and Fred Astaire, was released in 1942, and from October through the New Year, "White Christmas" headed the Hit Parade and Billboard charts. It won the Academy Award for Best Original Song, and, with 50 million copies sold worldwide, is credited by the Guinness Book of World Records as being the most popular single recording of all time.
For Bowers, the song's success resulted from its ability to be both timely and timeless. Berlin had a wonderful feel for the popular pulse, and he knew that wartime America longed for links that would connect people as a community. The beauty of "White Christmas" was that it made an ideal shared past (however mythic) accessible to all.
In 2012, our disparate cultural community bares little resemblance to the shared mainstream idealized 70 years ago. Life today is so highly-individualized that few markets focus on group sentiments, whether in movies, art, sports, or perhaps especially in music.
But we all still sing along to "White Christmas."
The National Portrait Gallery's cultural historian Amy Henderson recently wrote about Kathleen Turner and the Diana Vreeland.
Read more articles about the holidays in our Smithsonian Holiday Guide here