Ira Michael Heyman, Former Secretary of the Smithsonian Institution, Dies at 81
Heyman, the tenth Secretary of the Institution, passed away on November 19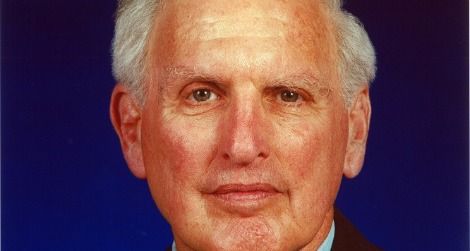 I. Michael Heyman, who served as the tenth Secretary of the Smithsonian Institution, passed away Saturday at the age of 81. He died at his home in Berkeley, California, after a long battle with emphysema and is survived by his wife, son and three grandchildren.
Heyman, a native of Manhattan, graduated from Dartmouth College in 1951 and served as an officer in the U.S. Marine Corps during the Korean War. After studying at Yale Law School, he worked as a clerk for Chief Justice Earl Warren and went on to join the law faculty at University of California, Berkeley in 1959. His 31-year tenure at the university included ten as Chancellor and he was credited with steering Berkeley through several challenges and growing fundraising efforts effectively to prosper despite state budget cuts.
In 1994, Heyman became the first non-scientist to head the Smithsonian Institution. Early on he faced multiple challenges. When an exhibition on the Enola Gay, the Boeing B-29 Superfortress bomber that dropped an atomic bomb on Hiroshima, Japan, triggered criticism from politicians and military groups, he tackled the controversy, crafting new guidelines for the making and planning of exhibitions. Another exhibition on sweatshops was also a lightning rod for controversy and Heyman was able to effectively allay concerns.
Heyman went on to use his skill in galvanizing support and raising funds to strengthen and diversify the Institution's offerings. His efforts led to the construction of the National Museum of the American Indian in Washington, D.C., and in 1999, he secured the largest donation in the Institution's history to build the Air and Space Museum's Steven F. Udvar-Hazy Center at Dulles Airport in Chantilly, Virginia.
In 1996, to mark the Smithsonian Institution's 150th anniversary, Heyman launched a nationwide exhibition tour and created the Smithsonian Affiliations Program, which now encompasses 169 museums across the country. His tenure also marked a growing emphasis on inclusion within the Smithsonian Institution, as he founded the Smithsonian Latino Center and Asian Pacific American Program.
"In his five years as Secretary, he helped usher in a more dynamic Smithsonian, an Institution more thoroughly engaged with the American people," wrote current Secretary G. Wayne Clough. "Mike Heyman was unflinchingly optimistic about the Smithsonian's ability to be a force for knowledge and inspiration in our society."