Invoking the Mother of Modern Dance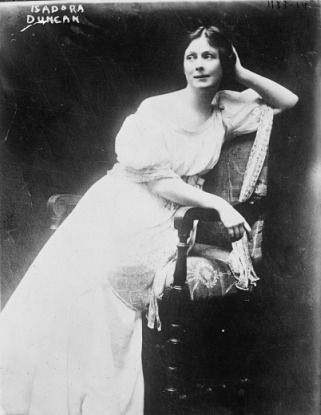 Tonight, Valerie Durham from the Duncan Dancers company and dancers from all around the country trained in the Isadora Duncan style will debut "The Four Sylvan Sounds," in the McEvoy Auditorium at 8th and F Streets. The performance is inspired by the oil on wood panel The Four Sylvan Sounds by American painter Thomas Wilmer Dewing, which is currently on display in the Freer Gallery.
In the early 1900's, Duncan flouted the traditional forms of dance to create a new style that she saw as more natural and emphasized improvisation and emotion. Duncan's loose-fitting clothes draped across her body and invoked a Greek goddess—one of her many inspirations. The style quickly caught on in Europe and later gained popularity in the United States.
While in Germany, Duncan started a dance school and her pupils became known as the "Isadorables." (They were also her adopted daughters.) She performed around the globe, but eventually settled in Europe, spending the majority of her time there. Her life came to a dramatic and tragic end in 1927, when at the age of 49, she was accidentally strangled to death after a scarf she was wearing got caught in the wheel of a convertible sports car.
The tragedy left many of her dance students reeling. "Her death really was a call to action for the dancers to remember all the choreography because they were doing their own work," Durham says. "We went through a whole period in the Duncan style where it was really just about remembering the dances and passing them on." Now, Durham says, enough has been documented, and the style can move forward with new choreography, like the performance tonight.
"I think it's very appropriate to have these dances performed in the Smithsonian, in a museum, where you can see something from 100 years ago so purely given through this lineage of dancers," Durham says. "It's really as close as we can get to going back to Isadora herself.
The performance, which is free and open the public, is co-sponsored by the Smithsonian American Art Museum and the Freer and Sackler Galleries. The first performance will begin at 5:15 p.m. and the second at 6:15 p.m.