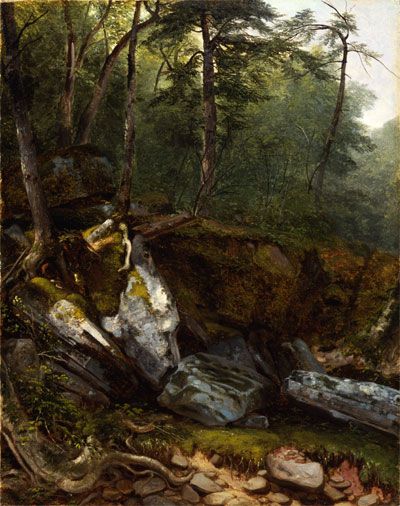 It was Asher B. Durand (1796-1886), a founding member of the Hudson River School, who taught us to appreciate nature, and to hike and bike and canoe through all of its rugged splendor. Without him and his companions, Thomas Cole, Frederic Church and William Cullen Bryant, we might be still battling a fear of beastly creatures that roamed the dark and terrifying forests—Rodents of Unusual Size, oh my!
"Durand was the first to give us the idea of the landscape as an escape," says Eleanor Jones Harvey, chief curator at the Smithsonian American Art Museum, where 57 Durand works go on view on Thursday through January 6, 2008.
Before Durand, nature, dark and dreary, was mostly depicted as tamed, cultivated or captured—landscapes were gentle pastoral scenes of farm, village, steeple and pasture. (Durand, too, painted his share of these.)​
But by the middle of the century, Durand literally upended that notion, turning the canvas vertical—the better to craft towering forests and majestic mountains. From the 1840s to the 1870s, Durand spent many months each year on sketching expeditions that ranged from New York to New England, usually with other artists or members of his family. Raw, splendid nature, the stuff of westward expansion, became a kind of a paradise, a place for introspection and communion. A sensibility, says Harvey, that carries forward today.
Hudson Trail Outfitters and REI owe this guy big.
(Courtesy of SAAM: Asher B. Durand, In the Woods, 1855, Oil on Canvas, the Metropolitan Museum of Art, New York, gift in memory of Jonathan Sturges, by his children, 1895; Asher B. Durand, Study from Nature: Rocks and Trees in the Catkills, New York, ca. 1856, Oil on canvas, The New-York Historical Society Museum, Gift of Mrs. Lucy Maria Durand Woodman, 1907.20)