At the Intersection of Dance and Portraiture, Vulnerability and Intimacy Prevail
Dance troupe Pilobolus and video portrait artist Bo Gehring teamed up to defy boundaries
For the Connecticut-based dance troupe Pilobolus, innovation means never repeating itself.
"It's not about throwing away what we've learned, but really taking what we've learned and twisting it, and saying and doing new things with it," says the troupe's co-associate artistic director Renee Jaworski. Some dance companies get stuck in the past, and after mastering one thing, audiences come to expect them to repeat it ad infinitum. There is also great financial incentive to be known for one particular act or approach.
"We've got to fight against that, because the world is going to go nowhere if everyone relies on the tried and true," she says.
Pilobolus was founded by Dartmouth College students in 1971 and named for a fungus associated with grazing animals that the father of one of the founders was researching. Pilobolus, which has performed in nearly 65 countries, also has a reputation for being widely collaborative—with Penn & Teller, Art Spiegelman, and Maurice Sendak, for example. It has performed at the Academy Awards (2007) and on shows ranging from "Oprah" and "Late Night with Conan O'Brien" to "60 Minutes," and its contortionist acts appear in commercials, as when silhouetted dancers formed a car for a Hyundai ad.
One Friday evening in May, the troupe collaborated with video portrait artist Bo Gehring appearing at an event at the Smithsonian's Kogod Courtyard, a magnificent central plaza and salon inside the 19th-century building that houses both the National Portrait Gallery and the Smithsonian American Art Museum in Washington, D.C. The task for the dance group and for Gehring that night was to challenge visitors to explore and expand the traditional boundaries of portraiture.
Many assume that the tradition of portraiture requires "old white men with the wigs on," says Kim Sajet, who has directed the National Portrait Gallery since 2013, and was delighted to kick off the Smithsonian Institution's three-part summer series "America Now," designed to probe the many intersections between art and innovation.
The work of portraitist Bo Gehring—who won the museum's 2013 Outwin Boochever Portrait Competition—is anything but traditional. His video portraits achieve a rare, intimate vantage point with their close-up, scrolling views of his sitters, such as his portrait of jazz singer Esperanza Spalding, currently on view in the Portrait Gallery's exhibit "Eye Pop: The Celebrity Gaze."
Even Jaworski's co-associate artistic director Matt Kent had trouble with the concept. New themes for portraiture take some getting used to. Without mincing words, Kent initially proclaimed the idea of a camera slowly panning across a reclining model "terrible" and "boring."
But when Kent first saw the simplicity of Gehring's work last fall, he changed his mind completely. At the May event, Gehring took video portraits of audience members, and Kent and Jaworski's Pilobolus group led dance workshops and performed on a makeshift stage.
"People have a space around them that depending on your culture, you don't get to. But [Gehring's work] sneaks past that. It goes inside the bubble," Kent says. "You don't usually have that sensation of someone that you don't know, who is not a lover, family or a Pilobolus dancer."
Pilobolus allows its dancers to express their individuality where other troupes often stress homogeneity, and it emphasizes both innovation and intimacy, Jaworski says. "None of them look the same. We let them be themselves up there," she adds. "It is a portrait of what's going on, because each individual has added to the process in a way that only they can."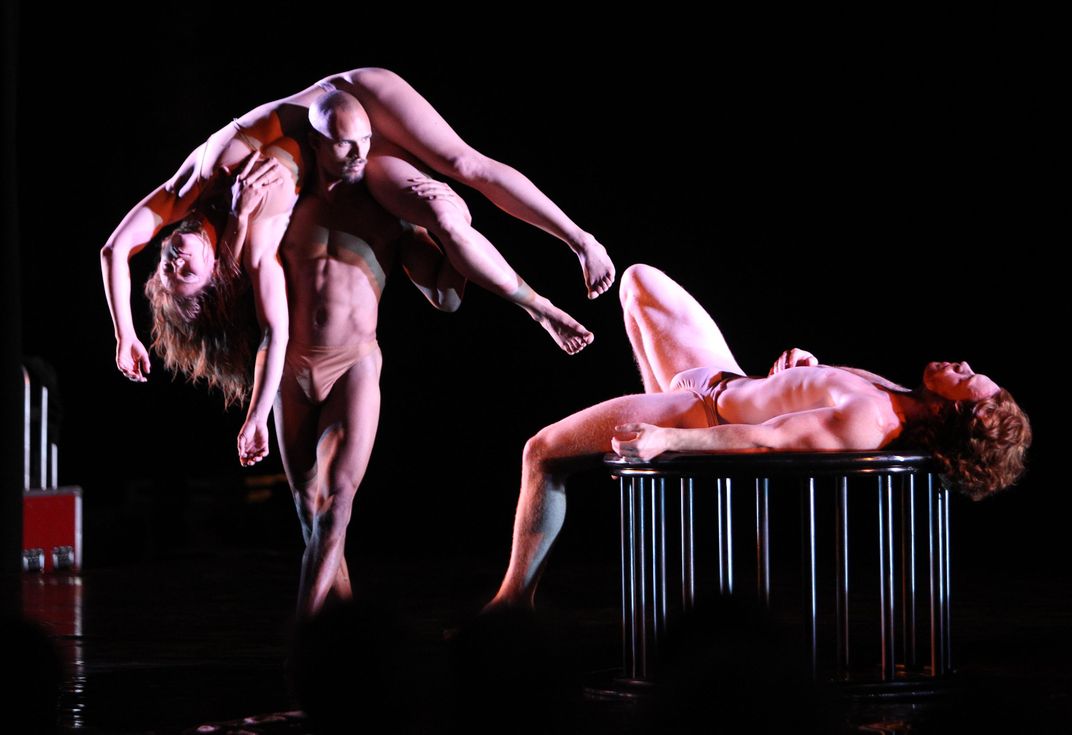 In the performance at Kogod Courtyard, Pilobolus dancers impersonated robots, mimicked swimmers and toyed with their reflections in mirrors and video projections in a manner that suggested comparisons from Cirque du Soleil's psychedelic arrangements to kaleidoscopic scene transitions of television's "That 70s Show."
In between dances, Gehring made portraits of Pilobolus dancers projected on two screens on either side of the stage creating what Jaworski calls a "live program." (There were no paper programs distributed at the event.) In the videos, dancers held placards identifying each act: "All Is Not Lost," "On the Nature of Things," "Automation." The videos, though placeholders, underscore the vulnerability of the dancer's close-up.
"You can think of a dance piece as a portrait of whatever is going on in the studio at the time we are making the piece," says Jaworski. "They put themselves in intimate positions with each other, but we are also inviting our audience to get to know the people on stage in a way that is very intimate."
That intimacy, at the Portrait Gallery, was somewhat offset by a "New England fair" feeling that the gallery wanted, where visitors could get their portraits taken by Gehring in one corner, could find drinks and food in another, and visit the stage on the other end of the large room. That's different from the kind of captive audience to which Pilobolus typically performs.
"We sort of trap our audiences and turn out the lights. We bring them into this world," Jaworski says, herself experiencing a new paradigm. "This guy could get up in the middle of the piece and look at some portraits and come back and get back into it. That's new. … You're not trapped in a theater. You can view this as a museum piece."
That flexibility, and the lack of a cover charge, drew Heather Whyte and her 9-year-old daughter Cassidy, who summed up the evening: "It was funny, weird and artistic."
Even if pushing boundaries does get weird, they remain situated respectfully in historical context, says the museum staffer Bethany Bentley.
The museum, adds Sajet, has long honored ingenious thinkers, especially those who "made things happen," from George Washington to Rosa Parks. "Innovation really comes down to human thought; it's people thinking outside the box," she says.
"No one is throwing out old portraits," says Bentley. "What we are trying to help people see is that, yes, there is very representational portraiture, and that's wonderful, and what much of our tradition is based on. [But] what we also want to think about is what does portraiture mean."
Kent sees both promise and potential pitfalls in that kind of expansive thinking. "I don't know when I'm having a really great, innovative idea or a really stupid idea," he says. "They both feel the same. You have to just do it."