How the Big Screen IMAX Experience Just Took a Quantum Leap Forward
The Smithsonian's Udvar-Hazy Center Airbus Theater is among the first to receive a cutting-edge technology makeover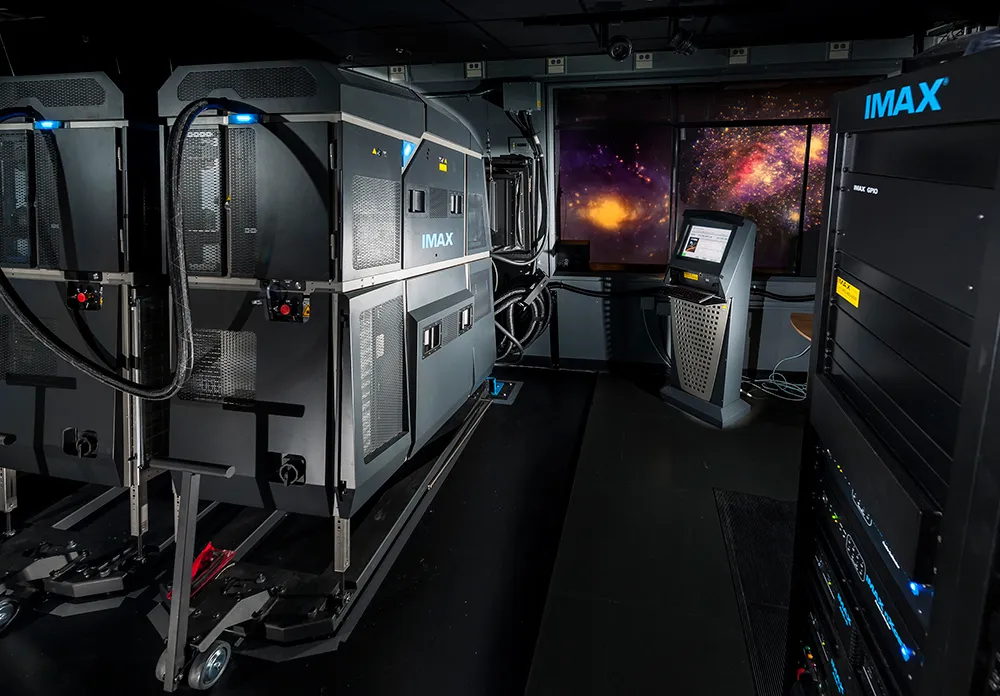 Only a fraction of the movie fans who spent $187.7 million opening weekend to see Avengers: Age of Ultron saw it as it appeared at Airbus IMAX Theater at the Smithsonian's National Air and Space Museum Steven F. Udvar-Hazy Center in Chantilly, Virginia.
What was a big hit elsewhere was a literally huge one here: Six stories high and more than 85 feet wide, it is the first museum in the world to employ the newest laser technology. Its super sharp 4K laser system encased in two perfectly calibrated fridge-sized projectors is enhanced with a new 12 channel sound system with a sub-bass.
The likes of Iron Man, Thor and the Hulk have never been so formidable—or in 3D versions, so bright. The one drawback to 3D has long been that the glasses darkened objects on the screen.
Technicians from IMAX who worked long hours right up to the Ultron opening demonstrated the next morning how the laser light source betters the old xenon bulb in brightness. "We're 50 percent brighter than any cinema," says IMAX executive vice president David Keighley. "That's one reason you love our images—they seem more real."
At the same time, the vivid white and colors from the screen are due to the deeper blacks it can also project. To demonstrate the sharpness between the two, Keighley didn't show a clip from the Avengers hit, but a still black and white checkerboard pattern, whose borders never bled or wavered, yet boasted absolutely sharp lines and corners.
"If you're a technical geek you should go wow," he says.
Many did.
"I never thought we'd get that kind of resolution," says Keighley, who has been involved in the post production of hundreds of IMAX films and has been the president of IMAX's post production image and quality control subsidiary DKP 70mm Inc. for more than 40 years.
Keeping the black parts of the film absolutely black means filmmakers can alter at will the dimensions of the film's border, as director Christopher Nolan did in 2008's The Dark Knight and last year's Interstellar. Those are two of the very few Hollywood hits made in 70 millimeter size that can play an IMAX screen. But now that the Udvar-Hazy Center has moved to digital projection, the many more popular Hollywood titles made that way can be shown at night, even as the daytime museum favorites such as Journey to Space, D-Day: Normandy, Living in the Age of Airplanes and Hidden Universe are also further enhanced.  
The Udvar-Hazy Center, known for its housing of thousands of aviation and space artifacts, from the Enola Gay to a Concorde to the Discovery space shuttle, is now one of only four IMAX screens in the world with such advanced technology, and the only one on the East Coast.
Zarth Bertsch, Smithsonian's director of theaters, says the IMAX theater at Udvar-Hazy had to be closed a month to install the equipment and screen, which came in the dead of night in a 1,600 pound crate from a truck in Quebec. It took 16 workmen to carry the 600 pound roll into the theater and unfurl it in place.
All of the technology, Keighley says, "gives us more tools to tell better stories to transport you to places you never dreamed of going and in IMAX laser, that bar will even be higher and open up lots of possibilities for the people we work with."
Those people include the director Nolan, but also James Cameron, whose 2009 Avatar helped fuel the modern 3D craze; J.J. Abrams, who this summer will release the anticipated Star Wars: The Force Awakens; and director Zack Snyder.
"He's shooting with the IMAX camera for Batman v. Superman, so we couldn't be happier," Keighley says of Snyder.
"We'll help all of them tell their stories in even more compelling ways."
"We got a cheer when we showed the new trailer," he says of the impending Star Wars. The immersion a viewer feels at an IMAX could be seen as part of the motion picture industry's 60-year effort to give people what they can't get on their TV sets, even when those screens are getting pretty big, too.
But IMAX actually poses the biggest threats to regular multiplex screens, Bertsch says.
"Those screens are pretty small and those are the ones that are struggling the most with the change in consumer behavior," he says. "When you have a giant screen—six story by four story tall—that's an immersive experience that you're never going to have at home, that's really the key difference. Those smaller sized screens, those are the ones that are a little more challenged in the marketplace."
The 70 mm films, such as Interstellar have been so popular at the Udvar-Hazy in the past that they continued to play there long after they may have left more conventional screens.
"We ended up showing it for months," Bertsch says. "The only reason we stopped showing it here is because we had to close to do the upgrade. People were just loving it." Now that they've switched to digital projection, their problem will be choosing among all the summer blockbusters, though the preference will be for those who actually shot with IMAX cameras, such as Tomorrowland.
In addition to that, "We have Jurassic World upcoming, the new Bond film Spectre, and of course Star Wars," Bertsch says. But maybe Tomorrowland will best reflect the futuristic, high tech changes that have taken place at the museum IMAX screen.
Tomorrowland will be "one of the sharpest from a picture quality point of view you'll ever see this entire year," Keighley promises. "George Clooney has never looked sharper."
The box office for the Airbus IMAX Theater at the Udvar-Hazy Center in Chantilly, Virginia, is open 7 days a week, 10 a.m. to 5 p.m., 866-868-7774, TTY 202-633-8850.