Hurry In! Exhibitions Closing in August
Summer and the city is hot. Refresh and cool down at these exhibits, closing this month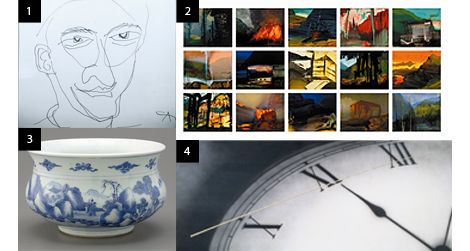 With temperatures in the hundreds here in Washington, D.C., August is a fine time to seek out the glorious air conditioning of a museum. If you're in town, take a moment to catch some of these great exhibits while you still can. The Around the Mall team alerts you to the upcoming final days of the following exhibitions. Hurry In.
Closing Sunday, August 7:
"Chinamania: Whistler and the Victorian Craze for Blue-and-White" at Freer
By the 1870s, Chinese blue and white porcelain had moved "from palace to parlor," as one historian put it. The commodity, highly sought after by the Victorian middle classes, was a symbol of high culture and refined taste. Satirically labeled "Chinamania" by media of the time, the china craze was powered in large part the London-based American artist James McNeill Whistler (1834-1903), who became infatuated with blue and white Chinese porcelain in the early 1860s. Whistler's work from this period is the subject of the Freer Gallery's new exhibit "Chinamania," which opened last summer and closes this Sunday. Don't miss the collection of Whistler ink drawings and paintings inspired by Chinese porcelain.
"Vantage Point: The Contemporary Native Art Collection" at American Indian
At times provocative and at times moving, these works run the gamut from a blanket sewn out of thrift store fabrics to a photographic spoof of a Frida Kahlo self-portrait to a video installation projected on a screen of white turkey feathers. the museum's acquisitions during the past several years. When the National Museum of the American Indian opened its doors on the National Mall in 2004, the museum had already begun to amass a rich collection of contemporary art by Native Americans. The museum's exhibit, "Vantage Point," a survey of 25 contemporary artists, opened last September and also closes this Sunday.
Closing Sunday, August 14:
"Calder's Portraits: A New Language" at Portrait Gallery
You never knew Alexander Calder (1898-1976) in this way. The acclaimed painter and sculptor is best known for his avant-garde mobiles and stabiles and his colorful, geometric sculptures. Few of which are in this show. Instead, introduce yourself to an often overlooked side of Alexander Calder —that of the prolific portraitist. In March, the National Portrait Gallery's exhibition of Calder's drawings, sculptures and caricatures of celebrities like Josephine Baker, Jimmy Durante, Babe Ruth and Charles Lindbergh surprised and delighted visitors. You have less than two weeks to see it all; the show closes on Sunday, August 14.
Closing Sunday August 28:
"Fragments in Time and Space" at Hirshhorn
In a blink of the eye, this show is over before it can even get started. The Hirshhorn's summer exhibition, on view for just two months, is a terrific presentation of works from the museum's permanent collection. Thematically the curators have chosen pieces that focus on the interpretation of time and space since the beginning of modernism. Included are works from such artists as Thomas Eakins, Hamish Fulton, Douglas Gordon, Ed Ruscha and Hiroshi Sugimoto. Sunday, August 28, is the last day to see it.
*Image credits: 1) "Arthur Miller 1915-2005″ by Calder, @2010 Calder Foundation, NY/Artists Rights Society (ARS), NY;  2) "Blanket" by James Lavadour (Walla Walla),  Museum purchase with funds donated by Robert Jon Grover, 2007; 3) Incense burner, late 17th century, Qing dynasty; 4) "Five Past Eleven" by Ed Ruscha, Hirshhorn Museum and Sculpture Garden