How the Work of a Sculptor and a Doctor Landed In the Nation's Top Craft Show
More than 100 artists in the 36th annual Smithsonian Craft Show capture Asia's influence on American design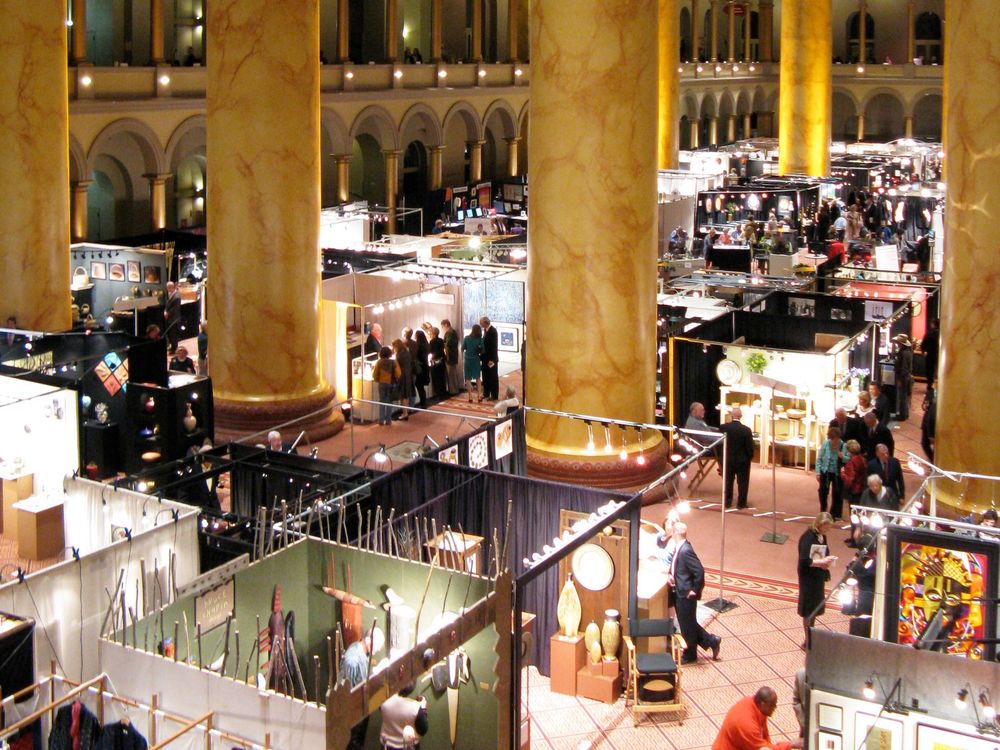 Laura Baring-Gould's interest in the craft world came, in her words, "quite late." She spent the first decade of her career as a sculptor creating large-scale installations for museums, galleries and public spaces. In 2006, she received a commission from the City of Boston to install a 12-foot-tall bronze pear in the historic neighborhood of Dorchester, celebrating the agricultural history of the area. While working on the sculpture, she traveled to a foundry in Thailand, a country with a 5,000-year legacy of casting impressive bronze Buddhas. What ended up striking her as much as Southeast Asia's masterful bronze casting techniques were the region's handmade structures—everyday items such as gathering baskets and fish traps.
"As a sculptor, the forms sang," she says. "They're exquisite shapes that are driven by functionality; driven by the fact that they're made from the human hand. And they're resoundingly beautiful."
Baring-Gould is now driven by a desire to bestow permanence upon the ephemeral by creating cast bronze replicas of delicate items, such as the gathering baskets and fish traps that first caught her attention. The bamboo and other source materials that she works with are biodegradable, so each individual object is short-lived. And on a larger scale, the cultural practice of making household appliances by hand is in rapid decline due to globalization. To ensure that these unique forms live on, Baring-Gould returned to Thailand on a 2008 Fulbright grant to fine-tune her customized restoration technique. Each piece goes through a painstaking lost-wax casting process, also known as burnout.
Cliff Lee, a renowned potter whose work is on permanent display in the Smithsonian American Art Museum's Renwick Gallery, owes his artistic career to another kind of burnout. After starting college at age 15 and graduating from medical school in his mid-twenties, Lee found himself overworked and unhappy. "When we take medical ethics, we learn that the purpose of being a doctor is to heal people," he says. "Instead, you work so hard to pay your student loans and enrich yourself. As King Solomon said in the Bible, if you become very rich, and by the end you lose yourself, what do you have?"
When a patient suggested he take up pottery and invited him to her studio, Lee discovered a new, meditative world amongst the clay. He was hooked—at age 27, he took a sabbatical from medicine and enrolled at James Madison University to learn how to operate a gas kiln. Since then, Lee has spent more than 40 years using his chemistry background to perfect the shapes and glazes of Song, Ming and Qing dynasty porcelain, the classic Chinese ceramics that his parents collected when he was growing up in Taiwan. For the doctor-turned-potter, this second career has been a godsend. "If you really follow your heart and do what you love, it's not work anymore," he says.
The work of Baring-Gould, Lee and 118 of their peers will be featured this week at the 36th annual Smithsonian Craft Show, which carries the theme "Asian Influence/American Design." The hosting Smithsonian Women's Committee is anticipating roughly 7,000 visitors at what is regarded as the most prestigious juried exhibition and sale of contemporary fine arts crafts in the country. The objects that will be on display are, as always, all made in America, but this year's show is unique in highlighting artisans that owe their style to Asian heritage. "Most creative work is derivative," says co-chair Susan Vallon. "We wanted to find out what it is about Asian design that caught the artists' attention, and how they wanted to translate what they see into their own voice. It may even be a one-off, because you really can't point to any other influence as strong as Asian influences."
The Craft Show, which takes place from April 25-29 at the National Building Museum, will begin with tonight's invitation-only preview, giving attendees an early opportunity to view and purchase artwork. The Women's Committee will use the proceeds from this opening fundraiser, and from the exhibition as a whole, to fund its 2019 grants program. This year, the committee awarded the Smithsonian's museums, research centers, and zoo 23 grants, totaling more than $460,000, for projects addressing one or more of the institution's five grand challenges: Magnifying the Transformative Power of Arts and Design, Unlocking the Mysteries of the Universe, Understanding and Sustaining a Biodiverse Planet, Valuing World Cultures, and Understanding the American Experience.
From a 12-foot pine sculpture by Chinese American sculptor Foon Sham, who organizers named the Asian Influence/American Design Visionary Artist, on the lawn of the National Building Museum, to conversations on Taiwanese, Japanese and Chinese crafts, the show promises to be an immersive and educational experience. "We want attendees to meet the artists, to ask questions, to learn something new, and to be inspired by their creativity," says co-chair Elizabeth Beck.
At the show, visitors will be able to enjoy works of a dozen different media. Besides Laura Baring-Gould's bronzes and Cliff Lee's porcelain, there will be painted textiles, Japanese woodblock prints, Korean hanji paper, and more. For the artists, the exhibition is not only a chance to promote their work, but also an exciting opportunity to engage with other passionate craftspeople. "For me to be juried in to the Smithsonian is just an incredible honor," says Baring-Gould. "I'm really proud to be among this cadre of the best in the country."
Among the items that Baring-Gould will have on display are bird nests, Thai gathering baskets, and a fishing trap from Botswana's Okavango Delta, all in cast bronze. The trailblazing sculptor hopes that these forms, developed across time and across a breadth of human cultures, can open eyes to the power that crafts carry.
"The work that we do is scaled to the human hand," Baring-Gould says. "We intimately engage with materials in an age of changing digital quickness. I think some of those technologies are really interesting, but they leave us hungry. And the world of materials has fascinated human beings for thousands of years."