How the City of Mud Stays Standing: Meet the Masons of Djenné, Mali
A new exhibition at Natural History explores the ancient craft in a modern world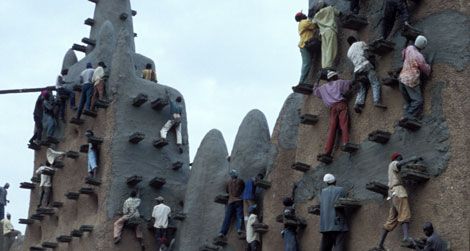 The story of Djenné, Mali, is typically told through its architecture—monumental mud-brick structures that seem to rise out of the earth like a desert mirage. Every building in Djenné's historic sector, designated a UNESCO World Heritage site in 1988, has been molded and reinforced by generations of mud masons, following an indigenous tradition as old as the city itself. When Natural History Museum curator Mary Jo Arnoldi traveled to Djenné in 2010, she wanted to meet the masons behind the city of mud, to give them a chance to "tell this story in their own words."
The new exhibition, "Mud Masons of Mali," now on view in the Natural History Museum's African Voices Focus Gallery, profiles three generations of masons: master mason Konbaba, 77; masons Boubacar, 52, Lassina, 49, and Salif, 33; and apprentice Almamy, 20. They belong to the Boso ethnic group, which founded present-day Djenné (pronounced JEN-NAY) in the 13th century A.D. (An older city, Djenné-Jeno, was founded southeast of the current town but was later abandoned.)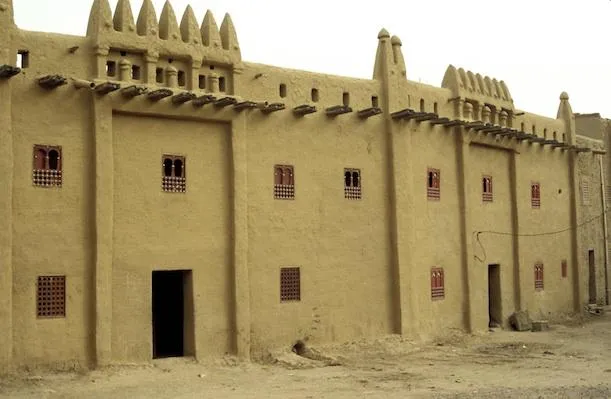 Djenné flourished in the 15th and 16th centuries as a hub for trade and Islamic scholarship, and to this day the city's population is predominantly Muslim. The world-renowned Great Mosque of Djenné is the city's spiritual and geographic center, and some of Djenné's most impressive mud buildings—two-story houses with grand entrances and buttresses—reflect the influence of Moroccan architecture and the 19th-century reign of the Islamic Tukolor Empire.
Visitors to the exhibition can explore the city of Djenné through more than 50 photographs, films and objects. On display are some of the tools of the masons' ancient trade, including a basket for carrying mud, a rectangular frame for shaping bricks and a rod of the same local palm wood used in the long beams that jut out of the Great Mosque's exterior. Masons use these beams as a built-in scaffolding, clambering up the sides of the structure to replaster the mud.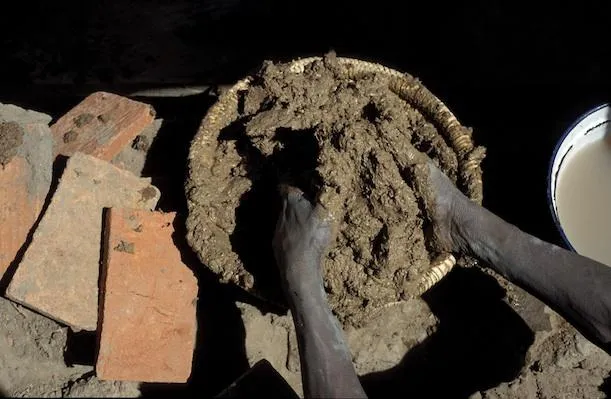 Djenné building mud is a calcite-rich alluvial mixture, extraordinarily durable but requiring regular reapplication. Most of the masons' contracts are maintenance jobs on mud homes. Traditionally every family had its own mason who remudded the house year after year. "You were connected to a building," Arnoldi says. When the mason died, his contracts would pass to an apprentice, thereby keeping clients in the family.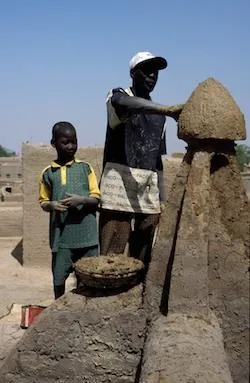 But as the masons explain in a series of short films in the exhibition, the old ways are disappearing. These days, Djenné residents seeking repairs often turn to younger masons rather than masters, bypassing the ancestral system. "If you have a friend with money, they may ask you to build a house," says Lassina. "That's how it's done now."
The craft itself is also changing. Boubacar is part of a new cohort of masons contracting with international groups on restoration projects, and the young apprentice Almamy goes to engineering school in Bamako, the capital of Mali, hoping to apply his technical education to time-honored masonry practices. "People aren't against change," says Arnoldi. "They just are against disrespect for people who hold knowledge. In Malian culture, knowledge is passed down from generation to generation."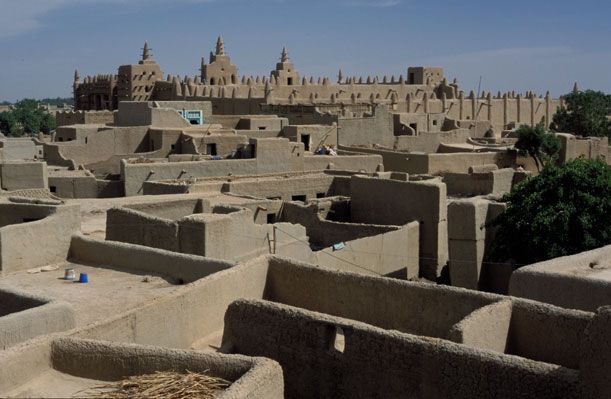 In recent years, the city's architectural fabric has become a battleground in this conflict between tradition and modernity. Many Djenné residents want to expand their homes and put in modern amenities and decorative accents. Photographs in the exhibition reveal satellite dishes, tiles, turquoise frames and steel doors peeking out of the earthen cityscape—but Djenné's UNESCO World Heritage status forbids any alteration to building exteriors in the historic sector. "There's a problem of freezing this architecture in time," says Arnoldi. "People live here. This is their home. You can't make them a museum."
Tensions came to a head in 2009 when the Aga Khan Trust for Culture began restoration of Djenné's Great Mosque, which was built in 1907. Every year the structure is replastered with mud in a celebration that brings out all of the city's residents. After a century of accumulation, however, these layers of mud had undermined the structure. The Aga Khan project stripped away much of the mud on the surface and suspended the annual remudding.
Many masons objected to this action, citing the spiritual and aesthetic significance of the remudding. The mosque is thinner now, with straight lines and sharper edges erasing the handmade, sculptural quality of the original. Master mason Boubacar says, "If you ask us, we would say that they did it in a European way. It's no longer the African way."
Judging by the jubilant crowds that still surround the mosque every year, the "African way" will endure—though it will undoubtedly change. New generations will graft their own skills and experience to the architectural legacy of their ancestors. The young apprentice Almamy, who represents the future of the craft, puts it best: "We'll work with our own ideas and make our own mark, but we'll leave the elders to their old ways of working. We want those to remain a reminder of what our parents have done."