How Museums and the Arts are Presenting Identity So That It Unites, Not Divides
Curators and practioners of the arts share a renewed focus on how culture and heritage shape who we are as Americans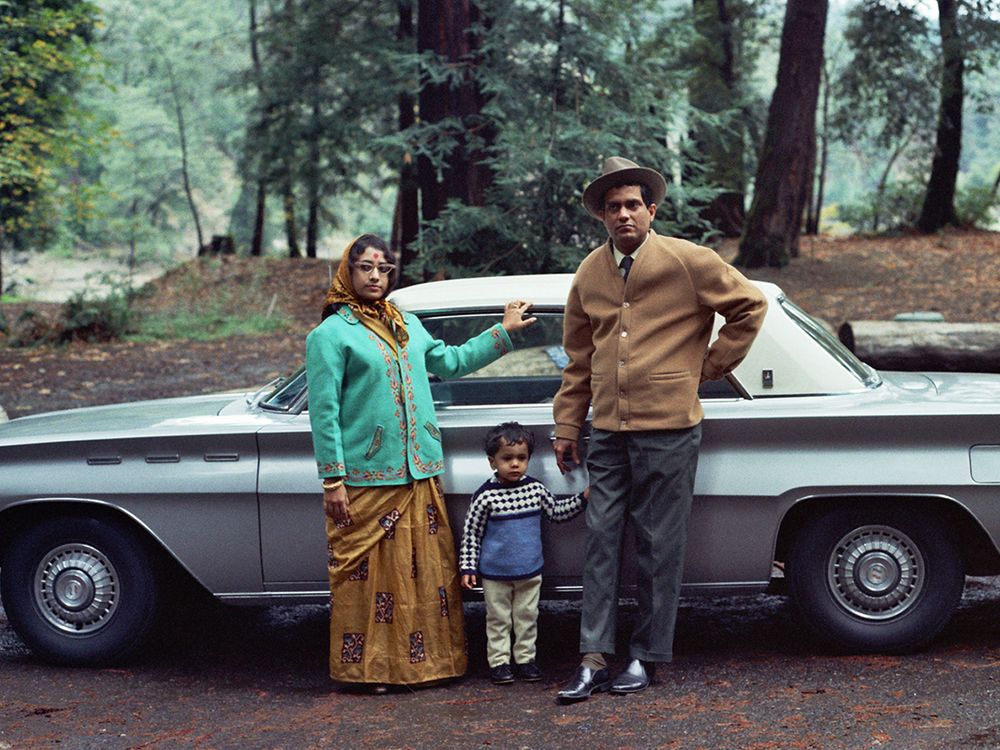 A question posed to visitors to the new Smithsonian exhibition "Beyond Bollywood: Indian Americans Shape the Nation" asks: "What does an American look like?" And then, rather provocatively, also asks if the wearing of a turban signals that one is not an American.
Traditionally in the Western imagination, the exhibition declares: "India conjures up … elephants, saris, and spices…turbans, temples…and the pulsating energy of Bollywood movies." But what lies beyond pop culture stereotypes? This thoughtful show ventures beyond the familiar by focusing on several periods of Indian immigration—including the first in the 1790s, when workers were first drawn to America as ship crewman, and another in the 1950s and 1960s, when a highly-educated wave of doctors and engineers immigrated to fill a surplus of American jobs.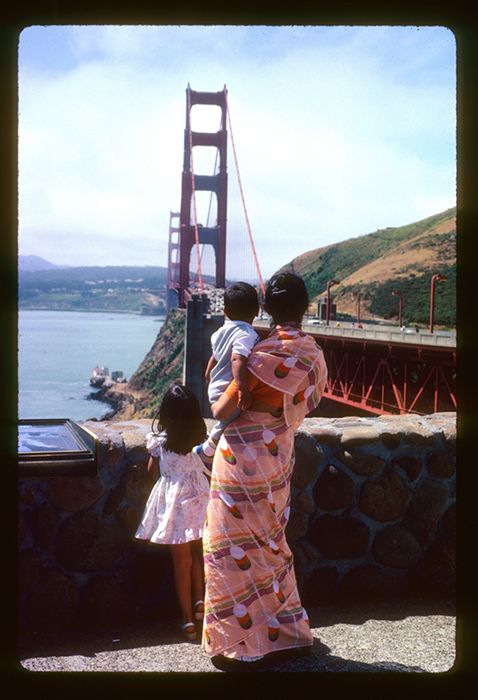 "Beyond Bollywood" curator Masum Momaya told the Wall Street Journal that she wanted to explore what makes an "American," and to examine the imprint Indian-Americans have made on our collective experience. In the exhibition, she selected familiar stereotypes of Indian-Americans—notably in such vocations as taxi drivers, motel owners and doctors—to serve as "entry points" for contemporary discussions about identity. Discussing the show with me, Momaya explained that people who identify themselves as "Indian-American" may have ancestral roots in the Indian subcontinent, but "the way they embody and experience their 'Indianness' and 'Americanness' varies tremendously." 
For the show, despite the Smithsonian Institution's robust collections of 137-plus million items, a deficit of material representing the Indian-American story was discovered. Though the first immigrants from India had arrived in the late 18th century and now number almost 3 million, very little of their history was represented in the collections, so the curatorial team decided to "crowd-source" for artifacts. Momaya explained that appeals for photographs and objects were made via digital media, and that her parents even contributed some household items. "People sort of emptied out their basements and sent us boxes and boxes of things," she recalled. 
Her objective was to convey the texture and vibrancy of the Indian-American experience by using these collected photographs and artifacts along with audio-visual and interactive stations. "I would love for people to walk away with a sense of the deep and diverse contributions that Indian immigrants and Indian-Americans have made to shaping the United States," she told the Washington Post.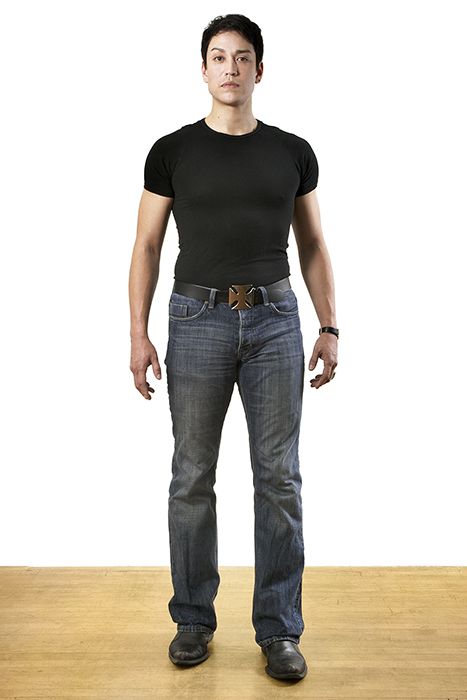 "Beyond Bollywood" shows how the cultural push-and-pull of the American experience has evolved. The exhibition goes far beyond old tropes about diversity as much as it transcends pop culture stereotypes, and offers a fresh perspective to a museum world that often still thinks in terms of race, class and gender "silos."
But perhaps things are changing, both among artists and curators, and in the media at large. In a recent review, the New York Times cultural critic Edward Rothstein examined the newly-reconfigured Skirball Museum in Los Angeles. The Skirball's new childrens' exhibition "Noah's Ark," of nearly 400 life-size animal constructions particularly caught his eye, and he used it as a springboard to consider the question of identity.
This exhibition is powerful partly because it forces us to pay attention to each animal in all its strangeness. Each creature, with its eccentric assemblage of found objects and mechanisms, is a singular world with its own idiosyncrasies and principles; by immersing yourself in one, you begin to understand others. And that brings us to one of the more vexing themes in the contemporary museum world—the nature of identity—that lies beneath the surface of this unusual institution and requires more exploration.
Rothstein writes that the Skirball is the oldest Jewish museum in the United States, established in Cincinnati in 1913 and then transferred to Los Angeles in 1972. "Typically," he explains, "such museums are created by immigrant or minority groups to trace their history, demonstrate their sufferings and celebrate their triumphs, ending with an assertive embrace of their identities." This has been the traditional narrative shaping recent museums devoted to such groups as American Indians, Japanese-Americans and African-Americans.
The difference the new Skirball has introduced, however, is an emphasis not simply on diversity, but on connections to a universal community: a video at the conclusion of the "Noah's Ark" exhibition shows how "Faces of different ethnicities morph into one another, demonstrating an interchangeable unity." Jewish-American identity here, for Rothstein, triumphs "not in distinctiveness, but in resemblance." Ultimately, he concludes, museums that focus on identity need to include not only diversity and individuality, but universal connections: "The challenge is not to see one way or the other, but both at the same time."  
I agree with Rothstein, and when I was organizing the National Portrait Gallery's exhibition "Dancing the Dream," I sought to spotlight dance as an art that illuminated America's diverse and universal roots. The Dana Tai Soon Burgess Dance Company partnered with the museum to do exactly that, rehearsing and performing in residence during the exhibition.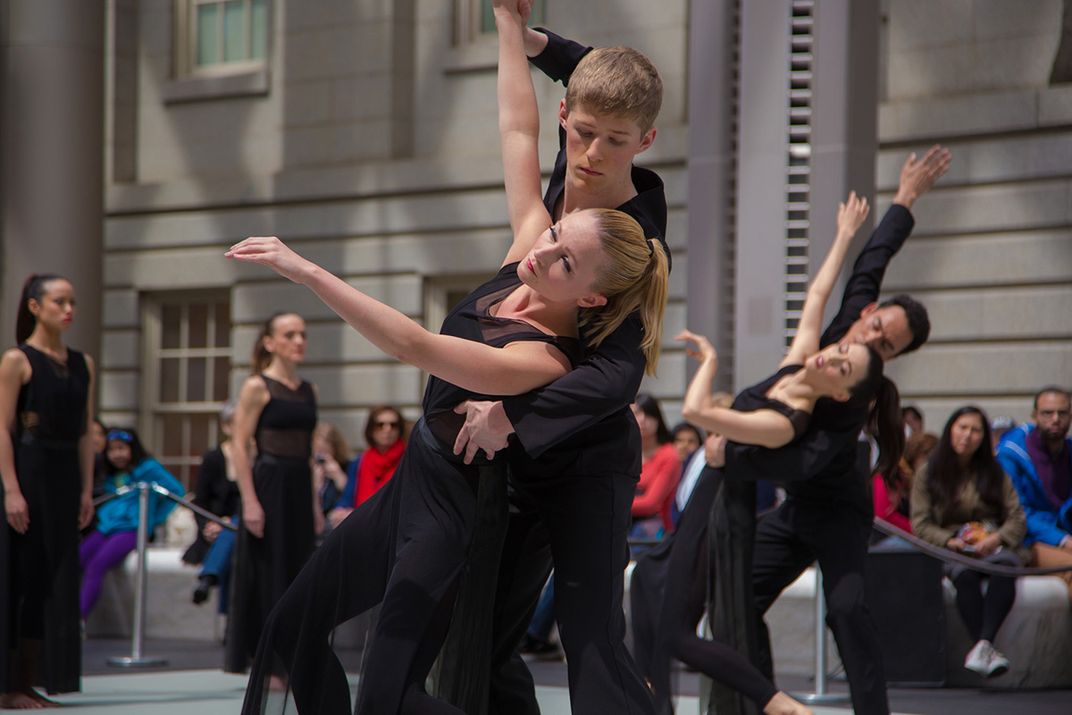 A Korean American, Burgess has always treated the quest for identity as a central theme in his choreography. One of his earlier works, "Hyphen," concentrated on "the identities of the Asian-American, the Hispanic-American, the African-American and so many other individuals searching for a sense of belonging within our ever changing cultural landscape." But the final work he choreographed for his NPG residence, "Confluence," reflected a different sensibility. This work, says Burgess, explores "the psychological terrain of brief encounters" to reveal "an underlying inter-connectedness." When I asked him if this new work was influence by America's increasingly diverse population, he said, "Yes, I think the cultural terrain is changing as is my company's focus. Somehow I feel that my aesthetic is embracing a much larger vision of humanity's shared emotional journey." 
Burgess' photograph by Cindy Hwang (CYJO) appeared in a 2012 Portrait Gallery exhibition called "Portraiture Now: Asian American Portraits of Encounter." CYJO chose Dana as one whose life reflected the diversity, identity, and immigration of the global KYOPO—those of Korean descent who live beyond the Korean Peninsula; she was particularly interested in exploring "issues of individual identity in relation to both ancestral heritage and contemporary life" in America. 
CYJO's newest photo exhibition, "Mixed Blood," opens May 30 in Beijing at the Today Art Museum. Supported by a grant from the U.S. Embassy in Beijing and curated by the Portrait Gallery's Associate Director Nik Apostolides, the show features CYJO's portraits of 19 families of mixed ethnicity, and continues her "exploration of identity and its relationship to migration and culture." The artist has been living in Beijing recently, and her experiences there encouraged her to broaden her exploration of cultural encounters. In the "Epilogue" to her exhibition catalogue, she writes "Historical migration movements continue to help shape the American culture. . . and it was important to share this reality, which is also my reality."  This exhibition, she hopes, will enhance understanding beyond the "us and them" mentality and "will allow us to focus on the connective qualities within people, the humanistic aspect, where both similarities and differences can be celebrated."  
Curator Nik Apostolides believes that "CYJO's images, and the space between the individuals, suggest that the nature and boundaries of racial and ethnic identification are, incrementally, becoming more of a personal choice than a socially-imposed condition in today's society." Her perspective conveys "a radical new sense of the family and the individual as the points where race and culture…can combine in transformative new ways."
CYJO's work echoes Dana Tai Soon Burgess's current interest in choreographing works that showcase cultural "confluence." Their ideas also resonate with Masum Momaya's idea in "Beyond Bollywood" that she is telling not just an Indian American story, but an American story in which leaving behind one's homeland for another country and building a new life is a common, universal theme. "While conversations around identity in the United States have long centered around diversity, multiculturalism and fusion," Momaya told me recently, "these words inadequately capture the fluidity and transmutation that characterize people's experiences of their identity." Like the Bollywood stereotypes of popular culture, she argues, it is too simplistic to imagine a fusion of Indian and American cultures "because what in fact are either of those entities?" There is no universal definition of either, and "both are continuously changing and influencing each other—and they always have.
"Beyond Bollywood: Indian Americans Shape the Nation," produced by the Smithsonian's Asian Pacific American Center, is on view at the National Museum of Natural History throughout 2014. "Dancing the Dream" at the National Portrait Gallery will run through July 2014.