How Colonel Sanders Made Kentucky Fried Chicken an American Success Story
A weathervane from the Smithsonian collections is emblematic of Harland Sanders's decades-long pursuit to make his chicken finger-lickin' good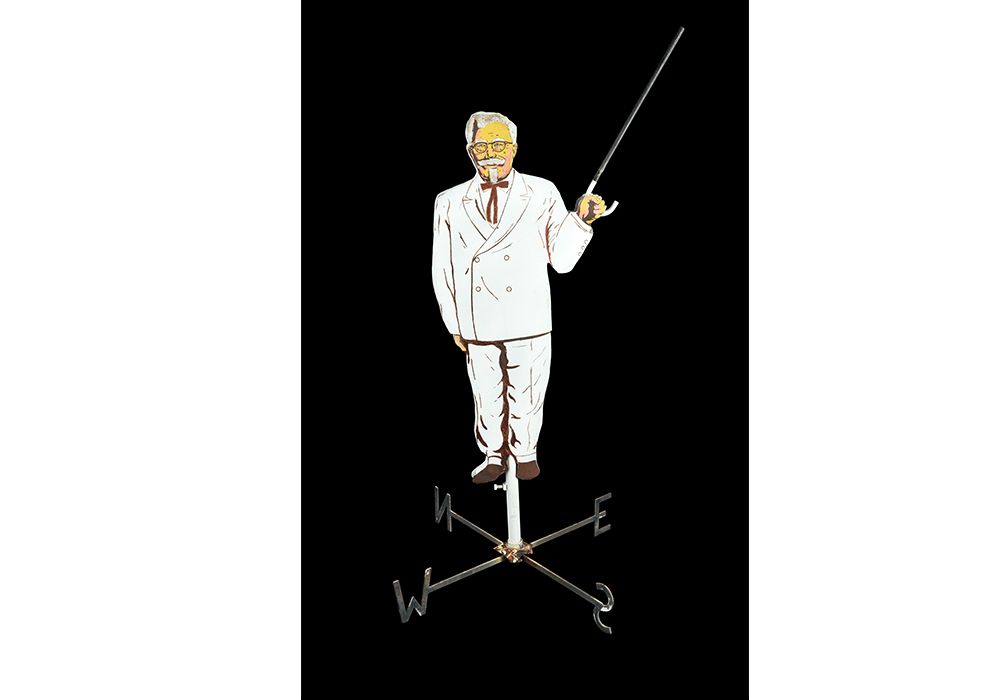 "Damn! There ain't a decent place around here to eat!"
The man had a point: It was the early 1930s, and truck drivers, tourists and traveling salesman whose paths through southeastern Kentucky delivered them to North Corbin found little more in the way of welcome than the tire checks and windshield cleanings Harland Sanders offered at his filling station on U.S. Highway 25.
"I'm afraid you're right," Sanders replied.
But the complaint took hold. "I got to thinking," Sanders later recalled. "One thing I always could do was cook."
Before long, he had covered the floor of his station's small storage room with linoleum, purchased on credit. He had rolled in the dining room table from the living quarters he and his family occupied behind the station. He had arranged six chairs around the single table. And he had begun serving family-style meals: country ham, mashed potatoes, biscuits and fried chicken. "I figured I couldn't do worse than these people running these places around town," said Sanders, as recounted in John Ed Pearce's 1982 biography, The Colonel.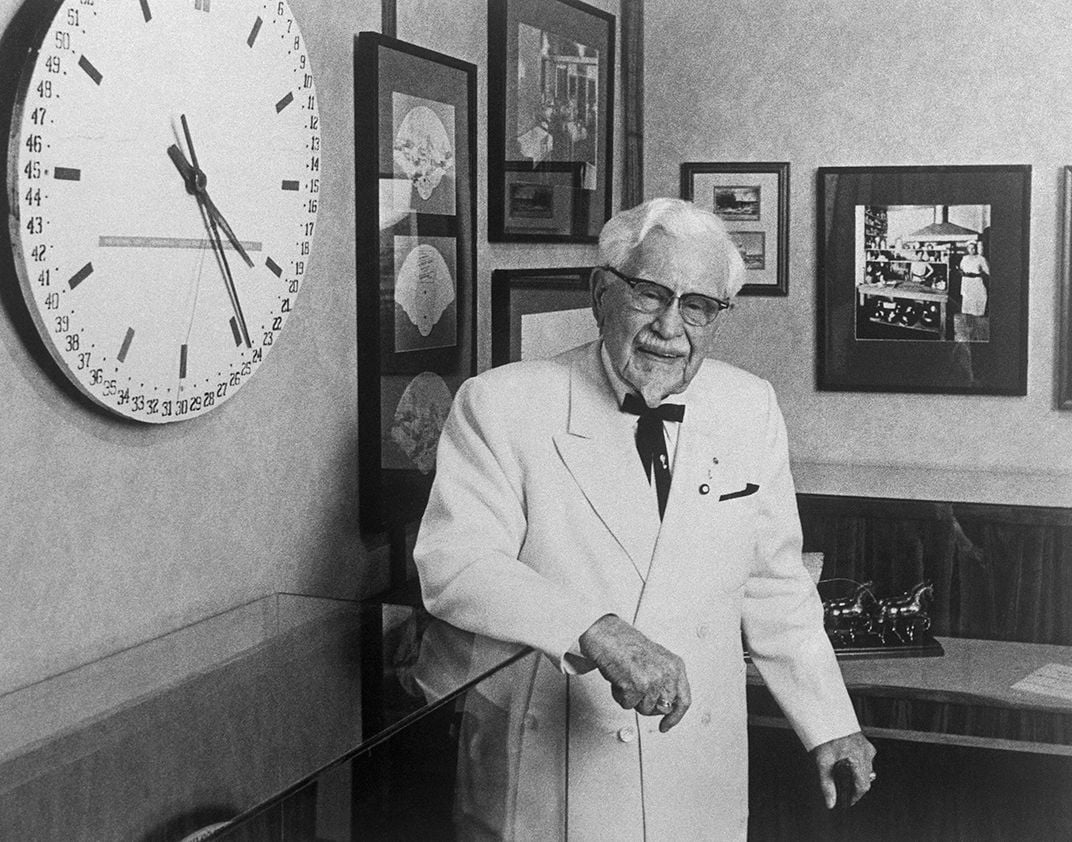 He did better than "worse"—far, far better: In time, and with some dramatic ups and downs, that one-room café expanded into a multi-million-dollar fried-chicken empire, Kentucky Fried Chicken, known today as KFC. Harland Sanders became "Colonel Sanders," and his Southern gentleman guise, replete with goatee, black string tie and white double-breasted suit, solidified into an iconic brand. Slogans like "North America's hospitality dish" and "We fix Sunday dinner seven nights a week" beckoned customers to eat in or carry out. In 1964, when the 75-year-old Sanders sold his company for $2 million dollars, more than 600 franchises were distributing his fried chicken—made from the Colonel's secret blend of "eleven herbs and spices." Now a subsidiary of Yum! Brands, KFC boasts almost 20,000 outlets worldwide, 5,000 of them in China.
"American Enterprise," a new permanent exhibition at the Smithsonian National Museum of American History in Washington, D.C., features some 600 artifacts, arrayed to tell the story of American business and innovation from the mid-1700s to the present. Among those objects is a mid-20th-century weathervane bearing the image of Colonel Sanders, holding aloft a gold-handled cane. These ornamental weathervanes once adorned the cupolas of the stand-alone Kentucky Fried Chicken restaurants, hinting at a bygone folk era and forecasting the multi-directional dominance of its corporate future. "The weathervane suggests that you can find an outlet—can find your next meal—in any direction—north, south, east, and west," says curator Kathleen Franz.
Like a weathervane yielding to each shift in the wind's course, Sanders's decades-long and hyperactive search for the next dollar, the next job and the next success took him down a multitude of paths before he achieved celebrity: Born in 1890, he spent his early years on a small farm outside Henryville, Indiana. When Sanders was five, his father, an impoverished butcher, died and five years later Sanders left home for a stint as a farm hand, returning a month later with $2 and his first defeat: He had showered more attention on the red squirrels, rabbits and bluebirds than on the land he was supposed to have cleared and he had been fired. Thereafter, and for years, he bounced from job to job—farm hand, street-car fare collector, mule tender on an Army ship bound for Cuba, riverboat deckhand, blacksmith's helper, railroad yard worker, locomotive fireman, railroad section hand, self-taught lawyer, life insurance salesman, ferryboat operator, acetylene lamp manufacturer, tire salesman, sometime midwife, and more. He found jobs—and lost them; he made money—and lost it; he succeeded—and failed. Again and again. Sanders's first wife, Josephine, accused him of "jumping around from job to job too much like a flea," he wrote in an unpublished autobiography discovered, in 2011, in the KFC Louisville headquarters' archives. "Josephine thought I had an itchy foot and I'd never be able to keep a job."
Sanders's more promising Corbin days read like a page-turner whose dramatic turns—a territorial fight about signage that erupted into lethal gun fire, a sideline as a midwife and even jail time. But along the way, Sanders's experiments with chicken became a calling of sorts, moving him toward wealth, regional fame and honors—including the ceremonial state title of "colonel," conferred by Kentucky's governor in 1935. In his 1939 guidebook, Adventures in Good Eating, travel writer and eventual cake-mix mogul Duncan Hines praised Sanders Café: "A very good place to stop en route to Cumberland Falls and the Great Smokies. Continuous 24-hour service. Sizzling steaks, fried chicken, country ham, hot biscuits." To the café, which eventually expanded to seat 142 patrons, Sanders added other ventures: another restaurant, a series of tourist courts, two in Kentucky and North Carolina, a furniture store, a plumbing supply store. "Just when he was beginning to reap the rewards of a grueling life," writes Josh Ozersky in Colonel Sanders and the American Dream, "disaster struck yet again, landing him penniless and jobless at the age of sixty-five."
The federal government's rerouting of US 25 seven miles to the west of Corbin, to link with a new north-south interstate, drained tourist traffic and drove Sanders out of business: In 1953, he had confidently rejected an offer of $164,000 for Sanders Court and Cafe; in 1956, he sold his flailing business at auction and at a loss for $75,000. Sanders, arthritic and collecting Social Security, had once again been buffeted by the winds of fate. But he was tenacious. "For me, it wasn't a matter of giving up," Sanders wrote, "it was just a problem of what to do next."
Three years earlier, in Chicago, at a restaurant convention, Sanders had met a Salt Lake City entrepreneur named Pete Harman, who, despite 12 years in business, had never served fried chicken. Later, visiting Harman and his wife, Sanders rustled up a dinner of mashed potatoes, biscuits, gravy and fried chicken for a wary Harman. When Sanders passed back through Salt Lake City, several weeks later, he found the words "Kentucky Fried Chicken" painted on Harman's restaurant window and eight pressure cookers—Sanders's solution to the slow work of frying chicken in an iron skillet—on the kitchen stove. Harman became Sanders's first partner—first franchisee—paying 4 and eventually 5 cents per chicken sold.
Sanders went on to franchise his secret recipe and process to a few more small restaurants, but when his Corbin business failed, he threw himself into an aggressive sales campaign, driving from town to town, in Indiana and Ohio, bearing pressure cookers and bags of his secret spice blend. To save money, Sanders slept in his car, rolled up in a heavy wool blanket that Harman had given him, and relied for sustenance on the fried chicken he rustled up during his sales pitches. Sanders sought out mom-and-pop operations—dealing with "small people" or "strugglers," as he called them. "I was treated kindly and I did right by them, too," he later wrote. "My product has made millionaires out of some of them." Harman, one of those millionaires, went on to amass more than 300 franchises in Utah, California, Nevada and Washington.
The franchise model with its division of risk served Sanders equally well. The name "Kentucky Fried Chicken" and the idea of a stand-alone, standardized restaurant, rather than a menu item featured at a motley array of eateries, were Harman's. His was the concept of a carryout meal; his were the signature "bucket" and the slogan "finger-lickin' good." "Harman is the unheralded hero of Kentucky Fried Chicken, Inc., the company's virtual co-founder," Ozersky writes.
That Harman and other franchisees were integral to the growth of Kentucky Fried Chicken is a point museum curators hope to make in "American Enterprise." "In a franchise, ideas flow from the parent company down, but they also come from the bottom up or laterally: People who own franchises often have great ideas—for new menu items, for ways of doing business more efficiently, and for branding—that are taken up by the parent company," says Franz.
Sanders died, at the age of 90, in 1980; Harman, at 95, in 2014. Last week, with security guards on hand to manage the crowd of eager patrons, KFC opened the first U.S. fast-food-chain restaurant in Rangoon, Burma. That's a long way, in time and place, from Corbin, Kentucky, where once, in the early 1930s, a travelling salesman exclaimed to a service-station manager, "Damn! There ain't a decent place around here to eat!"
The permanent exhibition "American Enterprise" opened on July 1 at the Smithsonian's National Museum of American History in Washington, D.C. and traces the development of the United States from a small dependent agricultural nation to one of the world's largest economies.