Hot Temps, Rhymes at Festival Keep Spoken Word Alive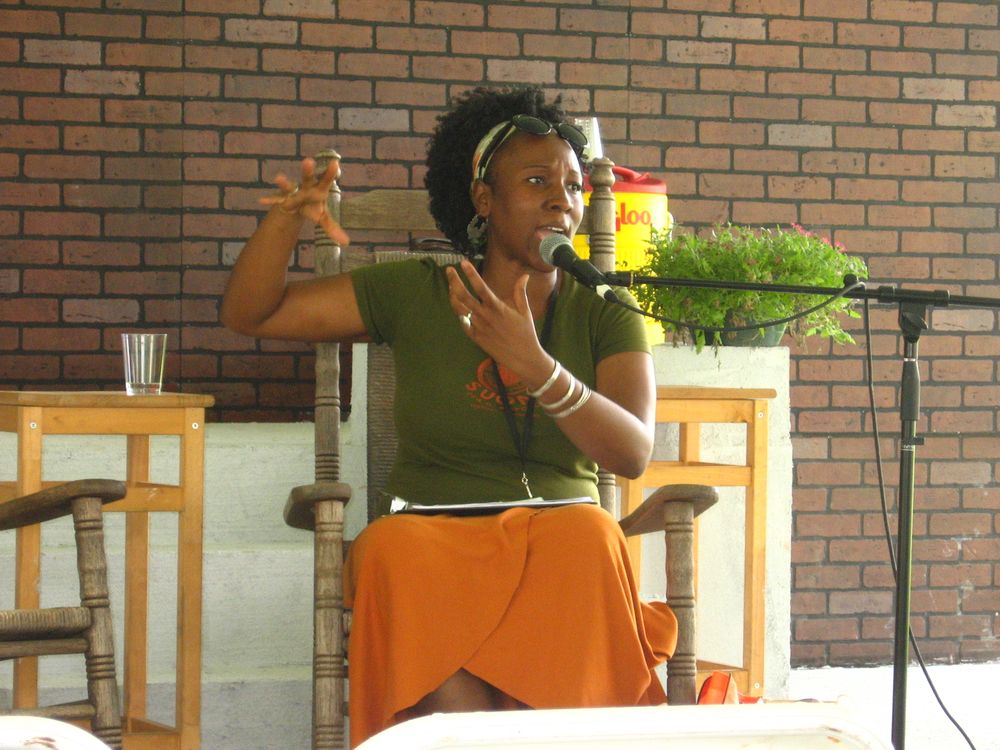 Poet and hip-hop artist Toni Blackman brought her hot rhymes to an equally hot stage at the Smithsonian Folklife Festival. As temperatures climbed into the upper 80s Thursday, Blackman read from her book of poetry, Inner Course: A  Plea for Real Love.
She also performed several spoken word pieces, and led the crowd in an energetic freestyle session. The audience-chosen topic was something everyone was feeling: the heat.
Blackman has worked for the U.S. State Department as a cultural ambassador and founded The Lyrical Embassy, which encompasses her music, poetry, book and experiences as an ambassador. She will make more appearances at the festival as part of Giving Voice, which celebrates African American oral traditions from radio to song to storytelling, including three today (June  26) at 11 a.m. in The Oratorium, 1 p.m. at the Radio Station and 2 p.m. at the Barbershop/Beauty Parlor.
I had a chance to speak with Blackman after her performance yesterday and asked her about the festival, oral tradition and her views of poetry and hip-hop.
What brings you to the Smithsonian Folklife Festival?
I lived in D.C. for many years. I went to Howard, and one of the first organizations to support my work with hip-hop ironically was the Smithsonian. Kim Chan, who was with the Washington Performing Arts Society, brought a program idea that we were working on to Smithsonian, and we ended up doing a major international hip-hop festival back in 1998. I've done stuff with the Anacostia Museum, the African-American Museum and for me, it's sort of a coming home because I grew at the Smithsonian.
What role does poetry play in oral tradition?
Poetry plays a very critical role in the oral tradition, in that poets have helped to preserve the tradition. I think through contemporary spoken word, poetry has basically added fuel to this flame that was already flickering. It was there on the sideline, and the spoken word movement brought poetry back to the people. So that the guy who's a postman, the woman who works as a manager at Foot Locker, the guy who's a lawyer during the week, they, too, feel like they can be poets. I think that's really important. And more important than that is just how many young people write poetry. Now, it's just a given, like you play basketball, you play chess, you swim and you write poetry. I think that's very exciting for the oral tradition.
How has hip-hop influenced oral tradition?
I believe that hip-hop is what rejuvenated interest in poetry. It was hip-hop and rap that motivated an entire generation of people to consider oral expression as an option for something to do with their time.
What is the relationship between poetry and spoken word?
I do agree with people who think that there is a distinction between poetry written for the page and poetry written for the stage. There's that material which is written to be read and that material which is written to be heard. And I think it's okay to acknowledge that. I think what's important, as we acknowledge it, is that we don't' put one above the other. It is possible for both to coexist, but not necessarily always in the same venue. What's special about the Festival is that it attracts artists who are rooted in the spirit of the art.