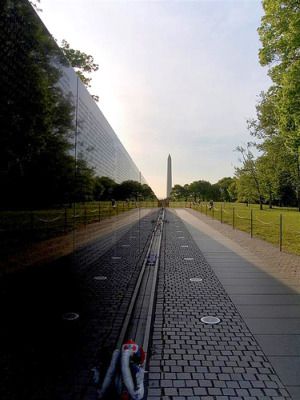 Surely many will visit the National Mall this Memorial Day, placing flowers and remembrances of loved ones passed at the war memorials. Since the dedication of the Vietnam Memorial in 1982, about 25,000 mementos have been left at the base of the wall or tucked between its granite panels. From birthday cards to teddy bears to poems and letters, the National Park Service rangers who collect the keepsakes daily noticed that the Vietnam Memorial, in particular, inspired people to leave items more personal than flowers and flags. They began cataloging the items in a Vietnam Veterans Memorial Collection, and from 1992 to 2003, over 1,500 objects from the monument's first ten years were on view in an exhibition called "Personal Legacy: The Healing of a Nation" at the National Museum of American History.
A few items—a bottle of Jack Daniels, a wooden cross with a crown of barbed wire and an artificial Christmas tree—remain on display in the museum's permanent exhibition "The Price of Freedom: Americans at War." The mother of Billy Stokes, who served in Vietnam, left the Christmas tree at the wall; she used to send her son a tree each Christmas that he was in Vietnam.
Perhaps a visit to the National Museum of American History, or at least the online "Price of Freedom" exhibition, would be a fitting tribute to veterans this Memorial Day.