Holiday Storytime at American Art Museum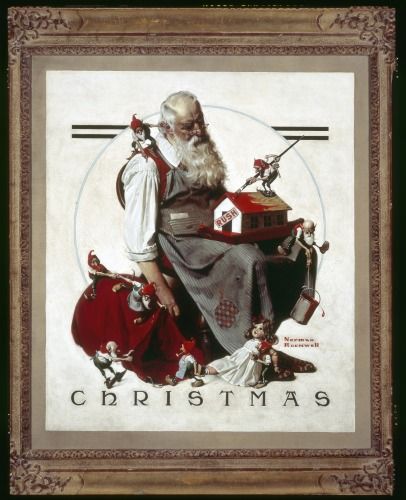 Gracing the cover of the December 2, 1922, issue of The Saturday Evening Post was a slumped, sleeping Santa. Crawling over him were elves, resembling those in the illustrations of Brothers Grimm fairy tales, putting last-minute touches on gifts and loading his sack.
The painting is one of over 300 that Norman Rockwell did for the Post over five decades, from 1916, when the artist was only 22 years old, to 1963. He considered the magazine, and I imagine particularly the cover, the "greatest show window in America." Instead of mannequins, however, he often composed his famous scenes of everyday American life by staging live models.
On Saturday, December 18, the Smithsonian American Art Museum is holding a special family event, in conjunction with its exhibition Telling Stories: Norman Rockwell from the Collections of George Lucas and Steven Spielberg. Local actors will be giving dramatic readings in the museum's McEvoy Auditorium from The Saturday Evening Post Christmas Book, a 1977 collection of classic holiday poems and stories by Robert Frost, Langston Hughes, Hans Christian Andersen and Lewis Carroll, among others, sprinkled with Rockwell's Christmas-themed paintings. Among the stories told, I believe, will be Charles Dickens' A Christmas Carol, Clement C. Moore's A Visit from St. Nicolas and Francis P. Church's Yes, Virginia, There is a Santa Claus.
Come to the event, 2 PM, Saturday, December 18, and see the exhibition before it closes on January 2!