Hirshhorn Board Divided on Future of the Bubble Project; Director Resigns
The split vote by the trustees of the contemporary art museum leads to the resignation of Richard Koshalek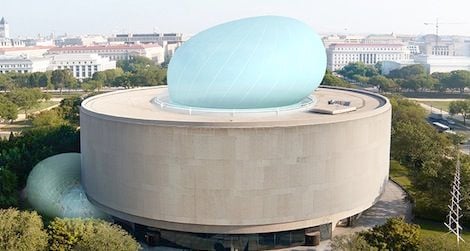 In 2009, the Hirshhorn Museum announced plans for a dramatic, glowing balloon that would emerge out of the center of the circular building when inflated seasonally. The "Bubble," as it came to be called, was conceived by the Hirshhorn's director, Richard Koshalek, as an architecturally ambitious addition to the museum that would serve as a space for meetings, lectures and temporary think tanks about the arts and culture. But recently, cost projections for the Bubble, officially known as the Seasonal Inflatable Structure, had been reported to be unsustainable.
The fate of the project lay in the balance today as the museum's board of trustees met to determine if the project would go forward. But at the meeting's conclusion, Smithsonian Institution officials stated that the board had "failed to reach a consensus." A final decision will be announced next month.
The museum's director also announced his resignation to the board and to the museum staff to become effective at the end of the year.
Koshalek came to the Smithsonian in 2009 from the Art Center of College and Design in Pasadena, California with many bold ideas. Koshalek saw the Bubble design as a seasonal venue that would "house pop-up think tanks about the arts around the world," according to architecture critic Joseph Giovannini in the May issue of Smithsonian magazine.
Under Koshalek's leadership, the museum produced a number of ambitious exhibitions to critical acclaim, including "Doug Aitken: SONG 1," and "Barbara Kruger: Belief+Doubt."
In an announcement to staff, Richard Kurin, the Institution's undersecretary for history, arts and culture, said that Koshalek had brought "tremendous energy and creativity to the Hirshhorn."
The New York-based firm Diller Scofidio + Renfro conceived the blue, translucent structure as an "off kilter dome, jaunty as a beret," wrote Giovannini, who also described the project as daring and innovative. But costs of the structure and its installation are estimated at $12.5 million, with only $7.8 million raised or committed to date. In addition, Smithsonian officials report that about $1 million would be required to maintain the project, covering the installation, de-installation and storage.