Hey! DC—and the Smithsonian—Are Too Cool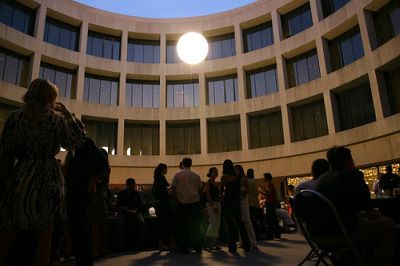 Lately, D.C.'s cool factor has been under scrutiny. Apparently, the nation's capital is hip only now that Obama is in the White House, although there are disbelievers. And I'm going to go out on a limb here and say that some probably think the Smithsonian museum complex is—dare I say it?—uncool.
I will concede that Obama is certainly loosening up this buttoned-up city. (People attended inaugural balls in blazers and skinny jeans, and unlike George W., Obama doesn't require jackets in the Oval Office.) But the Smithsonian isn't so stuffy either, and even pre-Obama she's had much more to offer than soporific lectures. The bookish geek has been letting her hair down. She's cool, gosh darn it.
But here's five happenings registering on our cool-o-meter. You be the judge. (And don't dock the Smithsonian any cool points for my using the word "cool-o-meter." It's not my coolness that's up for debate.)
1. Though we're on government payroll, we're not all clocking out at 5 and heading for the suburbs. There is a Smithsonian nightlife. Hirshhorn's "After Hours" lights up Friday nights with live music, a DJ, dancing, a bar and gallery tours. The Smithsonian Museum of American Art, in D.C.'s Chinatown neighborhood, hosts Take Five!, a free Happy Hour with live jazz, every third Thursday. And the Smithsonian's Reynolds Center played host to Al Gore's Green Ball during the inauguration. Melissa Etheridge, Maroon 5 and John Legend, among others performed. (John Legend is the definition of cool.) The Smithsonian Resident Associates offer fancy dinners for foodies and performances like the one this past fall by Chicago's Second City improv group, of which Tina Fey and Steve Carell are alum. The National Zoo has After Hours for young professionals, and once you get past the naming scheme for the events (Woo at the Zoo, Grapes with the Apes and Brew at the Zoo), they're pretty cool, too.
2. The National Portrait Gallery is most definitely cool. Last year, it hosted an edgy exhibition called "Recognize! Hip Hop and Contemporary Portraiture," that included commissioned graffiti murals that hung outside the museum. And now, among its new arrivals, is the iconic Obama portrait by bad-boy (he's been arrested some 14 times) street artist Shepard Fairey.
3. The Smithsonian knows how to take a joke, or at least it's learning. When Comedy Central's Stephen Colbert lobbied on-air for his portrait to be included among the national treasures at the National Museum of American History, the museum's director Brent Glass played straight man. But the National Portrait Gallery's former director Marc Pachter, who was the second to hear Colbert's plea, deserves some props.
He played hacky sack with Colbert in a tight gallery space and temporarily hung his portrait in the entryway to the bathrooms just outside the hall of America's Presidents. Glass redeemed himself when he reconsidered, as well. The portrait now hangs in the American History museum, next to Dumbo the flying elephant. Word on the street is that Colbert is pitting his portrait against Fairey's Obama in a face off. He has asked the National Portrait Gallery to calculate whether Fairey's is more popular than his, based on visitation numbers.
4. The Smithsonian's three IMAX theaters (at Natural History, Air and Space and Air and Space's Udvar-Hazy Center) aren't all 3-D dinosaurs and deep sea, though those are neat. They show Hollywood fare too. The Natural History and Udvar-Hazy theaters have re-released The Dark Knight. Cool, huh? Check it out before the Oscars.
​5. And as for the lack of celebrities in town, the National Portrait Gallery's "Portraiture Now" exhibition sort of makes up for it with Martin Schoeller's close-ups of Angelina Jolie and Jack Nicholson. Plus, the Smithsonian has its own celebrities, even if they are a bit obscure. Richard Burgess, of Smithsonian Folkways Recordings and Smithsonian Global Sound, invented the electric drum and starred in the first ever MTV music video "Video Killed the Radio Star" by The Buggles. So there.