Hear Folkways' Founding Father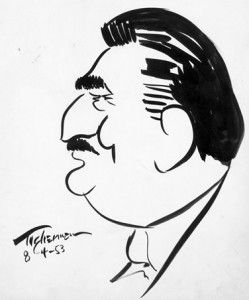 Moses "Moe" Asch, the Berry Gordy of Folkways Records, would have turned 104 this past Wednesday. Asch founded the Folkways label in 1948, and he worked with some of the pioneers in folk and blues, including Pete Seeger, Woody Guthrie and Lead Belly. As a recording engineer, Asch preferred to keep things simple: one microphone, one track, and let the music speak for itself.
Though Asch wasn't cranking out hit singles at Folkways, he took his duties very seriously, carrying them out with incredible zeal, viewing himself as a musical documentarian and preservationist, as he stated in his Declaration of Purpose: "My obligation is to see that Folkways remains a depository of the sounds and music of the world and that these remain available to all."
Raise a glass for Moe, and listen to some of the recordings he made of musicians like Lonnie Johnson, Big Bill Broonzy and Dock Boggs on the Worlds of Sound Sampler.