Hawai`i's Troubadour of Aloha
An upcoming documentary will highlight Hawaiian ukulele-playing sensation Jake Shimabukuro, who performed for Smithsonian's Asian Pacific American Center
Six years ago, Jake Shimabukuro and his music were largely unknown on the American mainland. He was popular in his native Hawai`i and in Japan where he'd spent a decade touring and convincing music industry leaders there to accept a solo performing, ukulele player. His life is secret no more.
Today Shimabukuro's solo concerts fill symphony halls. Fans range from cutting edge hipsters to high-brow arts patrons. An impromptu solo performance on YouTube of the musician playing a Beatles song sitting atop a rock in New York's Central Park has received more than 11 million views. Youth from pre-schoolers to grad students are awed by his artistry and eclectic mix of music which includes traditional Hawaiian songs, jazz standards, classical music, pop tunes, and so on. Music critics have compared his originality to that of rock legend Jimi Hendrix and jazz trumpeter Miles Davis, citing Shimabukuro's explosive energy onstage and his ability to coax unheard of musical sounds and performances from the ukulele.
Yet the most engaging characteristic of Shimabukuro's propulsion to rock star-like status is perhaps his spirit of Aloha —the expression of Hawaiian principles of life, love and human interaction that guide his world view. Aloha has made him a recognized troubadour of culturally-influenced music that people find healing and inspirational.
"A decade ago I was watching Jake," Konrad Ng, director of the Smithsonian's Asian Pacific American Center, told a capacity crowd at a recent event that featured a Shimabukuro performance and the screening of a documentary about the musician by filmmaker Tadashi Nakamura, who postponed graduate school to travel with the artist. "Jake Shimabukuro exemplifies the meaning of Aloha with his humility and grace," said Ng, who is from Hawaii. "He is our Ambassador of Aloha."
This night, the mostly young audience was diverse by age, race and cultural background, with a healthy representation of Asian Americans. The auditorium fell dark, a spotlight trained on the lone performer. Occasionally cell phone lights popped up like fire flies, but the intrusions were minor. The focus was intensely tuned to the music and Shimabukuro's commentary.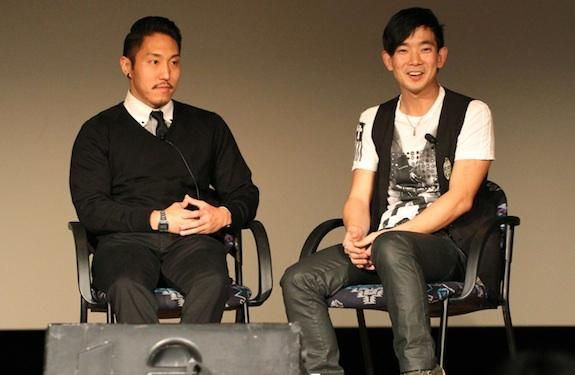 Hawaiian music and culture, he told the audience, have shaped his life and guided his values. Ukulele was his comfort when his parents divorced, and during the long hours that his mother worked to provide for him and a younger brother. "My family is everything to me," he said, citing his mother as his first music teacher, when he was four. "I always consider myself a traditional Hawaiian musician first. That's the music I was raised with."
He played a traditional Hawaiian song, followed by an original composition that he wrote as a tribute to Japanese American soldiers—like Hawaiian Senator Daniel Inouye—who fought for the U.S. during World War II, demonstrating their unswerving allegiance to a nation that doubted their loyalty.
"They made life better for me," he said of the soldiers. "I named this song Go for Broke." Respecting and recognizing ancestral pioneers, family members and supporters, is important to him. He said that NEA National Heritage Fellow Eddie Kamae is a role model and source of inspiration. The makers of Kamaka ukuleles believed in his music from his teen years, providing instruments for him long before his global fame. He is passionate about bringing Hawaiian music and culture to new generations. While in Washington, DC, he visited Eastern Senior High School.
On May 10, 2013, the PBS network will air Tadashi Nakamura's documentary, Life on Four Strings, a deeply moving, honest portrait of the people, places and events that created and re-shaped Shimabukuro over his 30-plus years. Working with Nakamura on the documentary in tsunami ravaged Sendai, Japan, the hometown of Kasuza Flanagan, the manager who devoted her life to building his career, was the hardest. Shimabukuro says that he was overcome by what he saw and was unable to speak much while there. The film's images of Shimabukuro with Flanagan in Japan tell the story, showing the despair that surrounded them, but also the hope as he played his ukulele in schools that had been turned into refugee camps and in nursing homes. His music, he says, was his voice, bringing a bit of love and inspiration.
The documentary Life on Four Strings was co-produced by the Center for Asian American Media and Pacific Islanders in Communications. Joann Stevens is program manager of Jazz Appreciation Month (JAM), an initiative to advance appreciation and recognition of jazz as America's original music, a global cultural treasure. JAM is celebrated in every state in the U.S. and the District of Columbia and some 40 countries every April. Recent posts include Remembering Dave Brubeck, Goodwill Ambassador and Playlist: Eight Tracks to Get Your Holiday Groove On.