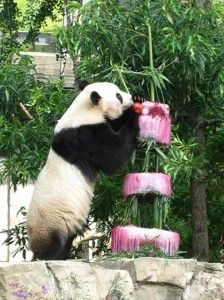 Tai Shan, the National Zoo's youngest panda bear, celebrated his fourth birthday chowing down on a frozen treat made from water, shredded beets, beet juice and, of course, the animal's favorite snack — bamboo.
Because pandas rely heavily on their sense of smell, zoo staff laid a trail of treats so Tai Shan could easily find the cake. About a hundred or so camera-clad visitors gathered to "ooh and ahh" at Tai Shan, who pawed and nibbled at the creation.​
After knocking the apple topper off the cake, Tai Shan followed it down the small cliff prompting shouts of "Good Boy Tai Shan" from the crowd. After 20 minutes, he grew tired of the cake, and maybe the camera flashes, and headed to the rear of his habitat to gnaw on bamboo.
Tai Shan, and his parents, are on loan from China, and he was originally scheduled to return home after his second birthday. In 2007, it was announced that he would remain here for another two years. That agreement officially expires today. Curator Lisa Stevens says they are currently renegotiating the loan, but no plans are set.
View more photos of Tai Shan's birthday cake!