Happy Birthday, Daniel Boone!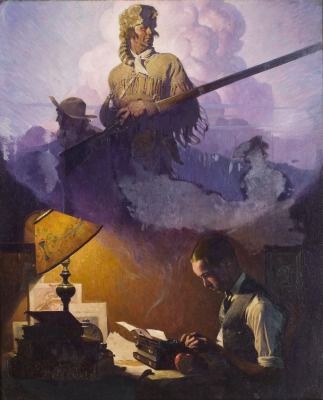 In honor of American frontiersman Daniel Boone's birth 276 years ago today in Berks County, Pennsylvania, we here at ATM thought we would take the opportunity to showcase And Daniel Boone Comes to Life on the Underwood Portable. On display in "Telling Stories: Norman Rockwell from the Collections of George Lucas and Steven Spielberg," an exhibition at the Smithsonian American Art Museum, the Rockwell painting happens to be the first Spielberg acquired, inspiring his now extensive collection.
The filmmaker has said that the painting reminds him of the screenwriting process. "I would sit down in front of my typewriter to try to write a story for a movie...waiting for that little thought bubble to appear over my head an image that would get my fingers dancing on the keys. was very evocative for me that was imagining Daniel Boone before he actually began to write about him," said Spielberg. "And the most frustrating is the work of the imagination of the writer as he pulls these disparate visual elements out of the sky and finds a way to express them in words."
Rockwell depicts Boone, who helped blaze a trail through the Cumberland Gap in the Appalachian Mountains near the crux of Virginia, Tennessee and Kentucky, as a filmmaker might on a movie screen.
"It's a brilliant composition," says Virginia Mecklenburg, a senior curator at the Smithsonian American Art Museum, calling my attention to how the angles of the rifle and the lamp shade create diagonal thrusts in the painting. Typical of Rockwell, she says, "The real-world part of it is very realistic, very specific. You see the wrinkles in the guy's white shirt, where he has rolled up his sleeves into this cuff just above his elbow, and the design on the lamp shade." And yet, in contrast, the world of the imagination is looser, almost misty.
Mecklenburg hopes that the Rockwell paintings and drawings, on display through January 2, strike a chord with visitors, as —And Daniel Boone Comes to Life on the Underwood Portable has for Spielberg. "I hope the paintings make them think about people and episodes in their own lives that have had special meaning for them," she says.