Happy Birthday, Billie!
It's fitting that legendary jazz songstress-extraordinaire Billie Holiday's birthday today falls during Smithsonian's Jazz Appreciation Month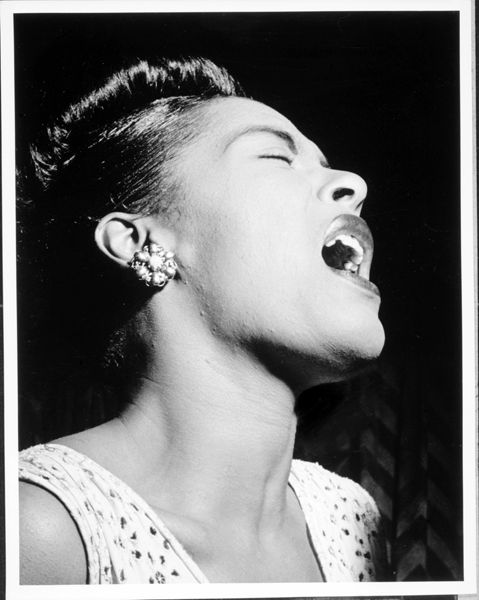 It's fitting that legendary jazz songstress-extraordinaire Billie Holiday's (1915-1959) birthday today falls during Smithsonian's Jazz Appreciation Month (JAM). "Lady Day," as she was known, made songs her own, lazily wrapping her emotive voice like wisps of smoke around passages with distinctive horn-like phrasing. Her trademark songs like "God Bless the Child," which went on to sell over a million copies, and the haunting tale of lynching, "Strange Fruit" still resonate today. Unfortunately for Holiday, the rock star lifestyle was not a recent invention. Drug abuse and drinking took its toll on her voice, and her limited legal ability to collect royalties left her with $.70 in the bank at the time of her death from cirrhosis at age 44 in 1959. To learn more about the life and times of Lady Day, Smithsonian's Ryan Reed corresponded with John Edward Hasse, the American History Museum's curator of American music and a founder of Jazz Appreciation Month.
Who gave Holiday the nickname "Lady Day?"
The great tenor saxophonist Lester Young, who was a musical soulmate of Holiday's. She, in turn, gave him the nickname "Pres," short for "President."
April is Jazz Appreciation Month.  How did Holiday influence the genre?
Like Louis Armstrong, she influenced other singers to take familiar songs and make them their own, changing the melodies and rhythms to match the singer's artistic sensibilities.
What made Holiday unique?
Billie Holiday ranks close to Louis Armstrong among the greatest jazz singers. Acknowledging great inspiration from him, she practiced an instrumental approach to singing as she ranged freely over the beat, flattened out the melodic contours of tunes, and, in effect, re-composed songs to suit her range, style and artistic sensibilities.  Her voice was physically limited, but she achieved shadings, nuances, color and variety by sliding along the thin line separating speech and song.
Smithsonian Folkways has the recording "Mean to Me." What can you tell us about this particular song?
This recording marks an early stage of a remarkable partnership, one that Holiday forged with tenor saxophonist Lester Young.
In contrast to Coleman Hawkins' big sax sound of the time, Young took a new approach. Young's sound was a feathery, almost vibrato-less, lightly swinging style that moved improvisation away from the underlying harmonic sequence to focus more on the possibilities of melody.  He personified 'cool' and influenced the bebop, cool jazz, and rhythm and blues that were to come.
The elegant pianist Teddy Wilson introduces Mean to Me, Young takes the three eight-bar A sections, with trumpeter Buck Clayton taking the B section or bridge.  Holiday sings the second chorus, and then the band returns to play the second half of the chorus—Wilson solos on the bridge and Clayton on the final eight bars.
Holiday recomposes the melody of the A section, flattening out parts of it.  In the bridge, she largely sings the original melody but makes the rhythms and phrasing her own.  For her, such rhythmic conventions as eighth notes, quarter notes, and bar lines were merely guideposts, not fences.  Holiday leans on the beat, then catches up, demonstrating her impeccable sense of rhythm.  She makes a then-familiar hit song into something personal and fresh.
What made you choose an image of Holiday for the poster of the 2nd annual, national Jazz Appreciation Month in 2003?
I wanted a major figure who was widely considered one of the greatest on her instrument (the voice) and felt it was important to represent women, who have often been undersung in the annals of jazz.
Is there an artist today that reminds you of Holiday?
Holiday has influenced generations of singers, but one in particular has captured some of her style uncannily, and that is Madeline Peyroux.
What is your favorite song by Holiday and why?
"Mean to Me," because it well represents Holiday as well as Lester Young and Teddy Wilson.
--Additional reporting by Ryan Reed